spaceprodigi Is Primed to Blow Up
Meet Mack Bartsch, aka spaceprodigi, the 17-year-old analog synth sorceress who is turning heads around the world as she preps for her first major festival performance at this summer's EDC Las Vegas, which is already brimming with world-class names.
Bartsch is from rather unlikely environs: Houston, Texas, of all places. Classically trained and technically minded, the young polymath turned to analog synths several years ago and has spent the better part of her high school life mastering her producing, engineering, and songwriting chops.
Now, it appears, she's absorbed and synthesized—for lack of a better word—all this knowledge and is ready to make some big crossover records. We caught up with the whiz kid, mere days before her EDC debut, to find out how it all came together.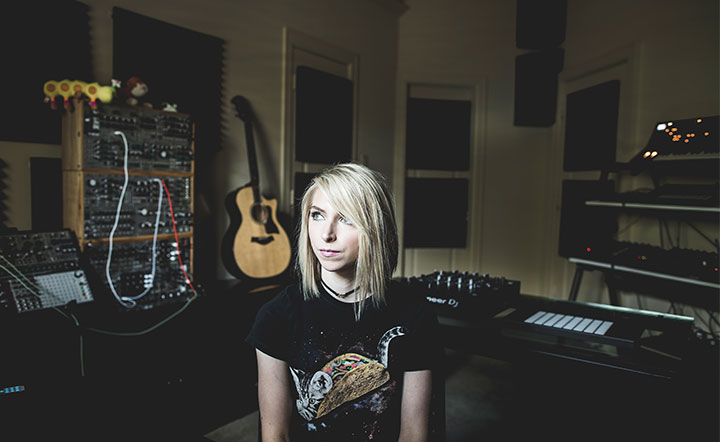 Can you talk a bit about how you got the synthesizer/electronic bug growing up? Were your parents into electronic music?
I got into synthesizers and electronic music all on my own… after I heard deadmau5 on the radio, when I was 8 years old. I thought, "That sound is just incredible." So, I started following him and doing a lot of research. I found out he was into all these analog synthesizers.
When did you start making your own music?
I started producing when I was 13, and by the time I was 14, I had gotten into analog synths. I originally started in Logic Pro, but I was wondering why I wasn't getting the sounds like deadmau5 does. So then, I asked for my first synth for my 14th birthday, which was a Moog Sub 37.
What do your parents make of all this?
My parents have been really supportive during my career—which is funny, because they knew nothing about it before I taught them. I've been growing my synthesizer collection and have been mixing and mastering my music with hardware. I also mix in the box.
What were your friends getting for their 14th birthday?
I don't know. It's weird, because a lot of my friends don't know what synthesizers are. It's hard to get them to understand what it's like.
Can you describe the music scene in Houston?
It's more of a hip-hop scene. Country is big here, too.
Do you think you're on a different vibe from most of the city, musically?
Yeah, tomorrow I'm seeing a techno show at a club—dark-oriented electronic—not really mainstream stuff you'd hear at, for example, EDC. 
Do you still have a little high school left?
I'm a junior. I just switched to school online and will finish up there. I don't plan on moving anywhere. I think I've been doing well in Houston. And my studio's here.
 And you just started booking gigs, right?
My first show was in October. What happened was that Richie Hawtin found me on Instagram and he really, really liked the stuff I was doing. He really liked my YouTube videos. He liked the vibe I was giving him. So, his manager's assistant found me on Facebook… saying, "Richie's doing this show on Friday at the club Rich's. Do you want to come open for Richie? He'd really enjoy that." I talked with Ben Turner [Hawtin's manager], and he and I had good synergy and vibes.
When I played, the audience really liked me, and now Ben represents me. I'm going to eventually start doing more shows. I'm debuting at this summer's EDC Las Vegas, so I'm really excited about that.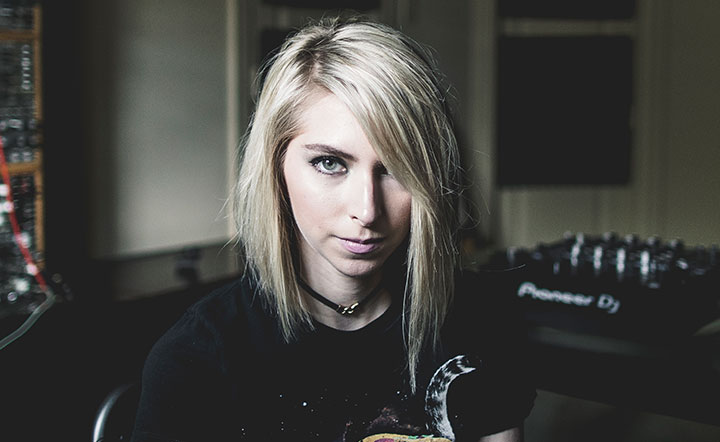 Houston can be a very humid, hot place. How does that affect your analog synthesizers?
That's a natural thing with synths; they get really temperamental. If it's very cold, it gets whacked out. With the heat, it also gets really whacked out. Which is, you know, some of the charm of synthesizers. That's just part of it.
That's where you get those happy accidents, right?
Yeah, it's not perfect.
It seems like you've been honing your craft a lot, from the technical side of things. Maybe we could talk a bit about the more creative side.
I'm really inspired by a lot of mainstream music—especially stuff like dead has been putting out there. I'm really into deadmau5, Eric Prydz, Depeche Mode, Blink 182, Nine Inch Nails, that kind of side. Recently, I've been taking that rock drum sound, and I've been putting my rock vibes with the synths and EDM.
Tell me about how other people in your life have perceived your music.
My dad's more of a country guy. My mom was into more of the rock side of things; she's a little more understanding. They're both really supportive of me.
How many synthesizers do you have now?
I have a lot. I'm not sure. A lot.
How do you get them? Do your parents help out?
My parents have been really, really supportive. They believe a lot in me.
What else are you interested in or obsessed with?
I love gaming. I'm a big gamer. I also love running and making art and photography. I make my own album art. I've got a lot of hobbies on the side, because music dominates my day, and I need something else after a day of music.
What games are you into?
I love Nintendo. Zelda: Breath of the Wild is amazing. I also love Mario Kart.
How would you describe your aesthetic?
I like combining an edgy sound with energy with pretty bridges… I also use a lot of key changes that are a little different but still likeable. I definitely am gonna go down the mainstream route. I want to appeal to everybody.
spaceprodigi plays kineticFIELD at EDC Las Vegas, which takes place Friday, May 18, through Sunday, May 20, at Las Vegas Motor Speedway. A limited number of VIP passes, shuttle passes, and Camp EDC RV spots remain for EDC Las Vegas 2018. Grab your passes now!
Follow spaceprodigi on Facebook | Twitter | SoundCloud
---
Share
---
Tags
---
You might also like