Ship of Dreams: How the 'Beyond Wench' Joined Insomniac's Fleet of Art Cars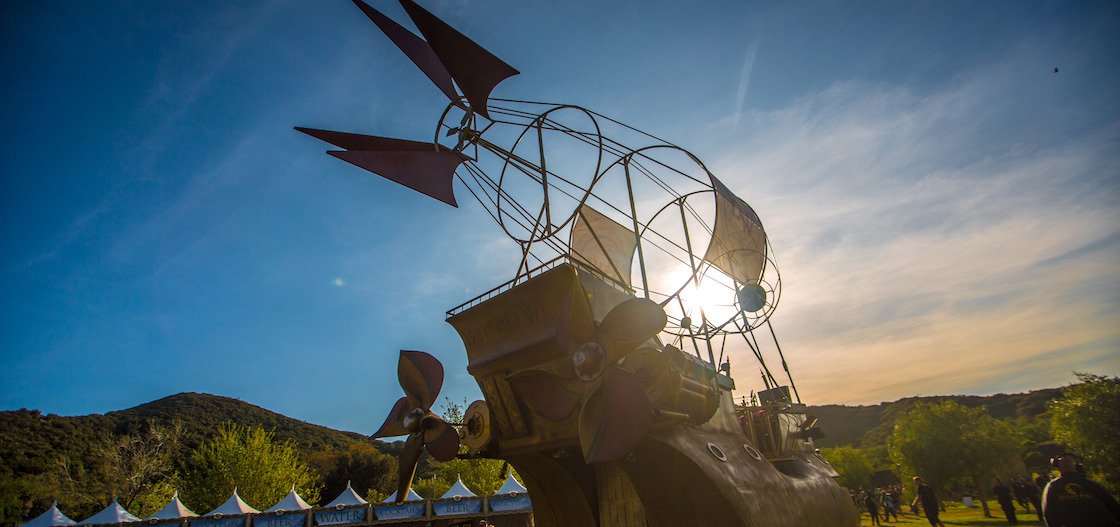 Like so many art car stories, the history of the Beyond Wench has origins at the desert bacchanalia known as Burning Man. However, the Wench's story actually starts well before the car ever touched down on the Playa—when its creator, Stefano Novelli, was 12 years old.
The adolescent Novelli had a vision of an airship, a sort of enchanted dirigible that could float onboard revelers through magical nights in the sky. He kept this vision with him for years, ultimately bringing his dream to life after attending his first Burn.
"Seeing all the art out there made me want to contribute in some way," says Novelli, whose company—Stefano Novelli Design and Fabrication—has forged stages for artists including Skrillex, Krewella and Amon Tobin. "Being a designer and artist myself, I wanted to build something special to give back to the people there."
Built on a 1970 Ford van, the first incarnation of the art car—then dubbed the Space Wench—traveled annually to Burning Man three times, beginning in 2001. "People really loved it," the Los Angeles–based Novelli says, "even though it was super janky and low-budget."
Novelli lived on the west side of L.A. at the time, and he now laughs when he pictures himself moving the ship from one side of the street to the other every few days to avoid parking tickets. Eventually, he secured a warehouse at which to keep the car, and the space ultimately evolved into a party venue called Space Island. Here, Novelli hosted Wench fundraisers and other legendary parties for six years.
After a particularly epic night at the Island, Novelli and friends decided to take the Wench for a morning pleasure cruise along the Los Angeles River. They drove along the dry concrete waterway for hours. Years later, Novelli was at a friend's auto shop, the back of which was rented out by "this old 18th Street gangster who did body work and wasn't a gangster anymore." The guy overhead Novelli talking about art cars.
"All of a sudden, I see this light bulb go off in his head," Novelli says. "He was like, 'Do you know of an art car that's a big, silver pirate ship?' I was like, 'Yeah, that's actually mine.'"
As it turned out, one morning a few years prior, the body shop guy had been partying with his friends. He'd gone down to the Los Angeles River and saw the Space Wench coming around the bend, blowing out flames and blasting music. He ran back to tell his friends, who all went down to take a look. By the time they got there, the Wench had already gone around the next curve.
"All of his friends thought he was too messed up and locked him out of the house," Novelli recalls. "He went back to his girlfriend's place and told her the story, and she locked him out, too. For years, he was wondering if he actually saw this thing." Novelli and the former gang member had a good laugh about the whole episode.
"To have people who never see anything like this see a giant art car coming down the road is one of my favorite things," Novelli continues. "It's definitely impacted people's lives."
When the Ford started having mechanical troubles, Novelli decided to upgrade. In a moment of "the Playa provides"-style synchronicity, he spotted an ad that stated only, "Desert Hauler: Wanted/Needed." Seeing as he both wanted and needed this exact thing, he contacted the seller, who was unloading an Isuzu NQR that had been specially outfitted for hauling heavy loads in hot climates. It was perfect.
Novelli went about fashioning the truck into a ship, stretching chrome-colored fabric over the steel frame. Funding came largely out of his own pocket. In time, he replaced the fabric with aluminum and soon added sails and a mast. Finally, Novelli assembled the Wench, and his childhood vision was fully realized. Now they just needed a sound system.
As such, Novelli and a few friends ended up on the Burning Man radio station and announced that the Space Wench was looking for someone to outfit it with speakers and other audio gear. A man named Novotron arrived shortly thereafter. He had the equipment, and he could also DJ.
"We were like, 'Oh no, what if he plays awful music?'" Novelli recalls. "He came back and we sailed off into the Playa, and he was just this magician. There was this magical connection between his music and our art car."
Out of this relationship grew the Temple of Breaks, an on-Playa music event hosted on the Space Wench. In time, the ship linked with other art cars, and this crew turned into the Playa's first art car sound-party gathering. Breakbeats, drum & bass, and dubstep were the genres of choice. At times, as many as 60 people occupied the car, which also hosted three weddings throughout its 13 runs at Burning Man.
It was in 2006 that the Space Wench made its first appearance at EDC, which was held at San Bernardino's NOS Events Center that year. The invitation came via Insomniac's Art Curator—Ian Oosthuizan, a longtime Burner and friend of Novelli's—who had done some electrical work on the Space Wench and who had DJed that morning on the L.A. River. Insomniac CEO and Founder Pasquale Rotella was also familiar with the Wench, having stayed with Novelli's camp at Burning Man several times. It has made three subsequent appearances at EDC Las Vegas.
It made sense, then, that when Novelli decided to sell the car, Insomniac would buy it. "I hadn't been to Burning Man in a couple of years," Novelli says, "and the ship was sitting at my shop, looking at me like, 'What are you doing? When are you going to take me out?'"
"If there were anyone I wanted to sell it to who would let it live on with the purpose I had built it for," he continues, "it was Insomniac."
The company paid Novelli to put some finishing touches on the car, and the Insomniac crew added a new sound system and steampunk flourishes. They changed the name to the Beyond Wench, and the ship made its official debut at Beyond Wonderland in Southern California this past March. It sails again this weekend at Nocturnal Wonderland 2016.
"Finally letting go of my art project was definitely a tough one," Novelli says. "It's kind of like sending your child off to rave college. She's going to live on, though, and she's in good hands."
Nocturnal Wonderland 2016 takes place September 2–4 at the San Manuel Amphitheater & Grounds in San Bernardino, CA. For more information, visit the official website.
Katie Bain left her heart on the Playa. Follow her on Twitter.
Follow Stefano Novelli on Facebook | Twitter
Follow Nocturnal Wonderland on Facebook | Twitter | Instagram
---
Share
---
Tags
---
You might also like