Radiate Is Much More Than a Festival Hookup App
"We launched the app at 4am on July 12 and had a wicked dance party. It was just me and Michael, but I swear it was epic," says 24-year-old Philip Butler of Radiate, the new app he has created with Michael Tom, 22.
One of the primary reasons people go to festivals is for the community, and that's what Radiate provides. Unlike today's system of weeding through Facebook groups, event pages and messages, Radiate gives people one central platform to connect. It uses a YikYak-like forum where patrons converse openly. You can also privately chat with other members (not unlike Tinder). The main thing is: You can use the app however you see fit.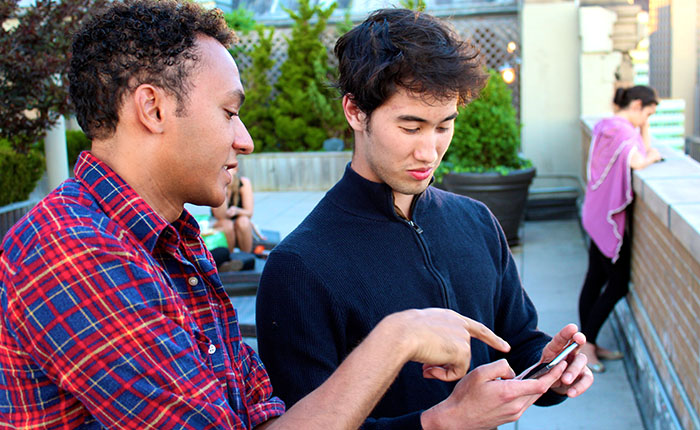 How did you come up with Radiate?
Philip: Radiate evolved from a series of ideas. The original concept of Radiate (I'm sorry to say) was a dating app for festivals, where in addition to the swipe left/right functionalities of Tinder, you could use a "Guess Who" method to find someone you met but didn't exchange information with. Michael and I decided to combine my idea for Radiate with his idea for Ubble, a location-based community app. After realizing life wasn't just about dating, we adjusted Radiate to be an app that gave people the freedom to connect however they wanted.
What sets you apart from other festival apps?
The main thing that sets Radiate apart is the social aspect of the app, which includes multiple festivals. You can use it to ask questions and get an unfiltered, human-to-human answer. You can also tailor Radiate to your needs, meaning if you want to find a date, we make it easy. With other festival apps, you can't talk directly to people, and let's be honest: You delete it right after the festival.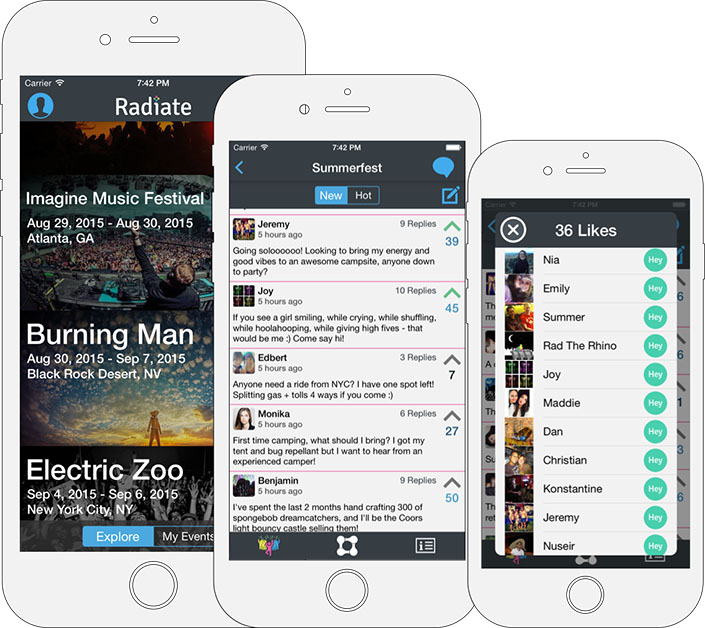 What's been the most difficult part about launching the app?
Getting the technology to work seamlessly if 100,000 users suddenly jump on (and they will) has been quite the task. We've been relentlessly testing for these scenarios, but you can never be sure until it happens. Another difficulty has been letting people know that the app exists. When we first launched, we posted about the app on different event Facebook groups, but their moderators took down our posts, so we've had to find alternative means.
Who develops and designs the app?
Michael's a code guru who can finds bugs and get rid of them better than Orkin. It's safe to say, without him Radiate would be a huge mess and resemble that crappy dating app that rhymes with Cringe (you know which one I'm talking about). In regards to the app's design, Michael and I work together and constantly debate the UI. Our friends Nader Al-Naji, Gabriel Marquez and Cody Simon were also essential in getting Radiate's design to where it is today.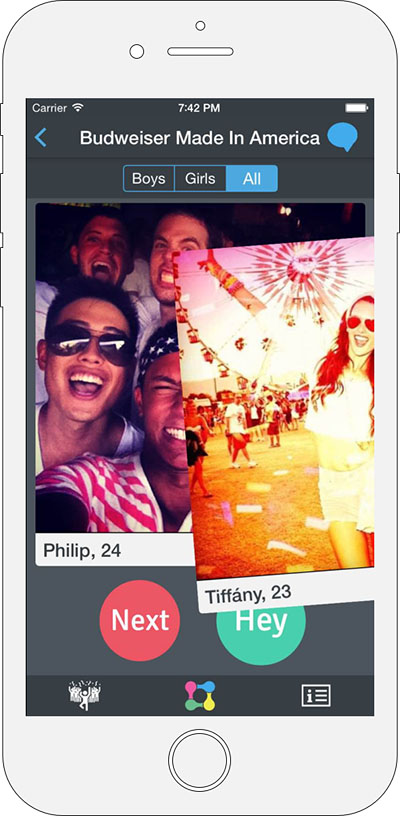 How many users do you have?
This is like if you asked someone how much he or she weighed in real life (rude!), but we'll tell you. We've been out for a week and have a bit over 500 users.
How do you plan on monetizing?
Our current monetization strategy revolves around corporate sponsorship. Our primary goal is to create a place where the entire music festival industry is located. We can promise that our users will never be charged, and any marketing campaigns will be awesome, fun, unique experiences that our users are going to enjoy being part of.
Where are you looking to go in the future?
Next, we plan on listing colleges and taking Radiate for Music Festivals international (probably France next). We've been working with an amazing French producer named CloZee too (You need to check her out) and have something special coming up for everyone!
Follow Radiate on Facebook I Twitter I SoundCloud
---
Share
---
Tags
---
You might also like