Psytrance Soldiers Outsiders Are Making Their US Debut at Dreamstate SoCal 2017
It's a widely known fact that the sound of psytrance rules supreme all over Israel. The small country has proudly produced a handful of genre giants, from Infected Mushroom to Astrix. And as the international psytrance movement continues to grow, so, too, does the Israeli sound.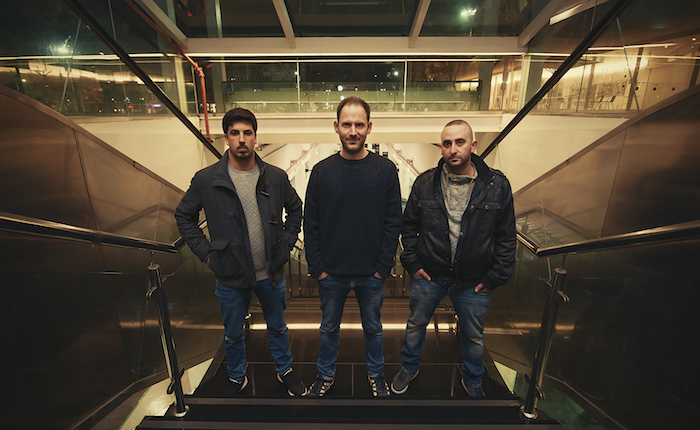 Enter Outsiders, an Israeli duo burning up the Beatport charts and spreading the good gospel of psytrance to the world. The twosome—composed of producers Haim Lev and Guy Malka—has amassed an impressive discography comprising tons of hit originals and remixes via psytrance heavy hitters like HOMmega Productions, Iboga Records, NANO Records, and Sacred Technology, as well as mega collaborations with the top acts in psytrance, including Avalon, Tristan, Electric Universe, Rinkadink, and others. Most recently, Outsiders helped launch our very own Dreamstate Records with their track "Sticklights," a collaboration with Freedom Fighters that blends their individual styles into one cohesive, pounding psytrance stomper.
Both Haim and Guy pride themselves on their always-evolving sound, which is highly influenced by their world travels and global interactions—especially their yearly trip to Goa, India, the birthplace of the psytrance sound. This month, their travels bring them to Dreamstate SoCal 2017, where Outsiders are making their US debut.
Ahead of Dreamstate SoCal, we caught up with Haim and Guy to chat all things psytrance.
What are your first memories with the psytrance sound? How did you feel after you heard psytrance for the first time?
Guy: The first time was magic; I still remember the first time listening to psytrance. The city we were born in and grew up in is called Beer-Sheva; it's located in the southern part of Israel. We had and have many psytrance producers back in the early '90s. The Goa trance/psychedelic trance movement in our area was big. It was everywhere, with leading producers such as Psycraft, Perfect Stranger, and more.
The psytrance scene recently lost an influential figure with the passing of Eyal Yankovich, the founder of the influential HOMmega label. Did Eyal and/or the HOMmega team have an influence on your careers?
Haim: It was and still is a big shock for all of us. We have lost a good friend and one of the main people who made the scene what it is today. HOMmega was and still is one of the biggest and leading labels in the world—not only in Israel, but for us both. It was one of the main influences [that made us] what we are today. Sending big love to Eyal's family, and may he find peace.
Your music and sound are said to be influenced by your global interactions. What cities and countries have most recently inspired your new music?
Guy: We've traveled a lot in past years, and every weekend, we have the opportunity of visiting different countries around the world. It's hard for us to point to a place and say that the music we create is inspired from there. But definitely in the past years, every February, we visit Goa in India for the season, and I can say that most of the influence we take is from the visits there.
Here in the US, psytrance is just really starting to pick up on a mainstream level. Why do you think it's taken so long for psytrance to really pop off in America?
Haim: Hard for us to say. All I can say is that good underground music/scenes usually get a bit commercial over the years. If I am not wrong, one of the main guys who really pushed psytrance into different places was Simon Patterson, who created this crossover between psy and tech trance.
Speaking of new psytrance scenes, what are some other cities/countries that have a growing psytrance movement?
Guy: The Argentina movement is really growing. You can see the crowds are really open to psytrance, and they just love it!
There's a very unique connection between Israel and psytrance. What is behind this unique bond between your home country and the psytrance sound?
Haim: It's hard to say, but most of our good friends in Israel are producers or ravers who love to party. The connection is strong; [I don't] really know why, but it's all good.
What's the one dream location where you wish to one day retire from music for good, and why?
Guy: Thailand. It can be nice to live on the beach with a nice apartment and our families—a good way to retire under the sun and the good life.
You recently released your Music Is Our Mantra compilation. What sorts of sounds and artists are featured on the project?
Haim: It took us one year to compile this compilation. The music was carefully selected from artists [whose music we love], such as Laughing Buddha, Burn in Noise, Tristan, Volcano, Sonic Species, Electric Universe, and more.
You were also part of the inaugural compilation from Dreamstate Records, Part of the Dream, with your song "Sticklights," in collaboration with your friend and fellow psytrance purveyor, Freedom Fighters. When you wrote the song, what was the message you were looking to convey to listeners?
Guy: For us, it's always a great joy creating music with Freedom Fighters. We never know what will be the result, but we are always trying to create something unique and different that combines our styles in the same track. We are happy with the result, and hopefully [so are] the listeners.
What's next in the world of Outsiders?
Haim: We are planning new singles for next year and some more interesting collaborations, as well as our second album, which is already in progress.
Catch Outsiders at Dreamstate SoCal 2017, taking place Thanksgiving weekend, Friday, November 24, and Saturday, November 25, at NOS Events Center in San Bernardino, CA. Tickets are available now. For more information, visit the official website.
Follow Outsiders on Facebook
Follow Dreamstate on Facebook | Twitter | Instagram
---
Share
---
Tags
---
You might also like