Offside With Sunnery James & Ryan Marciano: How We Got Destroyed by DJs in a Soccer Match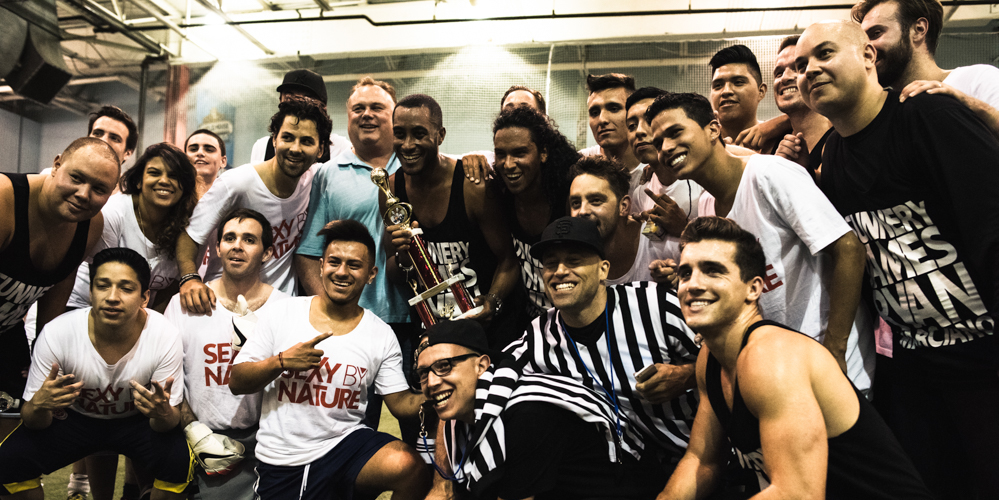 Upcoming Event
Prior to a Saturday night headlining set at Governors Beach Club in NYC, Dutch duo Sunnery James & Ryan Marciano warmed up with a quick soccer match that doubled as a fun fan meet-and-greet with the DJ twosome. We decided to string up our cleats and tag along to see what SJRM are made of off the CDJs.
We already knew Sunnery is a former pro soccer player, but I was convinced I could give him a run for his money. I stepped onto the field and was handed a jersey emblazoned with a slogan that accurately captures my life mantra: Sexy by Nature. As I settled in, I realized I was the only chick surrounded by brolic, six-foot, two-inch alpha males sporting Hulk-style game faces. Then the reality of balls flying at my face and broken ankles began to set in.
I got into the zone when my teammate, DJ/producer Carl Kennedy, asked what position I wanted to play. "The one with the least amount of contact," I responded. Not feeling my sense of humor, he says, "You'd be better off over there," as he pointed to the benches. I guess Carl forgot about the "U" in PLUR. On that cue, I am subbed out of the game, and my career as a soccer star comes to a swift and bittersweet end.
As I prayed to the dance gods for some athletic prowess, I suddenly found myself empowered with the spirit of YOLO, and at halftime I knew it was my time to get back on the field and prove I was the soccer prodigy the world was missing. Thirty seconds and one embarrassing handball later, the ref blew the whistle and rescued me from further shame.
While nursing my ego on the sidelines, I watched as Sunnery & Ryan dribbled, shot, and expertly sashayed across the field. Ninety minutes and many panting, sweaty dudes later, the game ended with SJRM's team triumphant.
After they received their trophy, I caught up with the DJs to get their thoughts on the game.
How do you feel the game went?
Sunnery: It was tough, actually. A lot of young kids came that were really on it.
Ryan: It was nice because I didn't expect that Americans actually knew how to play futbol.
Sunnery, you were once a pro soccer player, right?
Sunnery: Yes, but today it looked like [Ryan] was. I got injured really badly when I was 20. They kicked my ankle, and I broke it in two places. I never came back and left it to pick up my other passion, DJing.
Is being athletic a part of the DJ job description?
Sunnery: Yes, especially how we DJ. We're dancing and sweating and jumping, so you have to be ready, otherwise you'll break your knees.
Did you watch the World Cup?
Ryan: Of course! We played with some Germans today, and it was hard to be nice to them.
Sunnery: We're pro-Holland. We lost the semi-finals with Argentina in shoot-outs, but nobody in our whole country expected us to even get that far. Everyone was really happy.
Are there any DJs that you think are hiding some crazy soccer skills? Who would you pick to be on your team?
Sunnery: Ryan [laughs]. Otto Knows can play.
Ryan: Sebastian Ingrosso can play as well.
Sunnery: Tiësto. He's big, so…
Sunnery, you have two little ones at home. Would you prefer they be futbol players or DJs?
Sunnery: I'd want my son to be a futbol player.
Ryan: We just bought a goal for the backyard. When I talk to him on the phone he says, "Ryan, are you going to come to the house to play futbol?"
What do you guys have up next on the agenda?
Sunnery: We're going to release a remix for Calvin Harris and Alesso's "Under Control" in two weeks. Then we are focusing on our radio song coming out in October.
Follow Sunnery James & Ryan Marciano on Facebook | Twitter
---
Share
---
Tags
---
You might also like