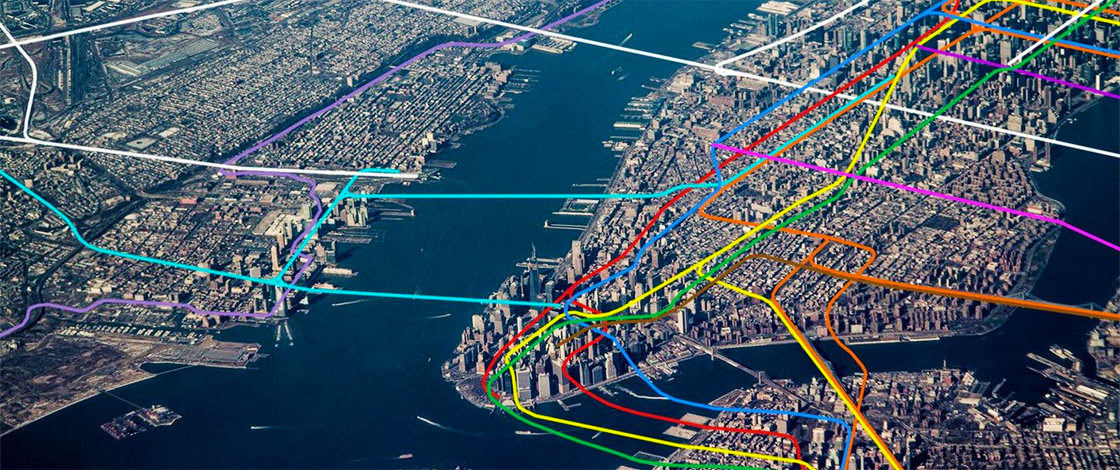 Street performance has a rich history in cities the world over, few more vibrant than New York. Among the performers who famously started their careers busking are Kaki King, Eddie Izzard, Tracy Chapman, Bernie Mac, Mary Lou Lord, Once author Glen Hansard, BB King, and even a young Robin Williams miming for money while studying at Juilliard.
A 1985 New York City Council resolution granted "constitutional protection to artistic performance in NYC's subway system," and there was even a BuskNY-sponsored festival in Brooklyn last August celebrating the 30th anniversary of the landmark court case granting citizens the privilege, The People v. Roger Manning. While the MTA recently cracked down on performances on the subway, performing in a station is 100 percent free and legal "without amplification.
If you want to go one step further and join the semi-pro ranks, their Music Under New York (MUNY) program enables you to do so by filling out an application to be selected for annual public auditions at Grand Central's Vanderbilt Hall, performing before a panel of professionals including "music industry, cultural institutions, MTA station operations, fellow musicians and others" to join their 500-strong group of amplified artists. Think of it as an "underground" American Idol with an unwitting live studio audience.
However, if you're just looking to observe and report, we've taken the liberty of—and legwork out of—compiling a list of some of NYC's best legal performers you might want to check out. The breadth and depth of genre and performer is all over the map, so this is the perfect opportunity for you to test your annoying friend who claims they "listen to everything!" with genres that include "Brazilian folkloric violin" (Eliano Braz), opera singers, jug bands, dance troupes, "guitar-Mozart to Metallica" (RM Bridgewell), musical saw players, beatboxers and sexy sextets. Obviously, it's tough to track their movements, and new performers start up all the time; so, just like with set times at pretty much any festival, don't get mad at us if they're not on precisely when/where they're listed.
Think of it this way: The more crowded the station, the higher your chance to catch high-caliber performers (therefore, rush hour is often the most common). Here is a complete MTA list of all performance locations within the stations themselves—since, you may have noticed, they're pretty big. And here are our recommendations on who to pregame with on your way to this year's EDC NY—or any other time you find yourself in the tubes below ground. Now get ready, 'cause it's show time, everyone!
Location: Grand Central Station, by the mezzanine of 4/5/6/ trains
Love the sounds of Japanese smooth jazz but not going to Kyoto or Osaka anytime soon? No problem, Yasuyuki "YAZ" Takagi has you covered. Since 2002, he and his four-piece band have been performing R&B covers by the likes of Marvin Gaye, Stevie Wonder and Earth, Wind & Fire, as well as instrumental originals. Takagi has become a member of MUNY and released six albums with himself on the cover holding his instrument, morphing from a young hipster Rae Sremmurd on 2005's You Can't Say It in Public to an older, highly sexualized Yanni on his fourth album, 2010's You Can't Say It in Public (what happened—was YAZ Zeppelin IV taken?). He's played at Lincoln Center and still tours Japan frequently, though you can catch him almost every day at Grand Central. But what he really wants to do is make something real; he wants to make a solo YAZ record.
Location: Bedford Ave in Brooklyn
If their social media pages are to be believed, CM3 are "on the verge of becoming a pop sensation," whose "personal interests" also include modeling and acting, and who list Chris Brown among their influences. But let's focus on the good qualities, like their great a cappella versions of pop songs by the likes of Wiz Khalifa, Ed Sheeran, Ariana Grande, Miguel and Sia. The stylish and fame-ready trio of Max, Brice and Raheen are like a next-gen Boyz II Men, minus one man/boy. They've been out of high school only a few years but have been busking hard and practicing since the very first day they met. Catch them now before you actually have to pay for it.
Location: Times, Herald & Union Square
Natalia Paruz is certainly the most recognized performer on this list overground, but then again, she probably has a leg up by making music with something most people wouldn't even know was an instrument. She's performed at Carnegie Hall and Madison Square Garden and appeared on ABC, NBC, FOX, PBS and MTV; her songs have soundtracked several films, as well as HBO's The Jinx; yet she continues to busk. Not only does she play the "singing saw," but she has also mastered other run-of-the-mill devices such as the theremin, the glass harp, English handbells, and pitched cowbells (Austrian and American, natch). The sounds she gets out of these instruments are truly amazing and occasionally approximate Portishead without Geoff Barrow's beats. Her hours are typically Mondays, Wednesdays and Fridays at Herald Square (12–3pm) and Times or Union Square (3–6pm).
Location: Union Square
Matt Doe, Leo P. and David "King of Sludge" Parks originally started busking just to earn extra money, but they quickly became an underground sensation when a video of one of their performances racked up nearly a million views on YouTube. Two of them formerly played together in the Drumadics, another busking band, but Too Many Zooz is different. They are a trumpeter, drummer and saxophonist (no vocals) and are possessed by a ridiculous amount of energy and style. For now, they have no plans to move beyond the subway scene. Why would they, when they typically draw crowds of a few hundred people who give them instant feedback by stopping, watching and donating—or moving along.
Location: Union Square
By far, the most amazing and unique underground performer (I actually skipped a train to keep watching) is Sung Lee, a rush hour fixture at Union Square. Lee was voted the American Beatbox Vice-Champion of 2011 and makes music using "100% vocals" and a sampler to loop and layer himself. He has covered the Weeknd, Drake and Dr. Dre, and he performed an amazing medley at NYU's Skirball Center that included a stellar version of the Jackson 5's "I Want You Back."
---
Share
---
Tags
---
You might also like