Magic Moments of EDC Las Vegas
Electric Daisy Carnival is at once a massive group experience and a totally individualized weekend unique to each Headliner. In its more than 20-year history, the festival has facilitated countless moments of bliss and excitement for the hundreds of thousands of people who have attended the show—and we know there are many more to come in 2018.
Here we offer a list of some of the most magical moments in recent EDC history, along with some singular experiences each Headliner can expect at the show.
EDC Las Vegas 2018 tickets are on sale now.
Bryan Cranston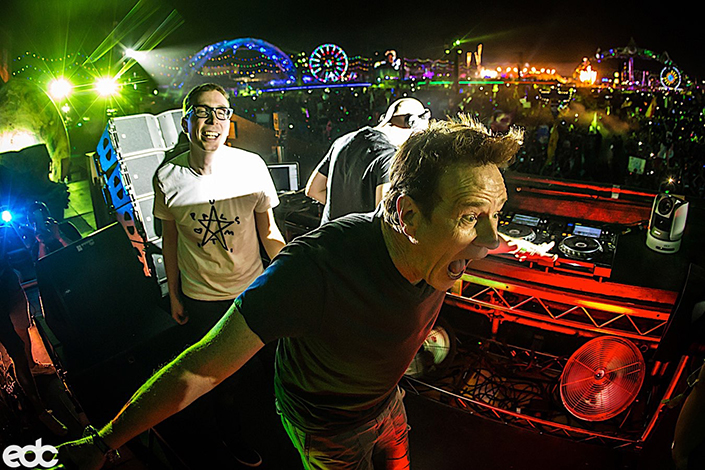 Some moments are just meant to be. EDC made worldwide headlines in 2015 when Bryan Cranston, most famous for playing drug kingpin Walter White on Breaking Bad, came onstage with Above & Beyond to take part in a very special version of their famous "push the button" moment. The situation came together after a chance run-in between Cranston and two-time Stanley Cup–winning hockey player Dustin Penner, who invited the actor out to EDC and set him up with his friends in A&B. The song that played when Cranston hit the button? Above & Beyond's "Walter White," of course.
Fireworks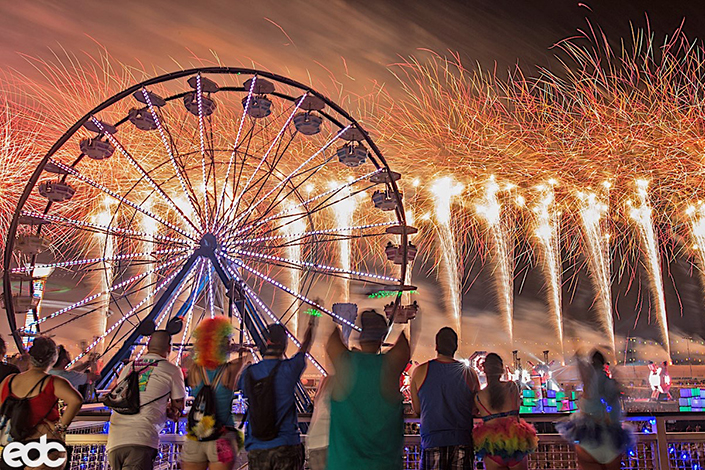 No disrespect to the Fourth of July, but few fireworks shows are more spectacular than the ones witnessed each night at EDC. The pyro professionals that coordinate these displays pull out all the stops, filling the night sky with brilliant lights and colors that serve as an extension of the mega-wattage already happening on the ground. Visible from everywhere in the Speedway, these shows are goosebump-inducing, regardless of the heat.
Interacting With Performers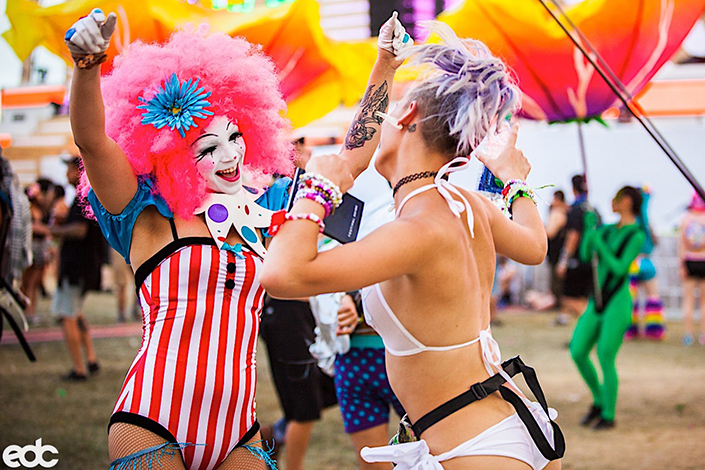 It takes a small army of makeup artists, costume designers, hairdressers and actors to bring to life the performer troupes that rove the grounds each year at EDC, but everyone involved will attest that the effort is well worth it. From human lollipops to astronauts to homages to Mama Irene, an intense amount of creativity and care are put into the performers, who give the festival a bit more whimsy and ensure a lot of very special selfies.
John Legend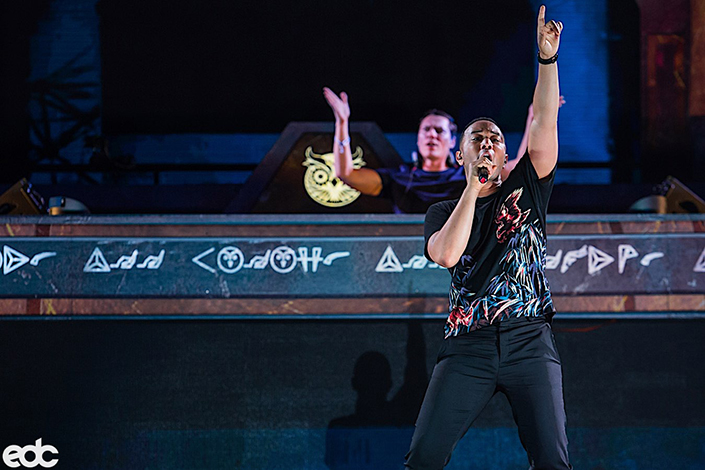 In 2016, Tiësto brought out Grammy-winning crooner John Legend to perform his mega-hit "All of Me" at kineticFIELD. The surprise collab climaxed with an audience-wide sing-along and many smiling faces throughout the massive crowd, although no one looked happier than the two artists onstage. The moment is already Legendary.
Kaskade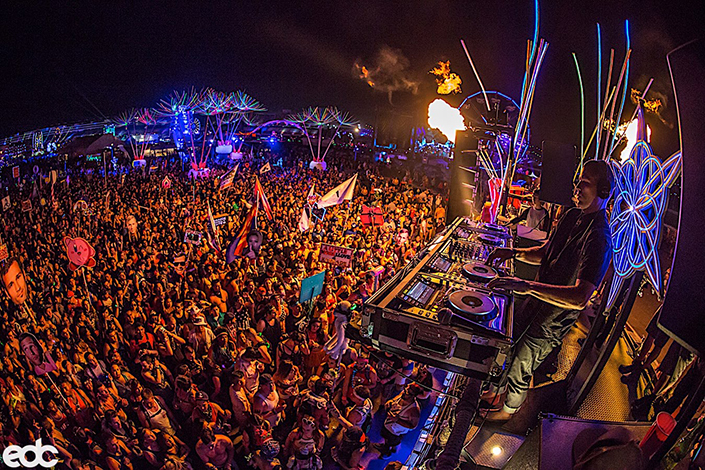 Every artist on the EDC lineup is special, of course, but some producers are Insomniac family. This inner circle includes Kaskade, who's been playing Insomniac shows since the early days and whose name has graced many EDC lineups. The man born Ryan Raddon even made an unscheduled appearance at EDC 2017, performing a surprise sunrise set on the Kalliope art car. We tip our flat-brimmed snapbacks to him.
Sunrise Sets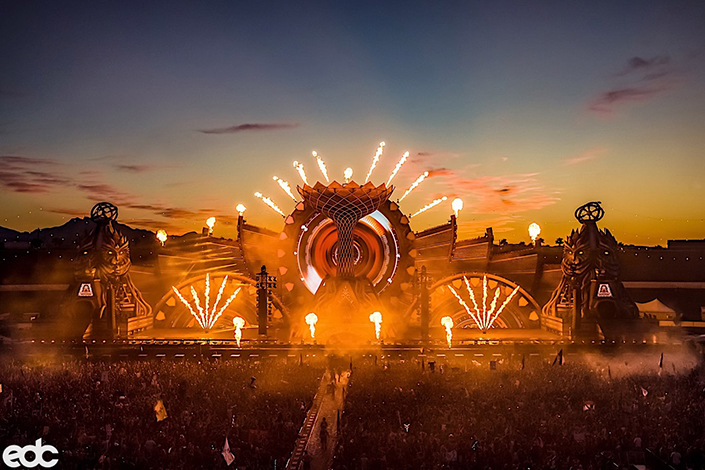 Each night of EDC is a long haul. You've got to get to the festival, get to the stage, dance your butt off, lose your friends, find your friends, and then do it all over, all night long. It's reasonable that by morning, many Headliners are happily exhausted. Still, when the rising sun turns the eastern horizon orange and the first beats of a sunrise set emanate from the speakers, many Headliners tap into their energy reserves and spend a bit more time dancing before the night is officially over. You can do it. We believe in you.
Front-Row Feeling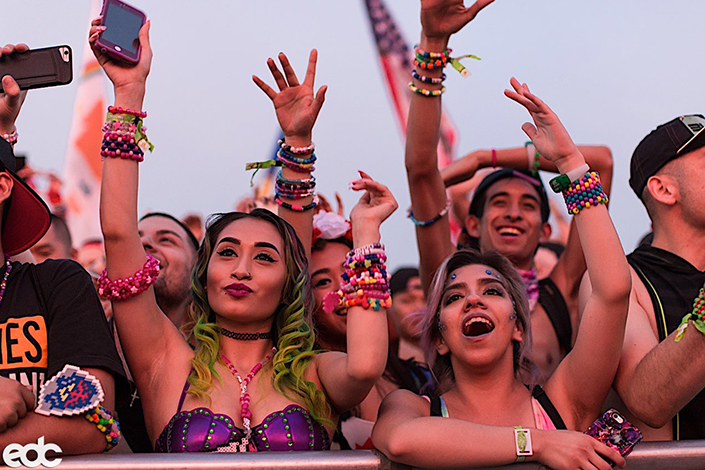 Any Headliner can casually pass by a set, hang out for a few minutes, and say they were there. The Headliners who arrive at EDC early to secure a spot on the rail, however, are the ones who can really say they fully experienced a show. Standing in the front row requires dedication, planning and patience, but seeing your favorite DJ up-close—feeling the energy of tens of thousands of people behind you and seeing your face on the big screen—is well worth the effort.
bassPOD Fire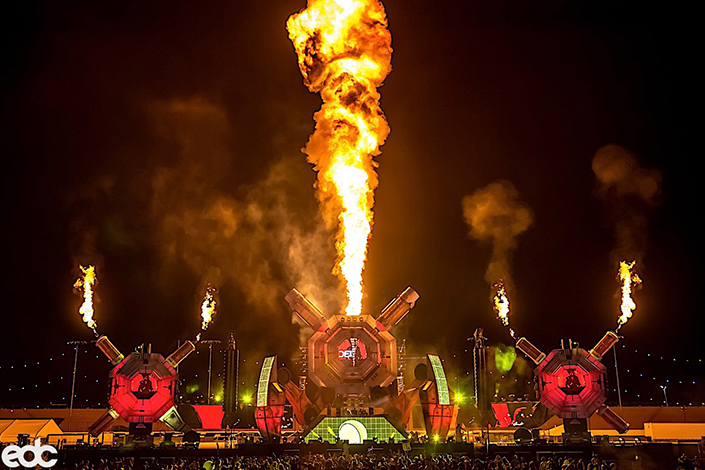 As any bass music fan will attest, things frequently get lit at the bassPOD stage. In 2015, however, things got a little too lit when the stage briefly caught fire due to a faulty pyrotechnic device. What the situation made clear is that DJs are heroes, in the sense that they can drop fire mixes, while firefighters who put flames out when necessary are festival icons as well.
Vegas Journey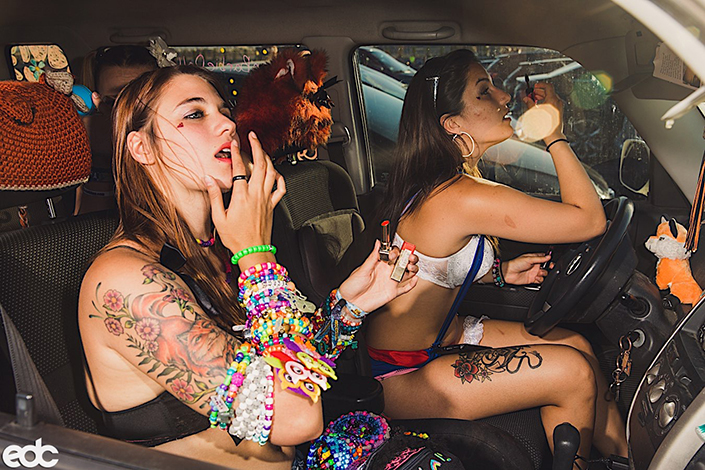 From singing along to the radio in the car with your besties, to hopping on a flight and reuniting with your rave family at the airport, the trek to Las Vegas is a fundamental element of the festival adventure. Whether you're arriving by car, shuttle, helicopter or pogo stick, even just getting to the Speedway is a journey. Enjoy these moments, and be sure to take part in some of the fun Vegas has to offer (pools! clubs! Celine Dion!) when you're not at the Speedway.
Wind Shutdown
Mother nature became the headliner on the second night of EDC Vegas 2012, when the festival shut down early due to high winds. The gusts picked up around 8pm, and things stopped for the night beginning at 1am. An estimated 115,000 fans evacuated the Speedway as winds reached 30 miles per hour. Steve Aoki, who didn't get to play his scheduled set because of the situation, stayed at the Speedway until dawn, dropping tracks for (and throwing cakes at) the small but enthusiastic crowd left inside.
Marshmello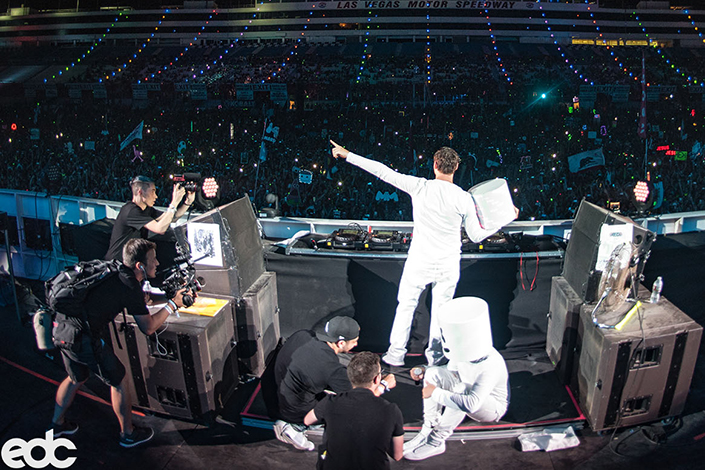 Let's take a moment to discuss who or what might be under the bucket that the artist known as Marshmello wears to disguise his identity. It could be some famous DJ playing a different type of music under an alias. It could be no-name producer who got famous on a good shtick and a load of hot tracks. It's definitely not Tiësto, who was doing his best to trick the crowd as he took off a Marshmello helmet onstage during Marshmello's set at EDC Vegas 2016. Regardless of Marshmello's true identity, the fact remains that this artist slayed last year at kineticFIELD and inspired many impersonators out in the crowd.
Night Owl Experience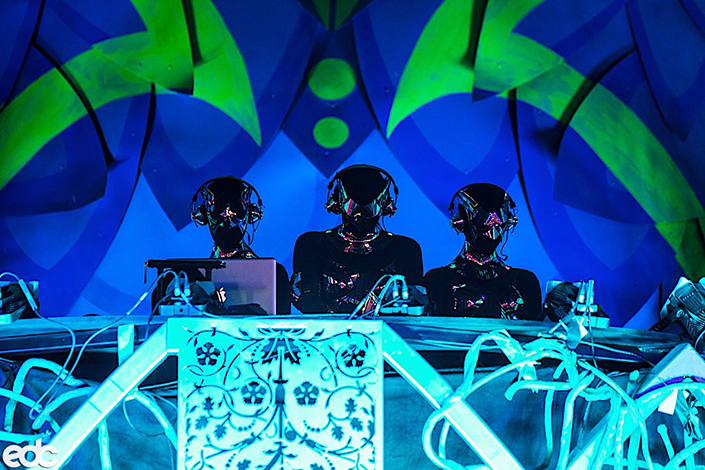 In 2013, the EDC Vegas schedule featured a set billed only as the "Night Owl Experience." Headliners who arrived at kineticFIELD to see what this cryptic listing was about were treated to 15 minutes of next-level visuals and production—think synthetic spiderwebs, massive octopuses, stunning fireworks, gigantic balloons—all set to a mega-mix of bangers by artists including Robin S., the Crystal Method, and Justice vs. Simian. If you were there, you get it. If you weren't, well, maybe next time.
Daisy Drop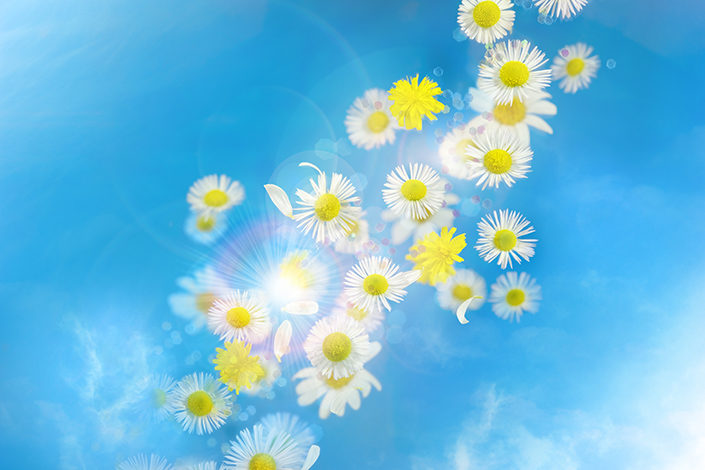 As deep EDC mythology goes, the daisy drop happened in 2006, when the festival was still going down in San Bernardino, California. It was the hour before sunset, and the reggae stage was pumping chill beats into the sea of party people hanging by the lake. This is when, out of nowhere, a helicopter swooped over the crowd, and a dude hanging from the side of the chopper pulled out two garbage bags and showered everyone with fresh-cut daisies. The crowd went wild, cheering, dancing, and running toward the surprise flower shower. It was an unexpected moment of whimsy that still brings a smile to the faces of those who were there.
Ookay Brings Dad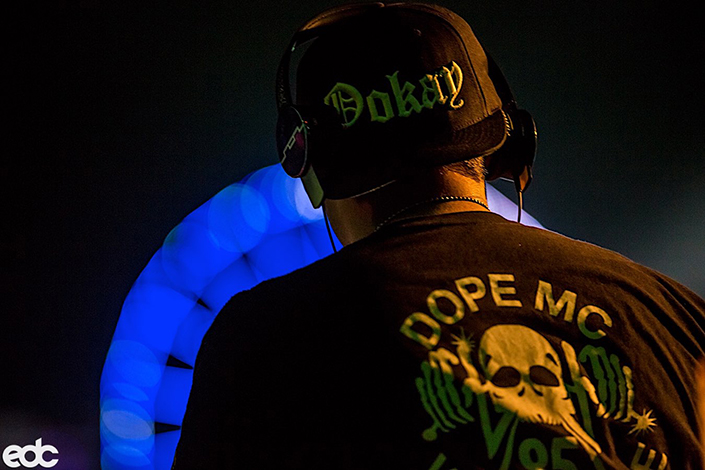 Ookay turned his 2015 Vegas appearance into a family affair by bringing out his dad, who dropped a sick bass (guitar bass, that is!) solo in honor of Father's Day. "We made a track together, and he's gonna play over it," the producer told YourEDM ahead of the show. "We made a song specifically for EDC, and we're gonna play it about halfway through the set. I thought since it's Father's Day, it would be perfect." In fact, it was.
Drake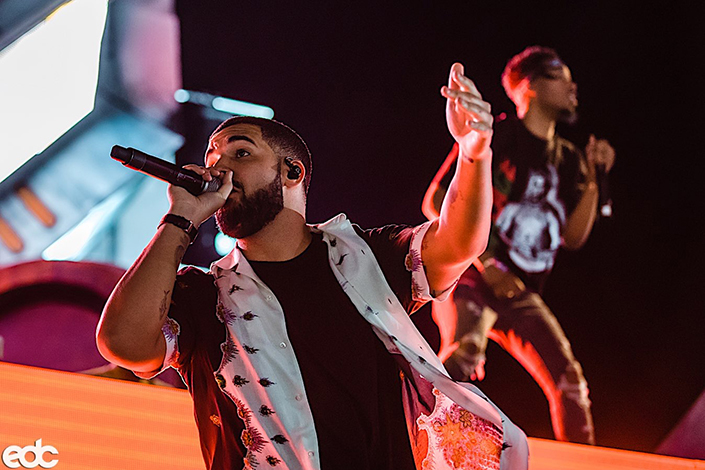 Drake made his first EDC appearance during the final day of EDC Vegas 2017, making a surprise cameo during Metro Boomin's set on the bassPOD stage. "I know there's a lot of festivals out there, but I heard no one's louder than EDC, and I want to see if that's true," the hip-hop superstar announced between performances of his hits "Jumpman," "Gyalchester" and "Fake Love." The crowd did itself proud, expertly chanting Drizzy's lyrics back at him. What a time to be alive.
First Wedding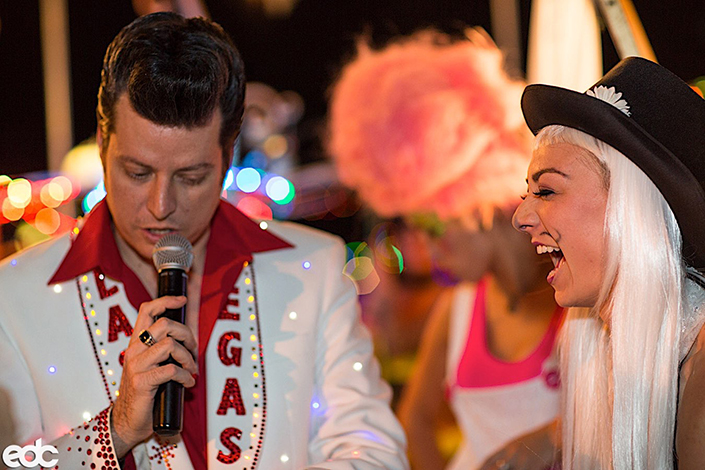 Dozens of couples tie the knot every year at EDC, but the best wedding of each weekend is arguably the first one, as newlyweds then have the rest of the festival to use as their honeymoon. Whether you're getting legally hitched, making a non-binding commitment to treat your partner with peace, love, unity and respect, or just observing the ceremonies as a witness, EDC weddings are often some of the sweetest moments of the event.
Hardwell's Hip-Hop Set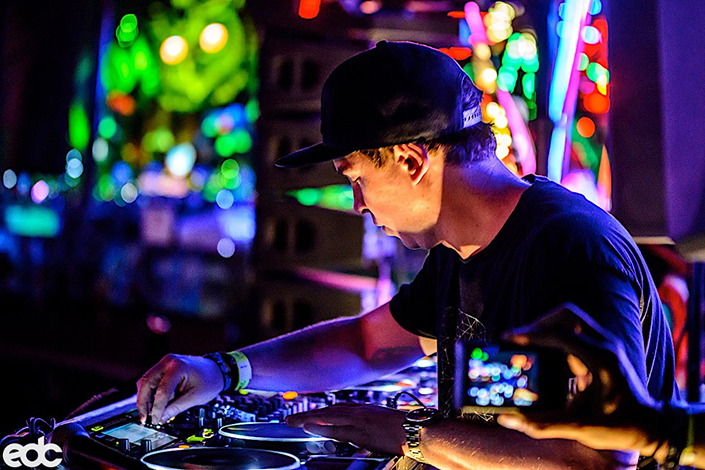 Hardwell is famous for playing big-room EDM for massive crowds, but in 2016, he demonstrated that he's well-versed in other genres by playing almost entirely hip-hop during his surprise set on the Mayan Art Car. The lucky fans that caught the show heard booty-droppers by artists including Lil Jon, Nelly and Jay-Z, all mixed in with a heavy dose of moombahton and TNGHT's enduring trap classic "Higher Ground."
Red Bull Skydivers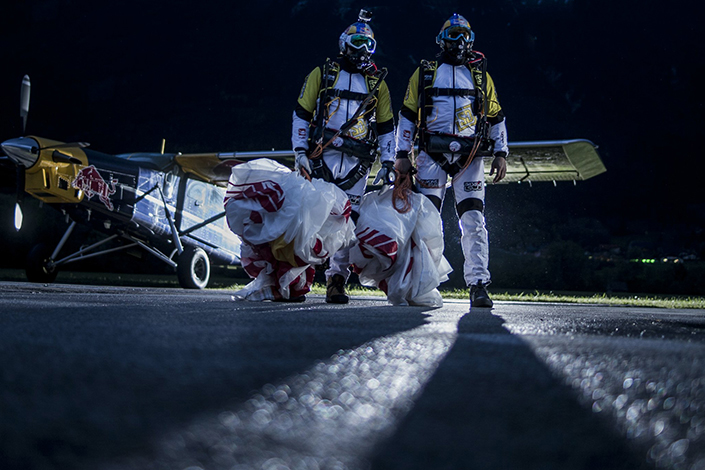 EDC debuted in Las Vegas in 2011, and to celebrate the move, members of the Red Bull Airforce skydived into the event after dark. They wrapped themselves in glowing lights for the first jump, before kicking it up a notch for the second jump by strapping flamethrowers to their feet. It was undoubtedly a cool sight for all the fans watching from the ground, but one gets the sense that seeing the entirety of EDC from above while falling from the sky was an even more memorable experience for the six skydivers.
View From Grandstands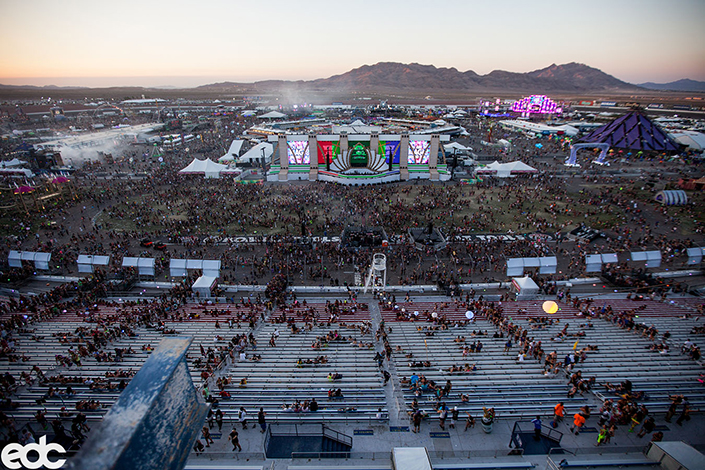 EDC may last for only three days, but from organizing your friend group to buying tickets to plotting travel plans, the total experience lasts much longer. This extended period of anticipation is what makes that first moment—stepping through the doorway and into the grandstands of the Speedway—feel all the more epic. You did it. You made it. You're here, and just down the steps, your playground awaits.
Top of Ferris Wheel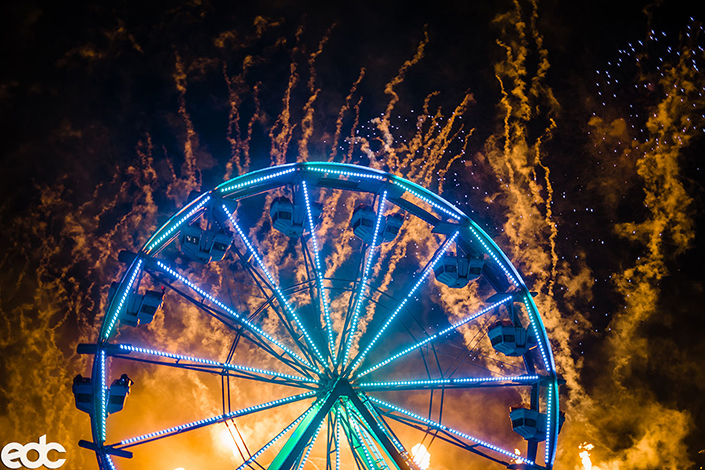 EDC is magnificent from almost every angle (except for maybe porta-potties), but there's no better view than the one witnessed from the top of the Ferris wheel. From here, it's possible to better understand the insane scale of the event and see how a crowd as big as the entire population of Fargo, North Dakota, fits inside the Speedway. This location also offers a momentary reprieve from the crowds, music, lights, and lasers—although you'll likely be ready for more by the time you touch back down to the ground.
Art Car Sets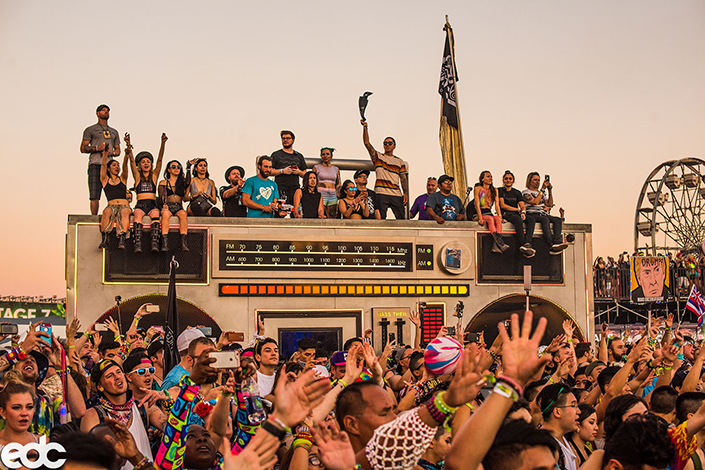 When EDC's daily schedule drops, Headliners plot their every move to ensure they won't miss a beat of their favorite artists' sets. That said, some of the greatest musical moments of EDC are the spontaneous ones that happen on the art cars cruising around the Speedway. Hardwell made a surprise appearance on the Mayan Art Car in 2015, and Kaskade did the same on the Kalliope art car last year. Thus, when you see a car cruise by, make sure to check it out. You never know who might roll up.
Interactions With Art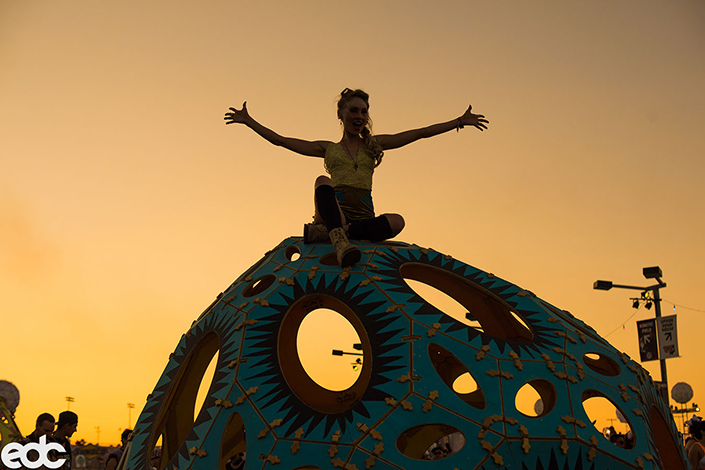 Art in a museum is classy, but art at EDC is legitimately next-level, as Headliners can often touch, climb, crawl through, and get up close with the many installations that populate the grounds. Created by a hand-selected group of artists from around the world, the art at EDC always offers some memorable moments, along with many truly artistic selfies.
EDC Las Vegas 2018 takes place Friday, May 18, through Sunday, May 20, at Las Vegas Motor Speedway. Tickets are on sale now. For more information, visit the official website.
Follow EDC Las Vegas on Facebook | Twitter | Instagram
---
Share
---
Tags
---
You might also like