Krewella and Thousands of Headliners Keep Cameron Stalvey's Story Alive

It wasn't sharing her friend's story with dozens of Headliners that opened the floodgates of emotion for Rebecca Braatz. It wasn't wishing he was there, dancing with her at EDC. It wasn't even holding up a homemade banner decorated with his pictures. It was when Krewella dedicated "Alive" to her late friend Cameron Stalvey at EDC Las Vegas that Braatz couldn't stop the tears from streaming down her face.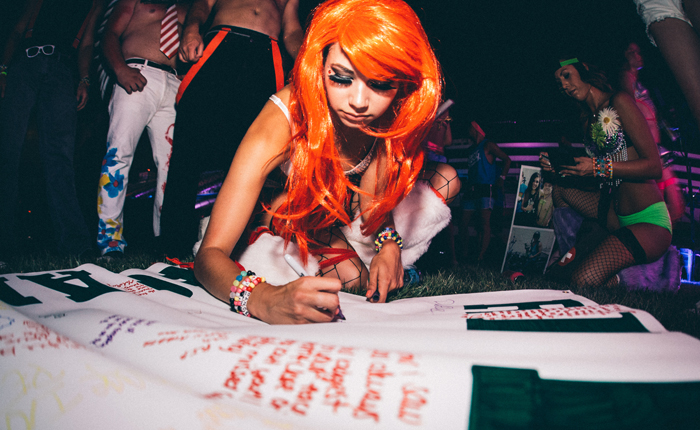 "I want to dedicate this one to Cameron Stalvey," said Jahan Yousaf to EDC's kineticFIELD crowd, the largest Krewella has ever played for. "I know a lot of you guys are friends with him out there. He's dancing Under the Electric Sky with us tonight." Braatz proudly held up the "RIP Big #CamFam" banner that she had made for this exact moment—not as a reminder of what the world had lost, but what the skies has gained. When a fellow Headliner asked why she was crying, all she could say was, "That's my boy."
Stalvey passed away two weeks prior to EDC, on June 6, in a motorcycle accident. He was 21. Everyone was in disbelief when they first heard the news. Someone as invincible and full of life as Stalvey couldn't be gone. He was a bodybuilder and personal trainer, as strong on the inside as he was on the outside. He was the person who went to Ultra even after an injury temporarily left him in a wheelchair. He was the guy who loved taking his car off-road. But as the news reports started pouring in, everyone's worst fears were confirmed.
While his group certainly thought about not attending EDC after Stalvey's passing, everyone agreed that it wasn't what he would have wanted. He had organized the trip for his group. Now they were going in his honor.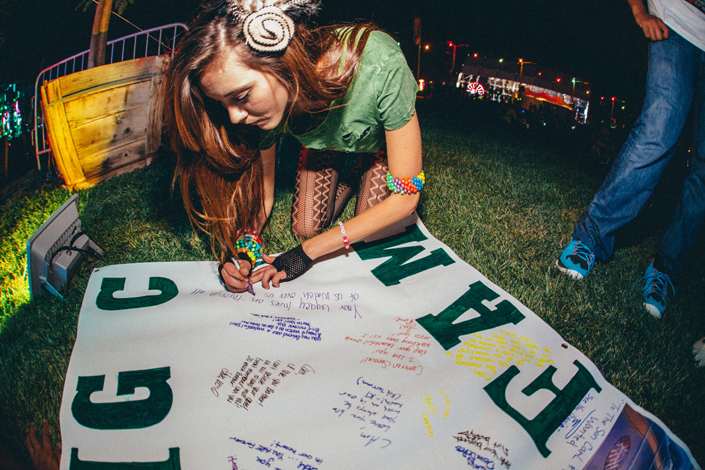 While his group certainly thought about not attending EDC after Stalvey's passing, everyone agreed that it wasn't what he would have wanted. He had organized the trip for his group. Now they were going in his honor. Friends from Arizona, Florida and beyond banded together to spread his story. Braatz made #CamFam kandi bracelets that she traded with Headliners throughout the festival, as well as a giant banner that people signed and was later sent back to his parents in Florida. She also made that poster, which she carried above her head from set to set at EDC. When Seven Lions dropped Empire of the Sun's "Alive" at bassPOD, Stalvey was there. When his Florida friends were trying to find his Arizona friends, the poster guided them to the right location. Stalvey connected people at EDC, in death as he had in life.
Sometimes fate helped make those connections happen. When Braatz tried to meet up with Stalvey's Florida friends at kineticFIELD for Krewella's set, the size of the crowd posed a roadblock. Later on, Braatz and the Florida crew decided to go to bassPOD for Saturday night's surprise set, hearing rumors that the special guest could have been Skrillex. When they got to the stage, who else did they see performing but Stalvey's favorite artists, Krewella. "This was Cameron's way of saying 'thank you,'" Braatz remarked. "He was there with all of us."
Stalvey's presence could be felt all throughout the Las Vegas Motor Speedway. The dance music community may have lost one of their own, but they weren't about to forget anytime soon. Whenever people recognized Stalvey's picture from the poster, they would stop Braatz and ask if they could sign the banner. Las Vegas native Hector Morales, 23, knew he had to leave a message for a fellow raver. "My wish is that his family recovers," he said. "He'll be in my prayers tonight."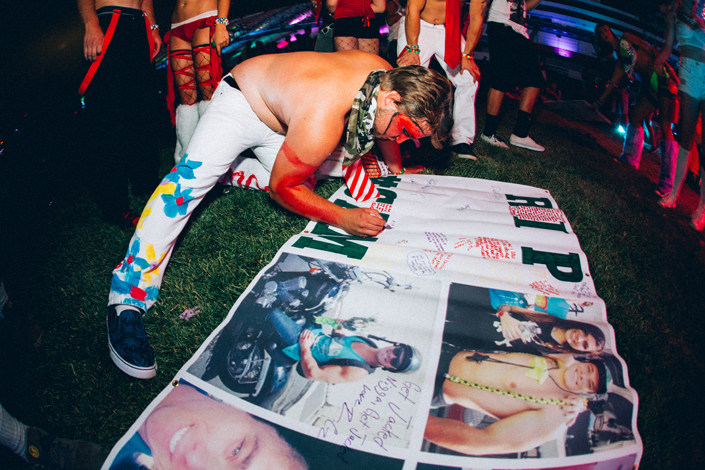 Another person who took note of Stalvey's story on Facebook was 26-year-old Jessica Cruz of Las Vegas, who happens to know Krewella personally. She emailed Stalvey's story to Yasmine and received a response within 10 minutes. "So sad to lose one of our own," Yasmine said. "It brings me down, but I know he is resting in peace and raging in heaven."
Not only did Jahan and Yasmine dedicate "Alive" and Stalvey's favorite song, "Enjoy the Ride," to him, but they personally signed the banner that Braatz made. It featured four pictures of Stalvey, including one that he had taken with Jahan. When she saw that, she took a minute to reflect on the loss of a Krew member. "To hear a story and feel compassion for it, it was beyond what was expected," Braatz said. "Cameron loved [Krewella], and now they love Cameron, so it was an amazing, amazing experience."
Like the Krewella sisters, Morales, Cruz and dozens of other Headliners who never met Stalvey didn't find it hard to feel a connection to him. He was not just the life of the party—vivacious, with an unforgettable smile—but someone who truly wanted to make others happy. Korey Alberts summed it up best, saying, "You couldn't be around Cam and be unhappy."
Some people dream of achieving big things. Stalvey made them happen. If he saw a group of people at a rave, he would have zero reservations about approaching them. "He would see people dancing in a little circle and he would take his shirt off, put it in his shorts, and get in the middle of the circle. He would go in there and dance. That's how he met a lot of people," explains Elijah Montoya. Stalvey took Montoya to his first dance music festival, EDC Las Vegas 2011. Now Montoya is carrying forward the torch for his friend.
While Stalvey may not have been physically present at EDC, he was there in every other way. Through Krewella, his friends, and his legacy, his memory stayed alive Under the Electric Sky. In the shadow of the Electric Daisy, Kenny Alberts fought back tears as he tried to find the exact words to remember his friend by. "He was just the greatest guy. There's nothing I could ever say bad about him. He touched so many people, and he touched me, and all I know is he's always going to be with me for the rest of my life."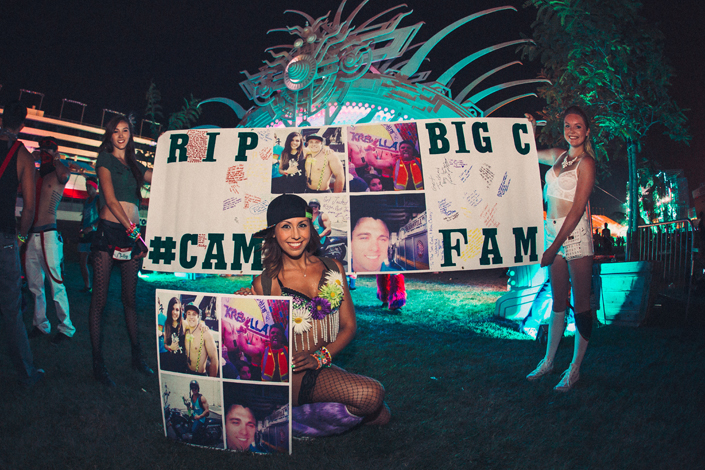 ---
Share
---
Tags
---
You might also like