kineticLOVE Stories: Celina and Roberto
We've all experienced that moment when one face in the crowd catches your eye; experienced that one dance that made the night unforgettable; witnessed a smile from a kind stranger that made you grin uncontrollably. It's all a testament to the power of music, that great force we love to love, which unites us all Under the Electric Sky.
Few things in this world are capable of bonding people together like music can, a fact that science—along with the hundreds of couples who get married at EDC each and every year—can attest to. In honor of this year's EDC theme (hello, kineticLOVE!), we're sharing the stories behind some of our favorite EDC weddings over the past few years. So kick back, put on a playlist, and be ready to get hit in the feels.
For Celina Hernandez, it all started with an EDC trailer.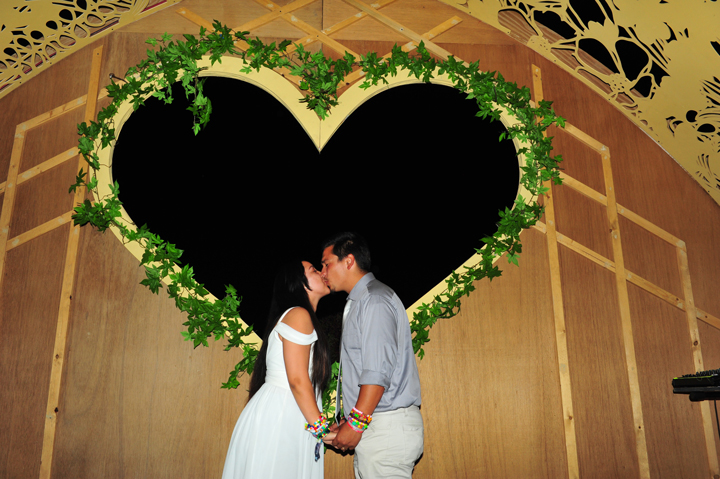 "The first thing I showed Roberto was an EDC 2013 trailer, and he said, 'I've loved this music since I was 12 years old. I want to go here one day.' Since that day, we just never stopped talking. All we would talk about is music, and I'd show him everything that I knew."
Brought together by a mutual love of EDC, Celina and Roberto became inseparable from that moment, spending their time together poring over music from new artists, developing their own unique dance moves, and of course, planning their very first EDC Las Vegas trip.
"I will never forget our first time going. He said, 'This is it; this is home.' After seeing the lights and walking down those stairs, and seeing the stages and the Speedway and the beautiful people together, we realized this was what our relationship was made of."
Two unforgettable, joy-filled EDC trips later, Celina and Roberto decided to take their relationship to the next level—EDC style. "We always talked about it, but one day, we decided, 'Let's just go for it,'" remembers Celina.
The night before was full of love and smiles, with the happy couple meeting up with family in Vegas and getting amped for their big day with a dress, tux, and jewelry for the bride to wear. There was a little frolicking, too, as the two ran around EDC looking for other couples getting married, "just to give our love to them."
The wedding day itself was nothing short of majestic, thanks to the spirit of love and camaraderie running through the circuit.
"When it came time for the wedding, we were nothing but smiles," Celina recalls. It's easy to see why: The couple's favorite artist, DJ Isaac, happened to be performing during the ceremony, giving the couple a once-in-a-lifetime soundtrack by which to remember their day.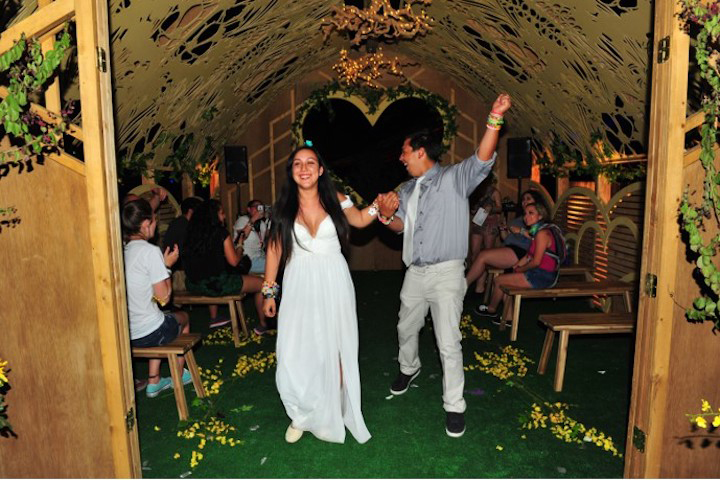 "When the officiant told us to take a moment to just look at each other and enjoy this time… we just knew. This was exactly what we always wanted and how our life was supposed to be."
When the two lovebirds finally tied the knot, the whole world came out to celebrate with them, with other wedding couples joining in for group photos and plenty of cheers. "They were just hugs and smiles the whole time," says Celina. They followed up the ceremony in true EDC style by hitting a few rides, sharing more hugs, and getting in a little more dancing before heading home.
That happy day would go on to help cement a beautiful union between the two.
"Our marriage has been nothing but pure happiness and love," adds Celina, "and because of Pasquale and his urge to always spread PLUR, we've been inspired to be more kind, loving, and happier people who spread positivity."
The love that Roberto and Celina experienced at EDC continues to positively impact their lives to this day. The two often talk wishfully about when they'll someday get to take their kids to EDC, excited for the opportunity to share all of the peace, love, and unity that make EDC so special.
"I feel like I'm one of the luckiest people in the world to have someone love the things I love. For me, to be the person to show my husband the music, and EDC, and everything that I was about—and watch him fall in love—is too incredible."
EDC Las Vegas 2018 takes place Friday, May 18, through Sunday, May 20, at Las Vegas Motor Speedway. Tickets are on sale now. For more information, visit the official website.
Follow EDC Las Vegas on Facebook | Twitter | Instagram
---
Share
---
Tags
---
You might also like