Kandi in Public Project Allows You to Track the Life of Your Bracelet
Worn-down beads are a source of pride for those who sport their kandi with conviction. Although their colors may fade and letters erode, each piece holds a permanent place in the hearts of its bearers. The connection made between maker and recipient (and however many other lives it may touch through subsequent trades down the line) will never lose its meaning. Be that as it may, the sheer volume of pieces collected by any one person can make record-keeping a clutter of confusion, which poses a problem when trying to differentiate one from the other.
Kandi in Public has arrived to change all that. It's a project born from a group of friends who have firsthand experience in witnessing the power of these multicolored symbols of community. It gives each owner the ability to track the life of every bracelet they receive or pass off to someone else. It's made possible by an online log, where trading stories can be documented in cyber amber, and the backstories never become a fuzzy memory.
The founders hope to see their bracelets—available in 10 different color and messaging options—as an everyday wear item. While they scramble for funding in the final two weeks of their Kickstarter campaign, we linked up with the team to find out what the project's all about.
When did the idea for the project first present itself, and what steps have you taken to get where you are now?
During our first EDC Las Vegas, we fell in love with the energy on the Strip. Ravers took over the streets, and you could just tell by looking at someone that they were going to EDC, too! We wanted to recapture this feeling when we got back home to California.
What if your barista, classmate or banker wore kandi in public? You could immediately have that connection and spark up a conversation. You knew that they were down with the same scene you were. But traditional kandi could clash with a professional outfit or cocktail dress. So, we set out to create a kandi bracelet that could be worn from the rave to the fancy dinner date. It might look like a simple bracelet, but it took us over nine months to have a finished product. We took surveys about bead size, had heated debates over font, went back and forth over a matte or shiny finish a dozen times, and sourced from many factories to find the right quality material.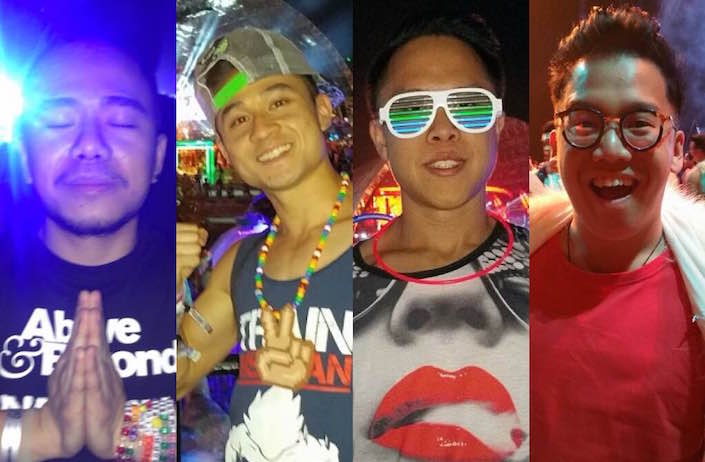 There are four founders of Kandi in Public. How did you all link up originally, and what's the main goal driving your group?
Contrary to some comments being thrown out there, we aren't another big corporation dipping its hands into EDM. We are four friends who met through mutual friends and work, and decided to just start partying our asses off before we all got married and had kids. So, we went to show after show, and our goal was to have the time of our lives in our 20s. Now, our goal after starting this project is to uplift and connect people with our inspirational bracelets and the meaningful stories behind them.
What do you love most about kandi culture, and why do you think the tradition is important to the scene overall?
We love that it makes an EDM show more than just a concert. Kandi culture is all about making new friends, bringing smiles to one another, uplifting and healing each other. Seeing a first-timer's face light up when you give them their first kandi bracelet and explain PLUR to them is just priceless. It's such a beautiful thing that we wanted to bring this phenomenon outside of festival grounds. While some may disagree with us, we feel keeping this beautiful thing strictly inside EDM would be selfish. That stranger you talked to on the subway who's battling cancer, or that classmate going through depression—why not pass a "HOPE" bracelet to them? A small act of kindness could mean a world of difference.
Please share some of your short-term and long-term goals, starting with your current status on Kickstarter.
We currently have about two weeks left to raise the remaining 39 percent of our funding goal on Kickstarter to cover the cost of manufacturing quality bracelets and operating our startup business. So, that is our main priority right now. In the long run, we'd love to do collaborations with DJs and festivals. A "CLARITY" bracelet with Zedd? A "REMEMBER" bracelet with Kaskade? Being included in the EDC ticket package? That would be our dream! But realistically, we just want to see our bracelets being worn by people we see in our everyday lives.
Since the idea is to help its wearers keep track of the life of each kandi as they get passed on, we'd love to hear your own personal favorite trading stories thus far.
I went to a show alone a few years back and befriended someone who had been in the scene for 10 years. We got along well, and I always saw him at shows, so we kept in contact. He showed me the ropes and taught me the culture. I called him my rave OG. He kept hyping up trance shows, and at the time it wasn't my thing, but I went along to see what it was about. At the show, he gave me his Trance Family bracelet and told me that it was passed on to him a few years back by a stranger when he was going through depression and went alone to a trance show to forget his worries. He told me he knows his time in the scene is winding down, but that I should carry the torch. I know a lot of people are against re-trading kandi, but it meant so much more to me that he would pass on something that meant a lot to him. Stories like these are what we want to document with Kandi in Public!
Many kandi kids take pride in the act of creating their own pieces that contain their own messages, and might think making a profit defeats the whole purpose. What's your take on this stance?
We want to make clear that we are not trying to replace traditional kandi, and fully encourage continuing to make those beautiful pieces of art! We are trying to create a new genre of kandi that exists in its own space, similar to how trap and trance are different genres of EDM. Traditional kandi bracelets can say fun things like "TURN UP" and "BASS KITTY," you can give off eight of them in one night, and that's great! Our bracelets are meant to be worn everyday even outside of shows, and are to be given to someone who you deeply connect with and/or could use the inspirational message more than you.
Do you plan on selling the charms individually for people who prefer to create their own pieces?
We're definitely open to this idea down the road, but Kandi In Public wants to do more than just help you track bracelets. We are currently focused on starting a movement by creating a bracelet you would not mind wearing to your school or profession, to smash the nasty stereotype that people into EDM are just a bunch of drug addicts.
You've made the commitment to give 5 percent of your proceeds to charitable alliances. Which ones are you planning on collaborate with and why were they chosen?
We've chosen 10 charities we want to partner with that support a wide range of causes. Each charity's cause will be in line with our bracelets' different messages. For example, our Smile Bracelet would go to Operation Smile, which performs free surgeries for children born with cleft lip and other facial deformities. Our Courage Bracelet would go to kidpower, which empowers and protects youth dealing with bullying and abuse. We are currently in the process of finalizing our list and seeing if we meet the requirements to become an official partner of these charities, as each has different rules and guidelines on becoming a partner, so the current list is subject to change.
---
Share
---
Tags
---
You might also like