John 00 Fleming Still Gets Down With the Underground
John 00 Fleming is among the few elder statesmen in trance who has remained a faithful and outspoken champion of the genre. And while dance music has gone through so many evolutions since he first stepped up to the decks 30 years ago, his passion and excitement to share music with the masses has only grown stronger.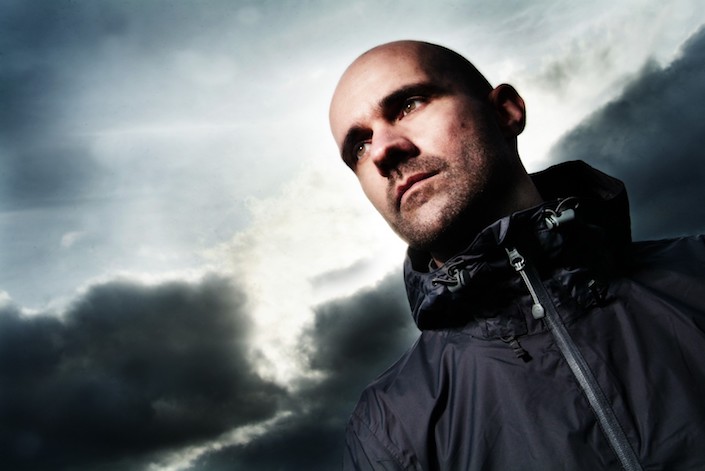 Fleming began his career in the late '80s, when dance music was just beginning to take off. He was always in search of something fresh to inspire him, as well as his audience. At a time when what he calls "cheesy breakbeat stuff" was dominating the dancefloor, he found solace in a new sound that was starting to bubble. People were beginning to layer trippy melodic elements on top of four-by-four techno beats. He instantly became fixated with the burgeoning genre and its ability to hypnotize its listeners, and he quickly realized its power to control the dancefloor. It's this aesthetic Fleming has fought to preserve as trance became commercialized in the early 2000s.
While he often speaks out against the many inequalities he sees in the industry, he remains optimistic about the power music has to transform audiences. He is fiercely dedicated to exposing the world to the groundbreaking work of both new and established artists via his three branded labels: JOOF Recordings, JOOF Mantra and JOOF Aura.
His carefully crafted DJ sets are the stuff of legend, as evidenced on his latest JOOF Editions, Vol. 3 – The Journey mix compilation. Clocking in at an impressive four hours and 50 minutes, it's a master class in how to properly build a long-form set that leads dancers on an unexpected adventure. He has clearly never forgotten where his roots lay, while still reaching out toward future sounds.
Fleming is joining longtime collaborator and good friend Christopher Lawrence for one of their crowd-favorite collab sets at Dreamstate San Francisco 2017 next month. We caught up with John 00 Fleming to discuss how he first discovered his love for making people dance and how a bout with cancer gave him a fresh outlook on life.
You owe your intro to DJing in large part to a high school mentor.
When I was at school, the superstar DJ thing didn't exist; it was more of an unsocial job of a DJ stuck in the corner of a room. As you could imagine, a kid collecting and buying records on his lunch break—while most of the other kids played sports—was seen as a bit weird. I was that weird kid! I used to get back from record shopping, and [I would] play my records in the music room, the record player being the only form of electronic equipment in that room.
The headmaster of the school wanted to put some entertainment on for the under-18 dance night, and he asked if I wanted to play my records to entertain. Being only 15 at the time, I was both nervous and daunted by this task, as DJing with this music had never crossed my mind. I was only collecting records because I loved music. From that very first gig, I was hooked, and the club asked me to come on board full time. The rest is history.
Do you feel like the older generation in dance music has some responsibility to help mentor the youngsters in navigating such a perilous industry?
Often in life, you need to make mistakes in order to learn from them; that's the process of life, including mine. I've been fortunate that I'm still at the pinnacle of my career 30 years later, and I like to feel like I've made the right decisions that have allowed me to sustain this long career. With the experience and knowledge I've picked up over the years, I see many making mistakes, and I get a gut feeling of what or who will last and what or who won't. This gut instinct has served me well, and it helps me with my decisions.
It's impossible for me to reach a hand out to each individual to help them, but I've given that help for many years in the form of my blogs and tutorials, [as well as] being involved with music conferences to help the next generation. I'm probably one of the few who says it as it is—no bull, just honest knowledge of how this industry actually is and works. This way, the next generation can get a clear idea of what they are getting into.
You had a bout with cancer that almost ended your career very early on. Does that experience continue to shape the way you approach things?
It was a complete game-changer for me, and it made me fully focused and determined to pursue a career in the music industry. Still, today I feel this drive, because each and every day given to me is precious; I would hate to waste it on something I didn't want to do. It hasn't been an easy ride—many, many bumps on the way—but I [stayed] focused and believed in myself.
Do you think events like Dreamstate are a proper way for the two worlds of trance you have spoken about to come together?
I think Dreamstate is offering a perfect bridge for this and is introducing new forms of trance to many who may not have shown interest before. For example, psytrance and trance have historically been two different worlds that don't really understand each other, yet are connected by the same name. Having both on the same lineup introduces this sound to a packed dancefloor. Some could be waiting for a euphoric DJ, and the DJ before is playing psy. While they wait, they find themselves dancing their asses off [and] enjoying it. Before, they would have never entertained [the idea of] going to see a psy DJ, and now [they are] hooked.
That's how raves used to work in the old days—by having multiple styles on one stage; it's no different here. After all, it should just be one huge party, regardless of styles, genres, subgenres, etc. Just smiles.
What's your primary goal with the three JOOF labels you run?
JOOF Recordings is 19 years old, and alongside our long list of regular producers, we were signing many amazing, talented guys and girls. With all this music, it put the label at full capacity, with releases almost every week; we really didn't want to feel like a factory churning music out. We created two extra sublabels to deal with the subgenres we were releasing. Each label could breathe again; the pressure was taken off, and attention could be given to each and every release.
Catch John 00 Fleming at Dreamstate San Francisco 2017, taking place Memorial Day weekend, Saturday, May 27, and Sunday, May 28, at the Bill Graham Civic Auditorium. For more information, visit the official website.
Alexander Dias is a trance OG. Follow him on Twitter.
Follow Dreamstate on Facebook | Twitter | Instagram
Follow John 00 Fleming on Facebook | Twitter | SoundCloud
---
Share
---
Tags
---
You might also like