Jax Jones Is Bridging the Worlds of House and Pop on Dancefloors Across the Globe
Jax Jones, the London-born producer/DJ behind some of the hottest tracks burning up the UK charts right now, blew up the scene from seemingly out of nowhere when he joined his brother from another, Duke Dumont, on the 2014 single "I Got U." Written and produced together by the two artists, the track was a massive success, topping the UK Singles Chart and also charting around the globe.
"I Got U" introduced the entire music world to the Jax Jones sound, which seamlessly blends the ear-worming appeal of pop with the finer finesse of house and deep house. More importantly, the meeting with Duke Dumont also introduced Jax Jones to the wider electronic music culture, particularly house music. The two would go on to collaborate on the equally gigantic Duke Dumont tracks "Won't Look Back," one of the best songs of 2014, and "Ocean Drive." Collectively, this trifecta of hits comprises some of the biggest tracks in Duke Dumont's catalog and some of Jax Jones' strongest production and songwriting work.
But of course, Jax Jones is a bona fide chart-topping artist in his own right. Today, he's bridging the worlds of house/deep house and pop music more closely than ever via his breakthrough solo tracks. He first leaped to the top of the pop stratosphere with his 2016 hit "You Don't Know Me," which peaked at #3 on the UK Singles Chart. The song—a dance-pop/house hybrid that heavily samples the iconic bassline from "Body Language," the deep house classic from M.A.N.D.Y. and Booka Shade—perfectly epitomizes Jax Jones' unmatched skill at bringing the underground vibes to the mainstream.
He followed up in 2017 with "Instruction," a collaboration with pop star Demi Lovato and UK rapper/singer Stefflon Don. Two months after the track's release, Jones joined Lovato on Good Morning America, where they performed the song on national TV for the first time ever—an impressive feat for a house producer, no doubt. Jones released his most recent solo track, "Breathe" featuring Ina Wroldsen, at the end of last year, and it has since charted in Ireland, Scotland, and his native UK, where it still sits on the official Singles Chart Top 100.
Most recently, Jones has been holed up deep in the studio, putting the finishing touches on his debut album, which is set to feature collaborations with Tove Lo and Mabel. But before he releases any new music into the world, he's dropping in for a highly anticipated set at the 5th annual We Are NRG SoCal, which returns to NOS Events Center in San Bernardino, CA, Friday, June 22, and Saturday, June 23.
Ahead of We Are NRG SoCal, we caught up with Jax Jones to talk about his upcoming album (sorta), the vision for his new live show, and all things house music.
We Are NRG SoCal 2018 tickets are on sale now.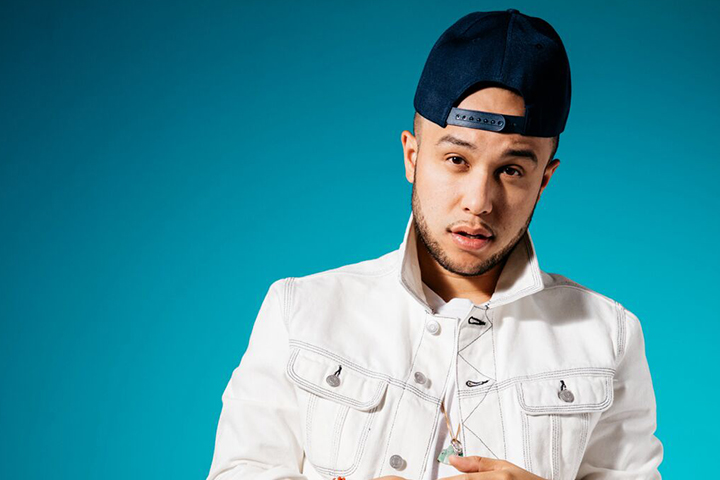 Your sound travels really well between the dance and pop worlds. Is there still a separation between the two, or are we starting to see some convergence within the genres?
In terms of deep house, it's always been in the charts in pop music for over 25 years—particularly in European and UK pop music, maybe less so in America. For me, it's not too different. Although, you do have an underground sound, which won't ever see the charts but is still incredibly good music, and [it's] where I draw most of my inspiration from. I think that question varies in different parts of the world. I definitely think there's less dance music on the radio in America and breaking into the Top 40. But in the UK and Europe, dance music can be as much of a pop hit as it is a hit in the club.
Do you think America will ever get to a point where electronic music is ingrained in the culture the way it is in the UK?
Every culture goes through different seasons. Even though the house music I create draws most of its inspiration from America—Chicago, Detroit, New York—it's almost like festivalgoers now or the people that go to the clubs, a broad section of them aren't aware of that. It's taken a bit of time to reach that surface where it's commercial for everybody. It's a different experience when you go over to the States and play cool club music. It feels like a cool, new thing that everyone kind of found. I see people popping up and saying, "Wow, that was the first time I've actually listened to a house set and I really liked it." And that's always more exciting; whereas maybe in the UK, we've kind of been [everywhere] and heard everything.
Do you feel like your music is bringing in new audiences who wouldn't necessarily listen to house music or deep house?
Yeah, 100 percent. I've crossed different platforms. I like to just make music that I respect and that also a lot of people would listen to. That tends to lead into poppier vibes. People that might only [hear] my stuff on the radio, they come and they hear a much more credible DJ set. A part of that is educating a new audience.
Speaking of that, what was your introduction to dance music and electronic music culture?
For me, it was when I met Duke Dumont. Before that, I was heavily into band culture and heavily into hip-hop. I grew up on that 2000s hip-hop and R&B and also a lot of African music. So I was late to [dance music] in terms of having a deep appreciation, apart from was on the radio. Through Duke, we did "I Got U" and "Ocean Drive" and "Won't Look Back." Through that, I listened to a lot more underground stuff, which certainly piqued my interest. I guess it's kind of like when people come to my shows now, and at first you might not be aware of it. Then suddenly your tastes deepen, and within two years, you're listening to some pretty heavy techno.
How did you and Demi Lovato meet and start collaborating?
We just had the song I wrote with MNEK, ["Instruction"]. At the time, it was his voice pitched up to sound like a girl. Because of the type of song that the lyrics were singing, we needed someone with the kind of sex appeal to carry it. So we just sent it over and said a little prayer, and she said yeah. The first time I met [Demi] was on the video shoot.
Your career really blew up with your massive track "You Don't Know Me," which obviously samples M.A.N.D.Y. and Booka Shade's "Body Language," one of the most beloved electronic songs ever. Was it a difficult choice to tackle such a classic song?
When we wrote the tune, we just wrote it over a dummy bassline and some crappy drums. I went away with the song, and I was excited about how catchy it was. I remember the song was in the same key as Booka Shade and M.A.N.D.Y., and I thought, "OK, cool, if I could just come up with something like this." Nothing could beat the original. I remember trying for two days trying to change it. I ended up sending it to my manager and just saying, "This is either the dumbest thing I've ever done, or it's genius."
The first step was clearing it as a sample. And Booka Shade said they loved it. In fact, Arno from Booka Shade brought his son to watch me play, and they came to the BRIT Awards in the UK. So, it's been something that we've all done amazingly from.
Within the dance music community, what kind of reaction did you get? Did you experience any kind of backlash?
There are various angles to it. For most people, in terms of a younger audience, they had never heard of the original; they actually then discovered the sample after that. Some people don't understand samples. They're like, "Oh, he just robbed it." I'm like, "Nah, bro, everyone's getting paid and living life." Others were like, "This is really creative. Thank you so much for bringing back this iconic bassline."
Then there was the older DJ fraternity that was going for me on Twitter for a bit, and some of them [were artists] whom I respected, so that was a bit sad. But then I was like, if you can't respect this, then you obviously don't [respect] music. People sample all the time. When you're playing it and thousands of kids are singing it back to you, you forget about the naysayers pretty quickly [laughs].
It kind of goes back to what we were discussing earlier: how your sound introduces fans outside of electronic music into this culture. I'm sure "You Don't Know Me" introduced a lot of people to Booka Shade.
It feels like the space that Duke Dumont and Disclosure inhabit, where you get to a certain point where people who aren't necessarily fans of a genre start to like your music because it's pop; that's just a natural resort. Then it's on you to make sure you play good music when they come to see you and have a lot of integrity in doing that. Sometimes you play a set, and you're like, "Oh my god, I know I could just turn up here and play a bunch of classics, and everyone's gonna be happy. Or I could try to slip some good stuff in there that hopefully people wanna listen to afterward."
How do you follow up something as big as "You Don't Know Me"? That's gotta be a little bit scary when you set the bar so high.
For me, it's just trying to maintain consistency, but not trying to go for the same record, and always twisting and turning your sound. After that, we did "Instruction" with Demi Lovato. It's a bit of a curveball, but it worked—got ourselves on Good Morning America.
Not bad, huh?
Yeah, exactly—it's not too bad for a day's work. Then I did "Breathe," which again seems to have really connected. And I'm getting my album together, which is just going to be more of the same, where it's going to be kind of softer, slightly poppier vibes, and also some big club bangers.
What can you tell me about the album? Are you at a point where you can talk about it yet?
Almost, almost! I've got a new single coming out June 8. It features a singer from the UK called Mabel; she's amazing. It's a bit slower, just showing another side. And the album—I'm still messing around with titles, so I can't drop that yet. But it's got some sick tracks on there, bro [laughs].
It sounds like you're excited about it.
I feel good about it, because I just know the strength of the material, which is the only thing I've ever based anything I've done on. I'm a little more song-focused than some DJs are, so I know if the chorus [has] got you singing and it's memorable, we stand a good chance; I'll make sure the production is lit.
What's going on with your live show?
It's always been my dream to play a full set of my own music—hence the album. I'm a musician. I play loads of different instruments. We built a live show; it's fresh. I'm not trying to do no band—it's just an one-man show. I'm looping, I'm playing instruments, playing the bass guitar, playing beats onstage, and I'm building the tracks and sometimes having singers. I think it's going to be a whole new wave.
In your opinion, what do you feel the UK sound is today, and where do you see it going?
In terms of electronic music, our sound is feeling super healthy. It's been a bit more lo-fi than the American sound and a little bit [grittier]. I guess we're like New York everywhere here. We've got a lot of exciting music. In terms of our urban music, it's flying at the moment—similar to what you got in the US. But we have our own stuff brewing with people like Young Made and Not3s, so it's an exciting time for us, man.
We Are NRG SoCal 2018 takes place Friday, June 22, and Saturday, June 23, at NOS Events Center in San Bernardino, CA. Tickets are on sale now. For more information, visit the official event page. 
Follow Insomniac Events on Facebook | Twitter | Instagram | SoundCloud | YouTube | Spotify
---
Share
---
Tags
---
You might also like