God's Mighty Heroes Are Taking Shuffling Mainstream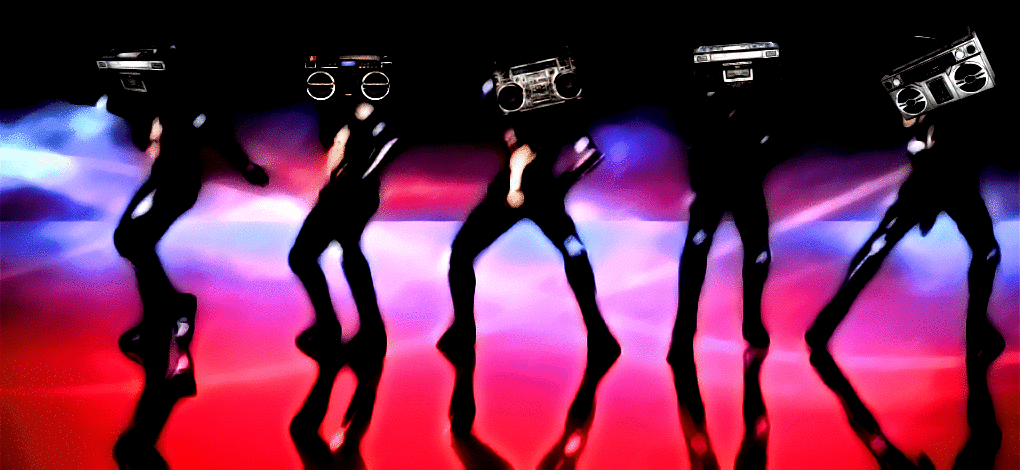 If you've spent any time at a rave, you've definitely seen the Melbourne shuffle. Born in Melbourne, Australia, in the 1980s, the shuffle is a combination of stomping and gliding motions that go along with everything from rock and hardstyle to trance and techno.
As dance music got bigger and shuffling more ubiquitous, it moved to the States, and American shuffling crews were born. These crews would battle each other on the dancefloor, trading burns in the form of sick slides and groovy spins. For these dancers, EDC has been a mecca since the beginning. One crew, God's Mighty Heroes, got their start at one of the original EDCs, held at the Los Angeles Memorial Coliseum in 2010.
"That was the first time we came together as a shuffling group and started making videos," says James Valdez, one of the group's original founders. "We wanted to show people it's a dance, but it's also an art form. The Melbourne shuffle got famous through hardstyle—that's where you see all the fat pants and crazy colors. Then it went to trance music and techno, and we picked it up and made our own style out of it," says Valdez.
Valdez learned to shuffle in 2009 from a club night in Hollywood. Back then, GMH stood for Gas Mask Hardstylers. (When the group started getting into more house, trance and techno, they changed the name to "God's Mighty Heroes" so as to not be tied to one genre.) There were a lot of warring crews out there who battled with shuffling tricks to gain respect or humiliate the other side. But God's Mighty Heroes have always shied away from negative competition.
"We want everyone to feel welcome," says Sara Stephens, who's been with the crew since first getting the hang of shuffling at EDC 2010. "People get really self-conscious about dancing, but we say, if you want to shuffle, that's awesome. Who cares how long you've been doing it?"
Now, the ever-growing group keeps in touch through Instagram—@godsmightyheroes—where Valdez posts videos of members dancing at various shows. He also reposts videos taken by members shuffling to tunes in their garages or backyards in their hometowns. GMH gets most of its new recruits through Instagram.
"I followed them on Instagram way before I could even shuffle," says Jessica Burnley, a newer member who got her feet wet in a dance style called "cutting shapes" before transitioning to the Melbourne shuffle about a year ago.
"A lot of people know shuffling through one song, but shuffling was around way before that," Burnley says. "It's no different than hip-hop and tap and jazz and krumping. It's all about throwing yourself into the music. I don't think shuffling is as respected, though. People don't really understand how much it takes to progress in it; it's just like any dance. So for me, when we video, it's about showing shuffling to the world. It's about saying, 'Hey, we're out here. This is a cool movement.'"
GMH wants to be behind the push to spread the movement even further—and not just by taking over dancefloors in front of the DJ booth.
"Our #1 goal would be to perform for people—and not just us, but anyone who's out there shuffling who wants to perform," Stephens adds. Valdez echoes, "I really appreciate the go-go dancers that are next to the DJs, but I'd love to see us shufflers up there. It's a dance that's really a part of the culture here."
It's also just a fun, all-inclusive way to enjoy the rave and make new friends. "We're a family," says Stephens. "We'll meet up to go film ourselves shuffling, or just to eat ramen. We have each other's backs. Our crew members in Canada came down to meet up with us at Dreamstate, even though we'd never met in person before. They came just to hang out with us."
What started off as a few-person crew in 2010 has expanded from Los Angeles to Miami, Canada, Kansas City, Arizona, and beyond. "We have over 30 team members from all over the country now, and with all sorts of economic, social, and ethnic backgrounds," says Valdez.
The group met up to shuffle and feel out the vibe of a couple potential new members at neonGARDEN on Sunday of EDC Las Vegas, where Alan Fitzpatrick was dropping shuffle-ready techno beats. They took turns shuffling and trying out new moves in a giant dance circle just outside the boundary of the stage's triangular top. At one point early on, a spectator made his way over to Stephens. He introduced himself and gushed about how he's a big fan of the group. Without missing a beat, Stephens reached over for a hug. "I've seen him on Instagram commenting on our stuff! It was so cool to finally meet him in person," she says.
Shuffling and the communities that spring up around it aren't new. But what is new is the idea of taking the dance from the back of an underground party to the stages of EDC. Given what GMH is throwing down, we're believers in the movement.
Follow God's Mighty Heroes on Instagram
---
Share
---
Tags