Ghastly Is Staying Hard on the Grind
Upcoming Event
We're still completely flabbergasted after hearing the story of how David Crow came up, trading in his former farm boy life to become a full-fledged festival front runner. You probably know him better as Ghastly, the headstrong producer who laid it all on the line in order to live out his dream on the daily. He's nestled himself into the hearts and minds of everyone who knows what's up, and the guy has zero intentions of ghosting on them anytime soon. Hard on that grind is only way Crow knows how to operate, which is why you should get used to seeing him around.
Ghastly got the invite from Pasquale this week to stop by the office to use his personal decks to record the next Night Owl Radio mix (spoiler: He smashed it). Since we had him in the building, it felt like the obvious move to corner him for a quick status update. Find out what he has going on in the near future, and don't forget to tune in tonight to hear this savage at work.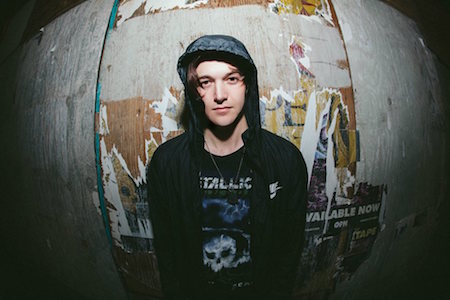 Do you have any releases or projects you are looking forward to right now?
I have so much stuff I am working on—literally things as simple as new merch to grand-scheme ideas that will come into fruition in 2018 and beyond.
With the year winding down, please walk us through some of your proudest moments of 2016.
Honestly, each day I worked on myself, my music. 2016 was a year of constant growth, so to pick just one moment would be hard. However, I did go to Europe for the first time, which was wild to think about—the fact that music brought me there. That was cool.
What do you intend to do differently next year?
Keep growing. Keep pushing forward. You will hear lots of new music, but who knows what next year will bring.
You're pretty active on social media and aren't afraid to put yourself out there. I admire your recent post regarding the body image issue you had with your arms. Most artists would never call attention to themselves in that light, so what compels you to be so transparent online?
Music has always been such a strong emotional outlet for me, and that is one large way I communicate with my fanbase. So many people have shared their stories with me. Sometimes, it's a tweet that inspires me; sometimes it's something I see in real life.
Do you think artists are guilty of putting up too much of a front? What might make them change their ways?
We are artists; we are constantly playing into the brands that we have built. Who am I to tell anyone how they should or shouldn't portray themselves? Some people choose to be more transparent about their feelings in real times than others, and that's okay.
Another way you let your fans into your life is through your Deleting Random Facts posts. Would you be able to share a new random fact with us now?
Can't give 100 away to you on this, 😉 but I can tell you Deleting Random Facts is about to enter a new dimension. Prepare yourselves.
You're making an appearance on Night Owl Radio this week. What can you tell us about the mix you put together for the show?
It's a fun one! Honestly, I found a few of the songs just hours before. I had literally just returned from Australia, so I was fighting jet lag. But as soon as I got the vibes in Pasquale's office, it came together. It was actually the first live mix from his office, so that was super special.
Any words you want to share for those who plan on catching your set at Countdown this month?
Come prepared to get weird. Come prepared to celebrate everything you accomplished in 2016 and ride those vibes into 2017. All the bad shit, dance it out. Leave it on the dancefloor, and let's have some fun.
Follow Ghastly on Facebook | Twitter
---
Share
---
Tags
---
You might also like