Gabriel & Dresden Touch on Their Classics Only Concept
Maybe I'm just getting older, but I'm finally beginning to understand this whole nostalgia thing. And I have Gabriel & Dresden's Classics Only tour to thank for putting me in touch with my sentimental side. The trailblazing tastemakers have been a fundamental force in the scene for as long as I can remember, and they have taken up their right to turn back the clock via an all-throwback run of gigs taking place across North America from now 'til August.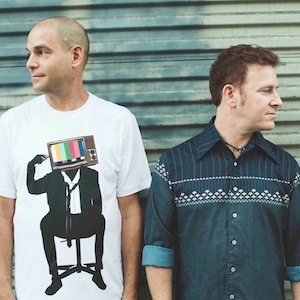 Please excuse my excessive excitement, but to me this is more than just a dance down memory lane. It's more than seeing them dip into their back catalog, which spans over a decade's worth of timeless originals and reworks from multifarious genres that fall under the emotional dance music umbrella. To me, it's the entire reason I'm here in the first place. You see, the G&D gents played a huge role in my introduction to raves, having thrown down an eye-opening set at my first one ever—EDC 2006. So it is with great honor that I was able to touch base with them on their Classics concept and, furthermore, to share their live set from that very day with you. I hope this moment does the same for you as it has for me.
You're currently at the head of your Classics Only North American tour. Tell us how this concept was first realized, and what was the response from the first sold-out stop in Portland?
It all sort of started when we wrote the article for Insomniac last fall, called "How to Talk to Your Kids About Progressive House." Writing that article got us listening to a lot of older dance music, which led us back to our discography. Some of these songs we had not even heard in eight to 10 years, and they brought back so many great memories—and sounded pretty good, as well.
While we were doing our final performance at the Guvernment in Toronto last December, we decided to play a set that was nearly one-half G&D classics. From the response that set received (hands in the air, screaming, people singing at the top of their lungs), we looked at each other and said, "Maybe we should do a whole night of this sometime?"
We didn't put all the wheels in motion for this tour until we were asked to do a set at Anjunabeats' Miami Music Week pool party at the Raleigh hotel. A few days before the show, we decided to give Classics Only a test run. We were a bit afraid of the response, because the lineup that afternoon was pretty top-heavy on current EDM sounds; but lo and behold, we got those hands in the air and people singing.
Portland was a perfect place to start the tour—a smaller room packed with a great cross-section of people who were our older fans, coupled with people who discovered these records from an older brother or sister who used to play them, or who discovered them some other way. It was awesome to be around such warmth and happiness. We can't wait to see what lies in store.
Every gig on your tour ranges from as few as four hours to seven-plus. Is there a specific reason why you guys wanted to take this extended-set approach?
We love to dig in and play longer sets, but we have not had a lot of chances to play any more than three-hour sets in the past few years. We knew going in that this would be the perfect tour for us to stretch out and really go deep with the music. We also wanted to be able to control the club setting for the entire night. We are anxiously awaiting the six-plus-hour sets; they are going to be so fun.
Trance has taken on a whole new identity since the earlier days. In your mind, what can a classic trance set offer that a modern one just can't deliver?
The largest difference between older trance and newer trance is the sounds used to make the records. A lot of the new trance tracks seem to subscribe to a very similar formula—one that, to us, pales in comparison.
Older trance from the 1990s and 2000s was, in our opinion, more creatively put together, with varying sounds and tempos and unique ways of "taking you there." It just puts you in… well, a trance.
We would like to mention that we do really respect what Solarstone has been doing. His Pure Trance concept has really begun to bring the feeling back to the trance scene, and we'd love to see more artists attempt to create and bring up music that comes from the heart, not the wallet.
The word "classic" gets thrown around a lot these days. What criteria must be met in order to be able to slap that label on a track, mix, album, etc.?
A classic, to us, is a song or track that still sounds great many years later. It makes you feel something deep and brings back memories.
It seems like the shelf life of most music today can't hold up to many of the everlasting releases of yesteryear. Do you think there's anything in particular we can blame for this phenomenon?
The key reason we feel is that people are inundated with media, day in and day out. We have become desensitized to acts posting links to "check out my new track." Sure, they check it out, but then it's on to the next thing. Another reason is that music and music artists do not drive the culture in the same way they did 15 years ago. Today, the real rock stars are people like Mark Zuckerberg, Jack Dorsey, Kevin Systrom, Elon Musk and Steve Jobs, etc. They are the ones who are driving the culture with technology. If music and artists want to steal back their influence like the tech guys, they need to be on their level, changing the world.
Also, the barrier for entry into music is very low now. Before MP3s, you needed to manufacture a vinyl record, cassette or CD, which meant that a record label had to sign your track or album and make the investment to press it up. Without the record label middleman, there's not a lot of experienced A&R people making the decisions as to what gets released. Thus, a glut of half-baked ideas clouding the well.
What are three timeless tracks that will never get old in your book?
This is always a hard question, but we will try:
Utah Saints  "Lost Vagueness" (Oliver Lieb Remix) 
Released in 2000, this track still sounds fresh and new when you play it, and your dancers on the floor always respond as if it's a brand new record.
Delerium ft. Sarah McLachlan "Silence" (DJ Tiesto Remix)
A landmark record for vocal trance. A journey to a place that feels great no matter if it's during the day driving up the PCH, or late at night at a club or festival.
Motorcycle " As The Rush Comes" (Gabriel & Dresden's Sweeping Strings Remix)
Yes, it's our record, but… It's hard, it's soft, it's got a great vocal, and people still love it 11 years later. Thus, a classic!
Follow Gabriel & Dresden on Facebook | Twitter
---
Share
---
Tags
---
You might also like