Destructo and the Hip-Hop/EDM Sound Clash

In an almost indifferent manner, Gary Richards shrugs at the thought of leading hip-hop's invasion into EDM. Yet a trip down memory lane reveals Richards—via his Los Angeles-based HARD festival brand, which has hosted groundbreaking electronic music events, tours, and cruises across the globe—has always kept a keen ear toward hip-hop culture. From the infamous 2 Live Crew launching the first-ever HARD event (2007's HARD NYE) to A$AP Mob headlining this year's Hard Summer, Richards has pushed the hip-hop and electronic worlds together since day one.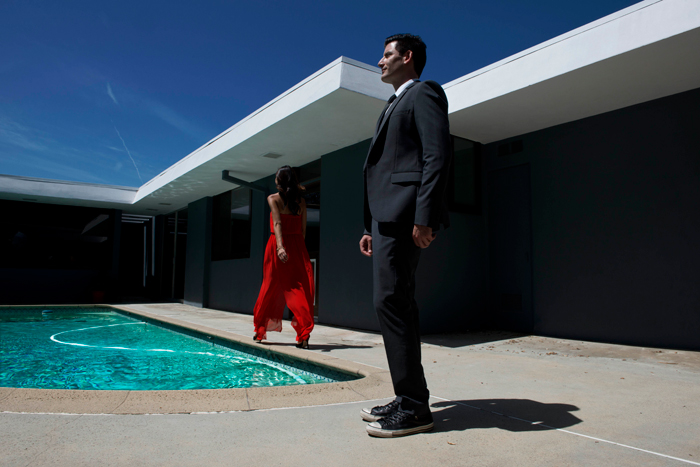 Now he's breathing new life as Destructo into the hip-hop/electronic hybrid by spearheading the burgeoning G-house movement, a fresh genre that meshes house essentials with West Coast-influenced gangster rap. Destructo's forthcoming West Coast EP, out this year on Insomniac Records, gives a small glimpse of what's to come from Richards, HARD Summer and the future of hip-hop within the EDM universe.
The hip-hop world is hurting right now. Agree or disagree?
Disagree. Right now, I feel like there's a lot of good hip-hop out there. I've been in my techno world for so long, [but now] that I've come out of it, I see there's tons of cool stuff coming out that I'm digging. I see it happening on Holy Ship, where, at the end of the night, all the DJs are playing together and it turns into some crazy hip-hop/trap party.
A lot of the hip-hop dudes are trying to figure out how to make electronic music, and then us electronic guys are naturally gravitating toward some of that.
RL Grime B2B Baauer B2B Boys Noize B2B Brodinski @ Holy Ship 2014, Day 1:
Some of the hip-hop guys get it, and some of them don't.
Pharrell's iPod @ Fool's Gold Rap Party on Holy Ship!!!:
How do you compare the EDM and hip-hop crowds?
The crowds bring different energies. I don't really know what goes on at the big rap shows, but I know at our shows, the fans are up for anything. Some of the hip-hop guys get it, and some of them don't.
If the solid rappers are smart, they'll embrace it. A lot of them are stuck in the hip-hop world, and they don't really understand what we're doing. That's why I'm trying to find the guys who get what we do and want to be a part [of it]. I'm not trying to force anyone to be in it, but if you want to be in it, I'm open arms.
YG "My N***A" (Destructo & Wax Motif Remix):
HARD has been down with hip-hop since day one. You're not jumping onto some trend bandwagon.
No! The backbone of HARD is electronic, but I always try to put in an infusion of different things.
Were you ever worried the different crowds would clash?
Music always brings everyone together. I was never worried about that. I just wanted to be different. Most people go and book the same shit and try to see what's selling. I just want to book a lineup that I want to go see.
Do you think promoters and event producers are scared to book outside of what's selling?
I don't know if they're scared; I just think they don't know. A lot of them look at other festivals' lineups and say, "I want to book this" because they see it on this festival or that festival, what's selling tickets. They're business people, and there's nothing wrong with that. It's important for a festival to have a flavor and a vision. If you don't have that, then you're just generic, and eventually it'll die out.
Obviously hip-hop and electronic music have a deep history together. What's the relationship between the two now?
A lot of times when I talk about electronic music, I use the word "techno"; but I say techno because it's music that's made with technology. To me, hip-hop music is electronic music; it just has words on it. I never really differentiated the two. It may sound strange because it's two completely different things.
Do you think kids know the history?
Hell, no!
I'm not trying to bridge the gap; I'm just trying to make a cool show. But if we're bridging the gap, then all the better.
Is it your job to teach them?
I try to educate people. At the same fucking time, they don't care. They just want to party. I think people are less interested these days. People aren't aficionados. They're not digging. They're just at the party and having fun. It's our job to make sure that it is cool and quality.
It seems like you and HARD are the only ones pushing the hip-hop and EDM worlds together.
I don't know what a lot of the other people are doing, but I'm making the conscious effort. The style that I'm doing, we're calling it G-house. The difference with mine is the beats are a little bit different. It's not just straight up trap because it's got house in it with some of those sounds.
Can you give me a quick definition of what G-house is?
The new music I'm making—it's house with rap. On the West Coast EP, the rappers are from the West Coast, and they happen to be hood and gangster; that's what it is.
Destructo "Party Up" Feat. YG:
Is your West Coast EP and the G-house movement reflective of what you're doing with HARD?
A part of it. HARD will always remain, at the core, electronic. Now that I have my EP, I'm trying to bring it together at the festival.
Electronic audiences are very open to new sounds and discovering new music, even outside of electronic music. Will hip-hop fans be open to electronic music and your new sound?
We're going to find out. That's what I'm a little worried about. I know eventually I'm going to end up playing a hip-hop party and seeing if they like it. I don't know. I hope they do. My ideology of being a DJ is: You always want to be a guy on the new thing. You want to play the shit that no one's heard and be the leader, not the follower. That, to me, is what being a true DJ is all about—introducing new music to people. I'm always looking for something new, so that's kind of how this thing came about. I think I hit a chord.
Are you and HARD bridging the gap between hip-hop and EDM?
I'm not trying to bridge the gap; I'm just trying to make a cool show. But if we're bridging the gap, then all the better. Even with my EP, I'm not purposely trying to formulate some kind of concoction. It wasn't a formula; it was just made to be.
Follow Gary Richards on Facebook | Twitter
---
Share
---
Tags
---
You might also like