Desert Hearts Brought Their Transformational Vibes to the Middle of EDC Las Vegas 2017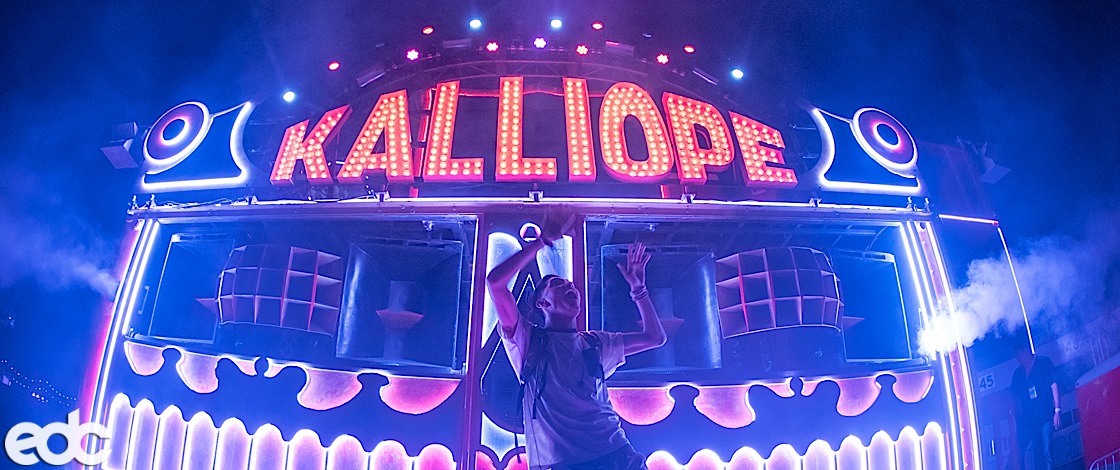 If you were one of the 70,000 or so fans drawn in by the theatrical magnetism of kineticFIELD on Friday, you might have passed through and even lost a few hours in the art car barracks built around Burning Man staple Kalliope. As the mainstage goddess Gaia threw fireworks into the sky, a dynamic and constant rotation of four DJs from San Diego worked their deep, psychedelic tribal tech all night long, bringing the notoriously eccentric vibes of the transformational festival scene to the middle of the world's biggest rave.
In just a few short years, Desert Hearts has gone from being a plucky, dusty renegade in the high desert to being a bona fide subcultural phenomenon in the SoCal underground scene. After core members Mikey Lion, Lee Reynolds, Porkchop and Marbs collided in San Diego five years ago, they set about forging a party concept that swam so defiantly against the tide of the American festival industry that it ensnared and transformed the lives of thousands of freaky party heads.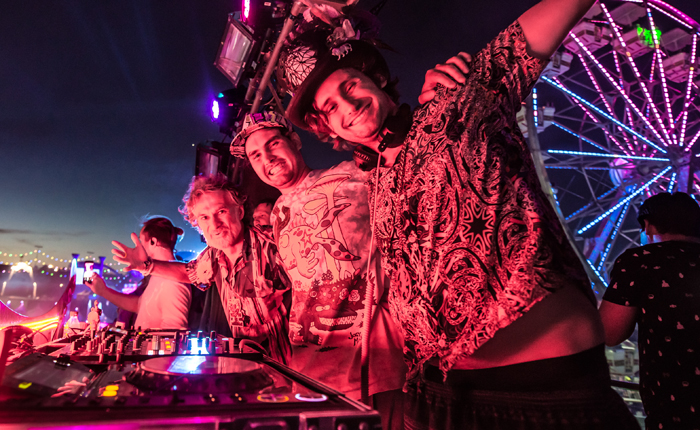 The format for Desert Hearts is communicated in their refreshingly succinct mantra: "One Stage, One Vibe." The 3,000-capacity festival on the Los Coyotes Native Reservation outside of San Diego permeates around a single, effervescent dancefloor that churns relentlessly for 80 straight hours. The festival—which celebrated its 9th edition in March—really seems like the antithesis of EDC: a megalorave that packs more than 400,000 people into eight monolith stages on a racetrack in Las Vegas. While the last few years have seen the group blaze their own trail, Desert Hearts' festooned ringleader Mikey Lion admits that EDC 2006 was one of the festivals that started his storied journey in dance music.
After having his eyes opened to the transcendent power of the dancefloor by Daft Punk's now-legendary headline slot at Coachella earlier that year, the young Encinitas native immediately returned home, searching for the next party.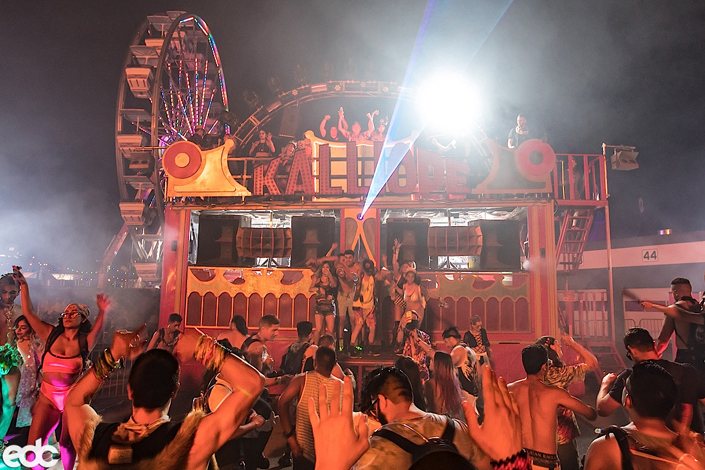 "EDC played a huge role in me finding the music I love so much today," Lion—real name Leon—tells Insomniac. "It's so many people's introduction to dance music, so for us to be able to take our Desert Hearts vibe there and spread our message to new generations is a very special experience. It feels like we've come full circle, and there's nothing better than getting the chance to inspire younger generations to come."
2017 was the first year that Mikey and the crew have played EDC, and they were humbled that they could come to the festival on their terms, much as they had at Coachella's Do LaB stage earlier this year. "Our vibe is marathon style. Our festival is 80 straight hours, and when we come to festivals, we like to take over stages. We get to program the vibe exactly as we want it and to manage the ebb and flow of the party."
The 200+ acts at EDC get an average of around an hour and half onstage. These guys got the whole night and their own stage to work with, cultivating a free-wheeling after-party vibe that was not found anywhere else on the festival site. And the gravity of that wasn't lost on Leon.
"It was a huge, huge honor for us. Most people, when they play a festival like that—unless they're Jamie Jones bringing Paradise, or Adam Beyer with Drumcode—you're getting like an hour to play," he explains. "But Insomniac reached out to us and asked if we wanted to do an 11-hour takeover on an art car and give us free rein to do whatever we wanted."
These kinds of festival stage takeovers—as well as their touring City Hearts club night concept—are an integral part of Desert Hearts' growth strategy. Recognizing how precious their intimate festival is and how rapidly their stars are rising, the takeovers are a plug-and-play version of their own festival, relying solely on the unique energy and love that brims from four mates fucking about in a packed DJ booth. This traveling circus format allows them to introduce more people to their party ethos, while keeping their homestead as true to the original vision as possible.
After leaving EDC on Saturday morning, the crew flew to Oregon for a takeover at What the Festival, and then for another round at Sonic Bloom outside of Denver. While both of those festivals are significantly smaller than EDC, they both have audiences less familiar with Desert Hearts' deep party tech and trippy house sound. And therein lies the chance to introduce a whole new subgenre of dance music to more young fans.
"We got a lot of vibe in this weekend!" Leon laughs. "It's really special to know that you're opening people's eyes to this kind of music for the first time, and you can see them connecting the dots, learning what a real house party looks like. The Desert Hearts vibe is so tangibly strong, and there's no doubt that we introduced a lot of people to perhaps more nuanced dance music than they were on their way to see."
Despite the transient nature of mainstream festival culture, Kalliope's location in a corridor between kineticFIELD and cosmicMEADOW meant Desert Hearts was able to keep snaring meandering groups of ravers all night long.
"EDC has always done a great job of placing things together to engage and maybe educate fans on new types of music," says Leon. "That really teaches people the nuanced rules of the party. We're super happy that we could play a role in that."
Desert Hearts are making their City Hearts debut at Exchange on July 8. You can get your tickets here.
---
You might also like