Cosmic Therapy: Why Raving at EDC Felt More Important Than Ever This Year
There was a sense of catharsis on the Las Vegas Motor Speedway last weekend. The overwhelming energy of Electric Daisy Carnival was fueled by new connections. Bright-eyed teenagers, giddy young ravers, and seasoned scene lifers were all united in the uplift of dance music. There was no bad news on your feed, no day jobs to get back to the next morning. It felt like 150,000 people really needed that dance.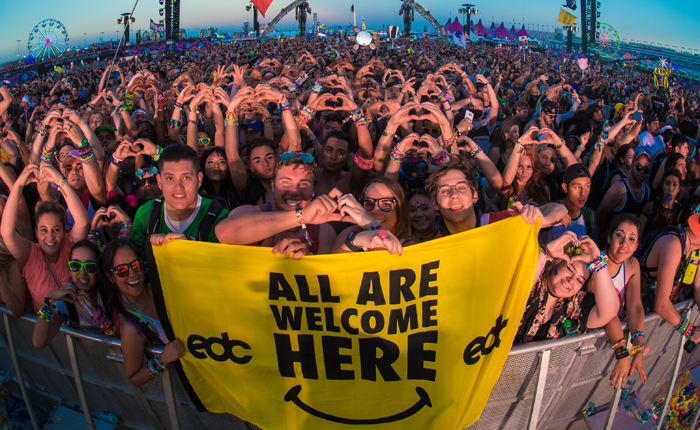 Under the mantra of "All Are Welcome Here," this year's EDC came at a time of great anxiety, when seemingly insurmountable obstacles are dividing America. The progressive social values that underpin the culture of electronic music are under threat. Across this country and around the world, members of our community are feeling victimized for their sexuality, gender association, or lifestyle choices. After a year when many of us felt alienated, inclusion and sanctuary were at the center of this year's EDC.
"The main message is echoing PLUR, which has always been the core philosophy of the dance music community," said Michael Diccicco, Insomniac's VP of Marketing and Media Planning. For Diccicco, "All Are Welcome Here" is a more definitive and less clichéd statement than Peace Love Unity Respect, affirming that the barrier for entry to EDC is set at shedding prejudice. "This is a place of no judgment. All colors, all shapes, all beliefs, all ages—as long as you're over 18!—are welcome here."
"People come here to forget about all the troubles and turmoil they might be experiencing in their lives. We released the festival promo video about a week after the election, and we really tried to convey a sense of tension, because we could feel it in the community. We knew EDC was going to mean a lot to our fans this year."
"We don't want to be political. We're just trying to put a positive message out into the world to counteract some of the ridiculous segregation of thoughts that is taking place right now."
Despite the timing of the marketing campaign and the overtones of progressive values, Diccicco insists that this isn't about being partisan. "We don't want to be political. We're just trying to put a positive message out into the world to counteract some of the ridiculous segregation of thoughts that is taking place right now."
From the gay black clubs in New York City and Chicago that birthed disco and house, to the UK's Criminal Justice Bill protests in 1994, and the student uprising against war criminal Slobodan Milošević that became Serbia's EXIT Festival, dance music and festival culture often have political undertones in their impacts, rather than just explicit statements. While we as a community debate how we can fight against the affront to our values, some believe that protecting the sanctity of the dancefloor is a protest itself.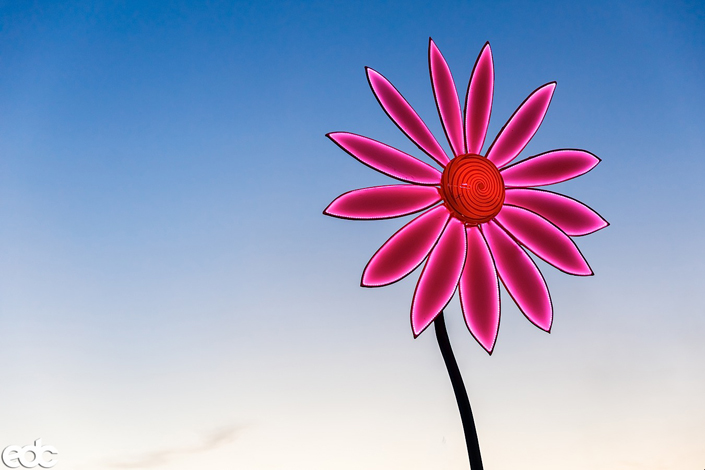 "Now more than ever, we need festivals like this. We need spaces where people can come together and set an example of inclusivity," said Troy, 22. As a gay African-American man, Troy was worried about being judged for opening himself up prior to coming to his first EDC last year. The overwhelmingly positive response that he got from the community prompted him to dial it up further in 2017 and really step into his own. "Everyone that I have met has given me the utmost respect, and I try to reciprocate that. That kind of community dynamic makes this a sanctuary of sorts."
The push to create sanctuaries and safe spaces within festivals has become stronger in the past year, as the troubling extent of sexual assault and harassment against female festivalgoers has come to light. Sandra and Devin—sisters from Las Vegas, drawn to EDC for the neon-hazy atmosphere as much as the music—feel that Insomniac has done a great job of making patrons feel safe by having a visible police and security presence.
Part of making everyone feel welcome, they said, was making sure that bad behavior was not tolerated here. "Don't come to EDC if you're going to be weird and sexually harassing people," said Sandra. "This isn't what the festival is all about."
"We really try to weave safety information through all of our marketing initiatives and embed that into the culture of the festival," adds Diccicco. "It's important that people not only connect with the event on an emotional level, but that when they come here, they feel like they're safe."
While that safety messaging mostly translates to health awareness and harm reduction, Diccicco also feels that the Ground Control staff adds a unique layer of outreach to EDC. "Ground Control is an extra staff of fans working with us to make sure that everyone's safe. If someone feels threatened or vulnerable, there's always an approachable person somewhere nearby that can help you."
Initially launched at Beyond in 2011, Ground Control is the brainchild of Laura Newton, who was still in college when she founded the innovative volunteer network. 2017 was her seventh EDC at the helm of the 400-strong team, and she believes there was a greater sense of empathy in both the staff and attendees this year. She attributes that to the "All Are Welcome Here" mantra. "Honestly, we had so many team members crying tears of joy and finding themselves last weekend," said Newton. "We try to make our staff feel welcome and at home on the team so that they can manifest that experience for that fans as well."
"People come here to escape their jobs and the turmoil of life, and to know that there is a safety net in Ground Control really makes people feel secure."
Dancing in a group of eight on the grass at cosmicMEADOW, Christopher was proudly wearing his "The Future Is Female" T-shirt. Originally from Morocco but now based in San Francisco, he's been raving for three years. He feels that the female presence in dance music is often undervalued and overlooked. Electronic music still has a long way to go in creating opportunities for female artists (and even EDC can do more). But the vibrant female fan base and jaw-dropping sets from Mija, Alison Wonderland, Rezz and Nicole Moudaber showed just how crucial women are to the future of the scene.
"I think sometimes women are portrayed as only listening to pop songs, but when you come here, you realize that's bullshit. There are headbangers going hard here!" he said. "Electronic music is for everyone, and everyone is welcome to come here and go hard as fuck."
While diversity is mostly discussed in terms of race, sexuality and gender, age diversity also plays a vital role in EDC's dynamic. Robert—a 49-year-old father from Las Vegas—was at his third EDC, and he was bringing his 18-year-old son for the first time. He was wearing a "#1 Dad" Darth Vader T-shirt, and his arms were replete with kandi. "My little group calls me 'Rave Dad'!" he told us. "I've had people coming up to me all weekend and hugging me, thanking me for bringing maturity to the scene."
After getting divorced in 2011, Robert met a younger partner who introduced him to dance music. He goes to every Insomniac festival he can, and he credits electronic music culture with prying open the social shell he's worn since his youth. "To me, this is like a religion. It makes me feel so good to be around people that are having their lives changed for the better by this shared experience. We're the individual, symbiotic parts of this organism that come together for a short time, break apart, and then collide happily again on some dancefloor somewhere else."
Jim and Pat Meehan are 80 and 67, respectively. They could be the oldest couple at EDC this year, and possibly for the last six years. As veteran members of the security team, they worked tirelessly in the air-conditioned media center throughout the weekend.
"Something I like to do is find the wildest looking raver and make friends with them!" says Pat. "If I'm at a gate, I always tell them to come and see me again in the morning when they're leaving. And almost every time, they come up and give me a big hug, like I'm their mom."
"They call me 'grandpa'!" Jim chimes in with his infectious, childlike energy that kept our team chipper through the grueling shifts.
"I think this has helped keep us young," adds Pat. "If I see something here that I don't understand, I'll ask about it. And then when I go to my regular job, my coworkers are like, 'How the hell do you know about that?!' And I say, 'Well, I'm hangin' with young people!'"
Jim and Pat spoke passionately about how welcoming and polite the fans had been to them over the years, and that on the rare occasions they had experienced any hostility, other ravers would interject and self-police. That sense of collectivism and shared responsibility is key to creating an environment in which people feel free to be whoever they want to be, and to express themselves, liberated from judgment.
Sometimes fans need to block out the outside world for a weekend, to take care of themselves, and rediscover the sense of joy and freedom that brought so many into the dance music scene. Accepting everyone unconditionally is the foundational ethos of EDC, and that's what makes this a sacred place for hundreds of thousands of people every year.
We are coming together again and showing the world that we won't be divided.
Follow EDC Las Vegas on Facebook | Twitter | Instagram
---
Share
---
Tags
---
You might also like