Chus & Ceballos: Masters of the Iberican Sound
Put in the work, be prepared for life on the road, and master a fresh sound. Sticking to those rules has helped Chus Esteban and Pablo Ceballos, better known as Chus & Ceballos, maintain a steady career as masters of their signature Iberican sound for the last 15 years. Focusing on the tribal drums popular in music from their native Spain, the duo is currently working on their first-ever artist album, due out by the end of the year. We talked to the tech house spinners and Stereo Productions imprint chiefs as they prepare for a slew of gigs, including their debut at Exchange LA this weekend.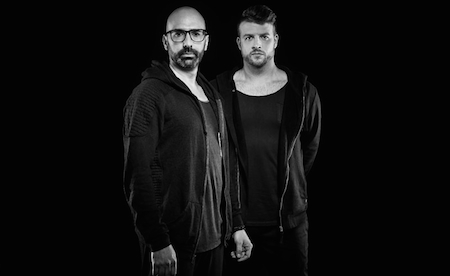 After successful individual careers, how did the two of you team up?
Ceballos: We have been working for many, many years. I've been DJing for 14 years and running our label for around 13 years. Chus started playing almost 20 years ago. We're both from the same small village in Madrid, and when I started, Chus used to be one of the main house DJs. I sent him my demos, and finally we decided to do something together. Since the very first time we got in the studio, the magic happened. Our very first releases were very popular, and that was the beginning.
Together, you founded the formidable Stereo Productions imprint in 2000. What made you decide to do this so early in the game?
Ceballos: When we started, it was all about house music, but people noticed we have a tribal style influence. We call it the Iberican sound, named after the Iberian Peninsula in Spain. We chose that name to explore the sounds of our home and give a place for aspiring artists from all over the world.
Chus: We also wanted to put our country on the map. There was a lot of music coming from everywhere, from New York to the UK, but not really from Spain. That was our main goal: to put Spain in the global dance music scene.
After so many years of DJing and producing, why choose now to release your first artist album?
Pablo: Before, it was all about remixes. We would do one original track here and there, but it was very popular to do remixes. Now, after traveling to play all around the world and collaborating with other DJs, we just think it's time. We are excited because we feel a lot more mature now. The focus on the album is to do something more diverse, something you can listen to at home. We have always made tracks for the dancefloor, but we feel like it's time to do something for everyone.
Chus: We're focusing on music with vocalists… We really want to leave a message with this album, and the vocals are the best way to do it.
We heard your Burning Man set from DISTRIKT this year. Was it your first Burn?
Ceballos: Yes, we were virgins. First thing we did was roll in the dirt and ring the bell. We did it like any other person that went for the first time. Everyone is equal there; that's the best part about it. It was a very inspiring experience, as it's a very special place. Maybe we will name one of the tracks on the album Black Rock City, in honor of our experience.
Chus: Burning Man was the best thing to happen to us in the last year. We didn't know what we were getting into, but it was an amazing first experience. It's something that's very different. It's much more than a music festival—the experience living there, sharing with the people, and making new friendships. There are a lot of good things happening there that are not happening anywhere else in the world.
Follow Chus & Ceballos at Facebook | Twitter
---
Share
---
Tags
---
You might also like