Camp EDC Spotlight: Drishti Beats
With Camp EDC right around the corner, we invite you to get to know your neighbors! Our Camp EDC Spotlight series highlights some of the vendors, speakers, and teachers you'll meet in the campground. Make sure to check the official EDC app for exact activity times.
Name: Live Band Vinyasa
Instructors: Drishti Beats
Specializing in: Yoga & Music
Find them: Beneath the Sol Tent
When: Friday at 1:45 PM, Saturday at 12:45 PM
Drishti Beats is not your ordinary yoga class. A family of six, the members of the group come together with different musical talents to bring you vinyasa flow movement paired with a live DJ set!
Lori Lowell is one of the group's founders, along with her husband, Jeremy Lowell. Her son Ryan, the main producer, will be playing the music they compose for their flows to create an ambient vibe during class.
"We have been a part of EDC before, and it is always such a blast," Lori exclaims. "Now that EDC is creating more experiences, and for us to be a part of it this year, we're so grateful! Every festivalgoer needs yoga—it's complete bliss!"
Lori describes the experience of Drishti Beats as sexy, vibey, and chill. During the class, you can continue your adrenaline kick from the EDC grounds, or if you are feeling exhausted, you can take a moment and meditate while receiving a lavender oil massage. Expect to hear fun and enlightening sounds—including saxophone, live singing, hip-hop, DJ mixing, and percussion—intertwined with beautiful language, guidance, and direction from yoga.
Come experience the musical escape that is Drishti Beats!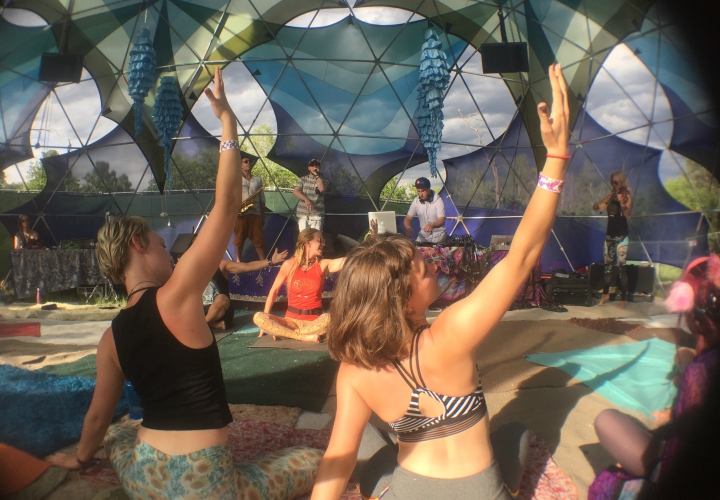 ---
You might also like