Between 2 DJs: Monxx & P0gman at Countdown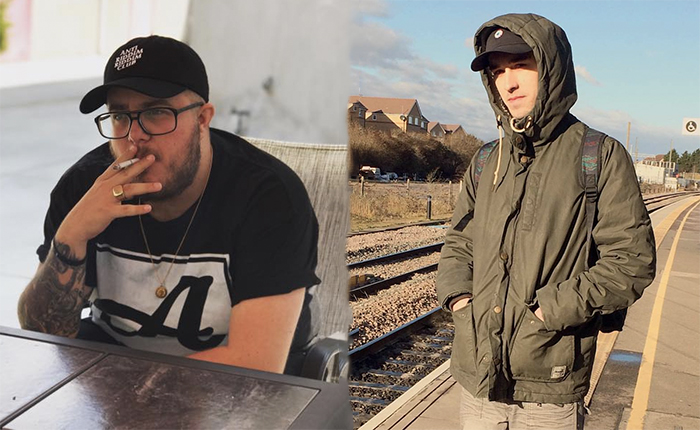 It's that time of year: the (final) stretch toward COUNTDOWN. Yep. The final Countdown—until next year, that is. We've a bangin' superb group of talent queued up to take the decks in SoCal this NYE, and to help aid in your appreciation, Insomniac has set out on a mission to find out what the lads who are playing b2b sets think (and know) of one another. It's sometimes difficult to imagine that the heroes and demigods of the mix have lives outside of melting our brains on the sonic tip, but it's true. In fact, some of them are very good friends—like Monxx and P0gman, for instance.
The curtain rises on what we can imagine to be a typical Friday night for two of our most anticipated contenders slated for Insomniac's annual year-end send-off that IS: C O U N T D O W N!
In THIS corner, wearing the fruity-loop-colored trunks and a bucket hat, hailing from Peterborough in the United Kingdom, weighing in at "slender as a whip," producing everything from drum & bass, hip-hop and electro to bassline… he's currently neck-deep in some of the dopest dubstep on the BIG BLUE MARBLE… JOSH "Monxx" CARLINGGGggggg!
ANNNNDDD coming up against him, laying his head in Wolverhampton, England, currently weightless as he levitates across the ring, wearing black-framed glasses and white trunks with the IAMA logo… also a certified dubstep champion—describing his style as "wobbly" P0gstep… Christopher the "P0GMAN" Eddowes!
RING-A-DING-DONG!
All questions were asked of both. So. It's safe to assume that the pronouns "him/he/his" are in reference to whom? Answer: the OTHER DJ. That's right!
*Note: B2BB = Back-to-Back Buddy.
What do you appreciate about your friend's stage presence/online persona?
P0gman: He's EVERYWHERE. His social presence is very strong, and he keeps up with his fans constantly. That's one thing that works really well in this business.
Monxx: The best thing about P0gman is that he is very down-to-earth and really easy to get along with. His stage presence is really good! His energy is always through the roof!
Name your favorite track by your B2BB*. What's a good track of yours that would be a good mix-in?
P0gman: I really like his remix of Boombox Cartel's track "Jefe." The bounce and simplicity is fully sick. I just released a track with Hami called "Buss Back" on NSD:Black Label that I think would mix perfectly. It has a similar bounce, and the tracks would vibe together nicely.
Monxx: My favorite P0gman tune has to be "BTB." The mixdown, and the song in general, is priceless! I like to double-drop it with my song "Turbo Dab."
What are some things you wished people knew about your B2BB?
P0gman: He's had Cheeto fingers since I've known the guy.
Monxx: He loves his documentaries; I could imagine him on a boat with David Attenborough, talking about wildlife.
If your B2BB weren't a DJ/producer, what do you think he'd be doing for a living instead?
P0gman: Modeling for Adidas.
Monxx: He would have his own documentary on BBC.
What's one thing you would NOT be surprised to see on his DJ rider?
P0gman: Jack Daniel's. 100%. The guy is a Jack fanatic. Wouldn't be surprised if he collects the bottles.
Monxx: Water. He loves his water and loves to keep on top of his health whilst on tour—unlike me.
What do you think makes your B2BB smile the most?
P0gman: I think if somehow Jack Daniel's did a collab with Adidas and made some weird, old-skool windbreaker, Josh would be first in line for this.
Monxx: Plenty of dubstep and Little Caesars.
What's one song you like that your B2BB has probably never heard of?
P0gman: I'm gonna say "Vicer Exciser" by Whitechapel. Josh doesn't strike me as a death metal fan, so I imagine he wouldn't know this one.
Monxx: The Four Owls ft. Dirty Dike "Assassination." I love my UK hip-hop, and I'm not too sure what P0gman thinks on it, but this one is a banger!
If your B2BB needed a new DJ name and you were tasked with giving him one, what would it be?
P0gman: DJ Snapchat.
Monxx: DJ Blue Planet B2B David Attenborough.
What are you looking forward to most about playing Countdown on NYE?
P0gman: Playing for Insomniac and Bassrush is always a huge favorite of mine, and I'm super honored to be a part of the legendary NYE show. Ringing in the New Year with my L.A. family and fans is gonna be one to remember. Also, expect to hear the new P0gman x Monxx collab.
Monxx: I'm looking forward to going b2b with p0gman for the very first time, and especially for the Bassrush crew. I have always been a fan of P0gman—even from day one!
What can fans expect from your set?
P0gman: As me and Monxx are combining forces on this one, you guys can expect the biggest mixture of heavy and wonk ever. We're gonna be bringing a sound for all dubstep lovers. Expect it loud, and expect it bass-driven!
Monxx: For the b2b set with P0gman, you can expect tons of riddim, tons of unreleased Monxx, of course, and tons of bass.
What are you working on right now? What's coming up?
P0gman: Currently working on my new EP, which will all be announced very soon. Collaborations? I have stuff coming up with Ponicz, Midnight T, Monxx, Yultron, Trollphace, Creation, Walter Wilde, and many more. Another thing coming will be the full push of my record label, IAMAudio. With such a busy year, the label took a back seat; but 2018 will see the label at full working power again.
Monxx: I have a lot of things in the pipeline right now; loads of new music is coming along, with tons of official remixes and tons of shows! I plan to do another US tour in Summer 2018, along with Europe, Australia and Asia!
Catch Monxx & P0gman going b2b at Countdown NYE 2017, an 18+ event taking place Saturday, December 30, and Sunday, December 31, at the NOS Events Center in San Bernardino, CA. Tickets are on sale now. 
Follow Monxx on Facebook | Twitter | SoundCloud | Instagram
Follow P0gman on Facebook | Twitter | SoundCloud | Instagram
---
Share
---
Tags
---
You might also like