Basement Jaxx: Return of the Natives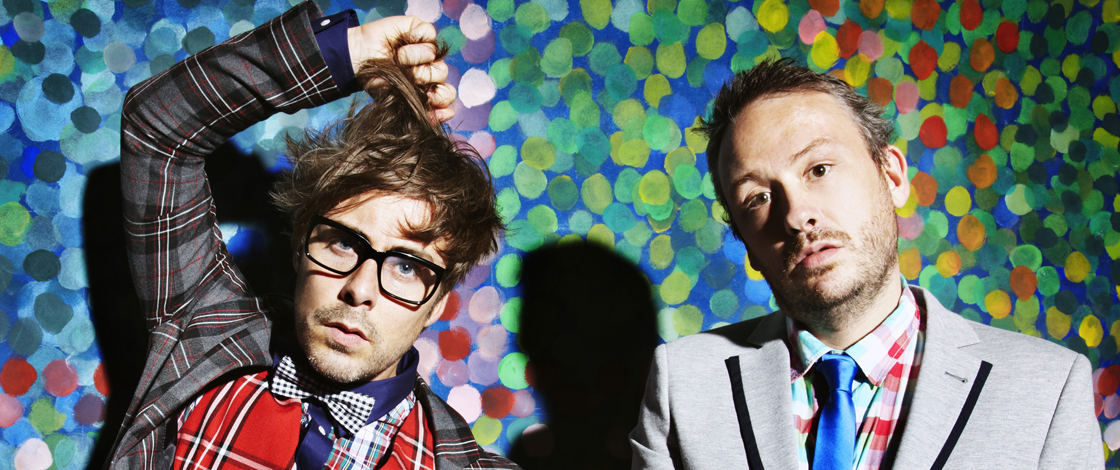 Explosions of color, cacophony of sounds, barrels of character—this describes both Basement Jaxx's music and the crowd circling around 333 Live in Downtown Los Angeles. The British duo is here DJing a one-off event presented by A Club Called Rhonda's aptly titled Rhondavous, which for many will call to mind the Jaxx's classic track, "Rendez-Vu," from their 1999 debut album, Remedy.
Inside, it's a time machine to New York City circa 1993. Club USA and the Limelight and Club Kids all over again. Boys dressed in nothing but straps vogue onstage while "normals," as one partygoer calls them, fill the middle of the dancefloor. Dancing on the seats of every booth is everyone from the flamboyant to the modest. As the night lightens into day, Jaxx's Felix Buxton and Simon Ratcliffe are grinning from ear to ear. They know they've made a formidable return.
The duo's five-year absence has put a number of others—Disclosure, Rudimental, Gorgon City, Tensnake—in the space Jaxx carved out in dance music almost 20 years ago, when it was very difficult to get anyone stateside to pay attention to what you were doing, particularly in house music. Reclaiming their spot is a move that Buxton and Ratcliffe are not sure will be well received, but they are certainly giving it a solid shot with their seventh album, Junto, built on trademark Jaxx identifiers like bumping beats, Afro-rhythms, and carved-out vocals.
"Buffalo" features rapid-fire drum & bass breakbeats and ragga vocals, while "Rock This Road" is sped-up reggae. Elsewhere, featured vocalist DJ Sneak channels his inner Beastie Boy on "Sneakin' Toronto." After changing pace with the twinkling ballad "Something About You," Junto leads back to the Latin-spiced "Mermaid of Salinas" with flamenco guitars and horn blasts. The steel drums and voices gathered from around the globe on "Power to the People" pave the way for the searing vocals of the Soul II Soul-like "Unicorn" and the soul ripper, "Never Say Never."
Junto doesn't break new ground as much as it reestablishes Basement Jaxx—and their signature, multi-layered sound—at the top of a heap of upstart imitators.
Lounging around the rooftop pool of the Standard in Downtown L.A., Buxton and Ratcliffe don't look almost a generation older than those upstarts. In fact, they don't look that different from album to album. Trim and healthy, the two are as in-tune as they've always been with the world—musically and otherwise.
There's nothing sexy about being absolutely blatant.
Do you feel you've created an album that is of the moment with Junto?
Simon Ratcliffe: We've been working on Junto for two years. It's been a while since we've thought to ourselves, "Would we actually play this in a DJ set?" We've made some great music, but not all of it is stuff we would play. With this album, we were conscious to make something upbeat, bright, and that communicates simply using the sonics of the moment, becoming part of the texture of the current landscape.
It helps that what you established so long ago is the popular sound of today.
SR: As you go on with albums, you want to try new stuff. Sometimes that stuff doesn't talk to people. It's still great, but it's like you've gone off on your own path. With Junto, we've purposely pulled ourselves back in. Tastes have come around, and people are into the music we made back in the day—the sentiment, the soulfulness, and the rhythm of it. It's a good time for us to come out with a new album.
There was a time that you were adamant about doing what felt right, regardless of what was happening around you.
SR: Whether we admit it or not, we have always been influenced by what's going on around us. When we first started out, we were trying to emulate music coming out of America. We did it wrong, in a way, because of limitations and culture and surroundings, but that's how we established our sound. That's wrong in a good way. It's how new things come along.
Now your music is the reference point for some of the most popular dance music acts of the day.
SR: We've had a lot of influence over the years, but you can't look back. What's important is what we're doing now and whether it connects to people. You can make really good music, but if it doesn't speak the language of the moment, then people don't understand it.
After 10 years on XL Recordings, what spurred the decision to put Junto out on your own Atlantic Jaxx label?
Felix Buxton: That's what people do nowadays, isn't it? Why keep out of step with the world? The whole music industry model of old, it's great to get rid of that, to get rid of loads of middle management and politics. Obama talks about transparency—that's brilliant. It's the same thing in the music industry, cutting out loads of bullshit and going direct to the people. There's a potential for more honesty in the world.
That's one thing with EDM: It cuts out the middleman in a lot of ways because it goes straight to the impact. It's like going on a roller coaster, having explosions, and putting that with music. It's about that adrenaline moment.
When we started Basement Jaxx, we were in Brixton, and it was very much our window on the world from that street. Since then, we've traveled all around the world. Now the music brings everyone with us.
What's your take on EDM? It wasn't the entity it is today last time you came around.
SR: It's a different feel. There's more of a Northern European influence in EDM. The roots and rhythms of house music come from Latino and black music. But then, "Flute" from New World Sound & Thomas Newsom—that's an EDM track I really like. It almost reminds me of System of a Down. It's very melodic, kind of folky, with minor scale harmonies. It's really playful, and it's not just mindless. It's quite bold and fun. We don't really do that music, but that doesn't mean that we think it's all shit. There are things that go on that you don't contribute to, it's not your world, but you'll go, "Yeah, that's cool, I like that," and you might incorporate it into what you're doing.
FB: At the moment, the UK hipsters have all gone, "No EDM." Stuff like Boys Noize was very exciting a few years ago, but it got too extreme and too tacky for sophisticated English tastes. The style now is slower, back to the old house, because it was sexy. There's nothing sexy about being absolutely blatant. When rave culture started in the UK, happy hardcore developed. Sometimes you can suspend your imagination, but sometimes it goes too far. It got a bit silly. That's what EDM is; it's happy hardcore. But for young kids here, it's like an aerobics class, at the fair, on a stage. How exciting is that?
What are your thoughts on corporate sponsorship of DJs and events that have historically been underground and anti-establishment?
SR: In the past, record companies would have put a lot of money into the artists. If you don't have a big record company behind you, this is another option. I'm always very wary of corporate sponsorships. I don't like the idea that they feel like they need to empower themselves, but I like the idea that they can give you the opportunity to be creative. In a way, you're appealing to a part of their better nature, which is good, but any deal with a business is always hard.
FB: If you've seen the map that shows basically eight companies own 97% of everything in the world, to exist outside of these corporations is really hard. Some of our gigs in England are at O2 Academies, which is a phone company. Before, it was Carling, the beer company. But what can we do? That's the venue, and it's branded. Big corporations are all just people, anyway, and there are good people in every company. Ideally, the company that's involved with you is ethical, and you feel happy to be a part of them.
How do you feel EDM compares to what you were experiencing during the height of your party years?
FB: The Ultra Festival in Miami this year [where the Jaxx played a much-lauded and critically acclaimed live set] was like '88 in England: loads of young kids, letting themselves go, being free—a lot happier than a rock festival. But it's just a different thing than before because we live in a plastic culture obsessed with celebrity. It's the idea of peace and love, but without the actual flowers. It's all plastic flowers and plastic beads. The whole thing is a bit plastic. At the root of it, everyone's jumping up and down and having fun, which is great. But if they keep doing that, it might get a bit boring, and maybe they'll want something more fulfilling. It will shape and evolve. It's been happening all over the world for ages, it's just very slow coming over here. It's all just music and people having a dance, that's it.
You have an international cast involved in your song "Power to the People." Who is involved, and what was the idea behind the song?
FB: It's people from our own live gigs, whom we sung the chorus to and asked if they could sing it back to us—this is before the track was released. There are some shouts in the verse I recorded in Nairobi, where I DJed for a festival. I did the same in India, Japan and Paraguay. The kids in Paraguay are in an orchestra with instruments they made out of recycled trash, which is really quite a good picture of a positive move in one society.
When we started Basement Jaxx, we were in Brixton [in South London], and it was very much our window on the world from that street. Since then, we've traveled all around the world. Now the music brings everyone with us. The song is about all coming together and how we're all connected. The chorus is a lot of people worldwide, but it is one sound.
Follow Basement Jaxx on Facebook | Twitter
---
Share
---
Tags
---
You might also like