Angerfist: The Masked Marauder of Hardcore
According to Angerfist, the notorious white mask that the enigmatic producer wears arose from his need for comfort on the stage. He's a self-professed "studio mouse," and donning the frighteningly eerie Friday the 13th–inspired mask helped him create an onstage persona that matched the raging intensity of the hardest of the hard beats.
He started tinkering in the studio at the age of 16, and when he decided it was time to let the world feel the darkness of his beats, he had amassed too much music to release under one alias. In 2002, the future king of hardcore quietly unleashed his first two EPs: The Son of a Bitch EP as Menace II Society, and the Angerfist EP on Overload Records. When the booking offers started to roll in based on the overwhelming success of his music, Angerfist became the most fitting persona for him to adopt. Ever since then, he has represented everything the hard-heads love about hardcore music.
His deft use of foreboding samples, dark and savage synths, and twisted, turbulent rhythms made him arguably the biggest name in hardcore. In 2011, he entered the DJ Mag Top 100 DJs poll at an impressive ranking of #39. It was one of the most prominent placements a hardcore artist had received in a list that has historically veered toward the kingpins of house, trance and techno. He's been a mainstay on the list ever since, while many of his hardcore and hard dance friends and cohorts have joined him more recently.
These days, the mask has become an essential part of his persona, even though he's now much more comfortable onstage. He finds the performance aspect of his career just as exciting and engaging as the production work, and he continues to be an unstoppable force.
Angerfist is now bringing all that unrivalled energy to Basscon: Wasteland 2017 this month. We had a chat with the man behind the mask about his love for hardcore and his role as its preeminent leader.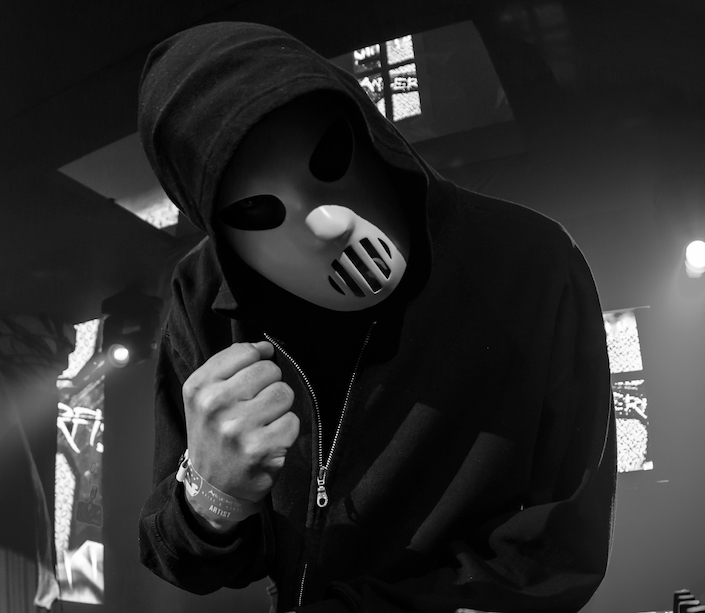 You've been performing in the US for quite a few years now, so you've seen the scene evolve from the years prior to EDM. How do you see hardcore fitting into that evolution?
I think the EDM wave has been a huge spotlight for all electronic music. So many people suddenly got in touch with dance music and all its subgenres, including hardcore. After unusual, futuristic music—like dubstep, for instance—the step to a hardcore track wasn't so strange anymore. It doesn't sound that alien anymore, because people are starting to get used to it. Hardcore suddenly appeared on mainstream lineups, which never really happened before. I think it's a good thing. More people should know about the style of music that makes you jump the fuck up.
How do you feel Basscon has helped progress the evolution of the hardcore movement in the States?
Basscon has taken the events to a next level; the USA scene needed something like that. A few months back, I performed at a sold-out night at the Belasco [Theater in Los Angeles], together with Radical Redemption and Minus Militia. The fact that it sold out at such a location is proof that the American hard-heads are ready for our music. This is a hard generation, and that's the way it should be.
Do you feel like concealing your identity allows your music to stand out without having to be attached to a certain persona?
Possibly, although I like to think the music has a level of energy, too, which fans appreciate besides the anonymity of the mask. Many people wear the mask and hoodie at events, which is a cool sight to see when you're playing a set. Unintentionally, it was one of the best choices I made in my career.
You were one of the first hard dance artists to rank on the DJ Mag Top 100 DJs poll. Do you see value in lists like these? Does it have a positive effect in raising the profile of hardcore?
I want more people to know about this music and make them appreciate it the way people in Europe do. There's nothing wrong with a global spotlight like the [Top 100]. That doesn't suddenly make it commercial or anything, since that is a point of criticism that people often use. What's wrong with more hard-heads joining the revolution?
What about the nature of hardcore initially resonated with you?
I got into hardcore at a very young age. In the Netherlands, it became huge in the beginning of the '90s, and before that, I was mostly listening to old-school house. I was never really into metal or anything like that. It has always been electronic. Nowadays, I listen to anything from hip-hop to rock 'n' roll to breakcore. I like old music a lot, too, from the '50s, '60s and '70s.
What are you listening to right now that isn't dance music?
'90s/2000s gangsta rap—especially the early Cypress Hill. [That has] been playing a lot in my car lately.
Catch Angerfist at Basscon: Wasteland 2017, taking place Friday, April 28, and Saturday, April 29, at the NOS Events Center in San Bernardino, CA. 
Alexander Dias likes his bass hard. Follow him on Twitter.
Follow Basscon on Facebook | Twitter | Instagram | SoundCloud | Mixcloud
Follow Angerfist on Facebook | Twitter | SoundCloud
---
Share
---
Tags
---
You might also like