A Long Night's Journey to Find PLUR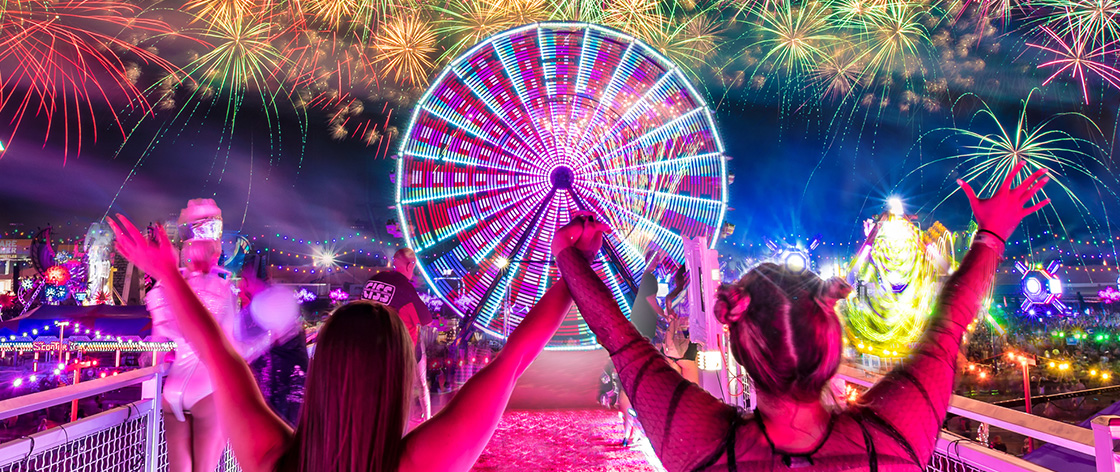 I rolled into Sunday at EDC Las Vegas weary. Working the festival means we're in earlier and out later, constantly pinging around the site, shoehorning quotes out of you guys when all you really want to do is dance. By the time we got at 4pm Sunday, I'd walked more than 30 miles—which, in case you're wondering, is 20 laps of the Speedway. I had the after-tremors of a weekend binging on Red Bull, but despite being immersed in the festival, I hadn't yet found my groove.
I had squandered Friday working on a stupid, self-imposed article that required my going on every single fairground ride (shouts to the homie Christian from Florida, who barfed on my shoulder, and to Insomniac's Senior Editor John Ochoa for waking up to come on the Zipper with me at 3:20 am). Saturday found me lingering a little longer than I would have liked at the back of the wasteLAND stage, being aurally assaulted and trying haplessly to herd jumpstyle dancers together like nipped cats for an impromptu photo shoot.
"The very first time I came here, I was a little shocked by the outfits. I thought, 'Wow, you don't have to do a lot of packing. Three bras and underwear from Victoria's Secret, and you're ready to go!'"
EDC just wasn't clicking. I felt like a voyeur. I was hiding in plain sight, observing the festival and probing its perpetrators for insight, then documenting it as if I myself were still an effervescent young buck. But I was fraudulent. I felt like someone's cool, young uncle chaperoning them to their first rave, but becoming engulfed in a maniacal crisis about whether the crisp edge I'd worn proudly for years was finally being dulled. Was I—the 30-year-old dance music journalist with increasingly bad knees—finally too old for the rave life?!
Well, apparently not…
By Sunday, I'd largely given up feeling like I could assimilate. I had resigned myself to wandering around in the heat, gathering quotes for my articles. But it was tough. Three long days on the Speedway were taking their toll. Just when I thought the fatigue was getting the better of me, I sat down and started chatting with Jim and Pat, the elderly security guards who worked the media center in the middle of EDC. At 80 and 67 and teeming with an infectious energy, they laughed off the notion that one could be too old for the rave life.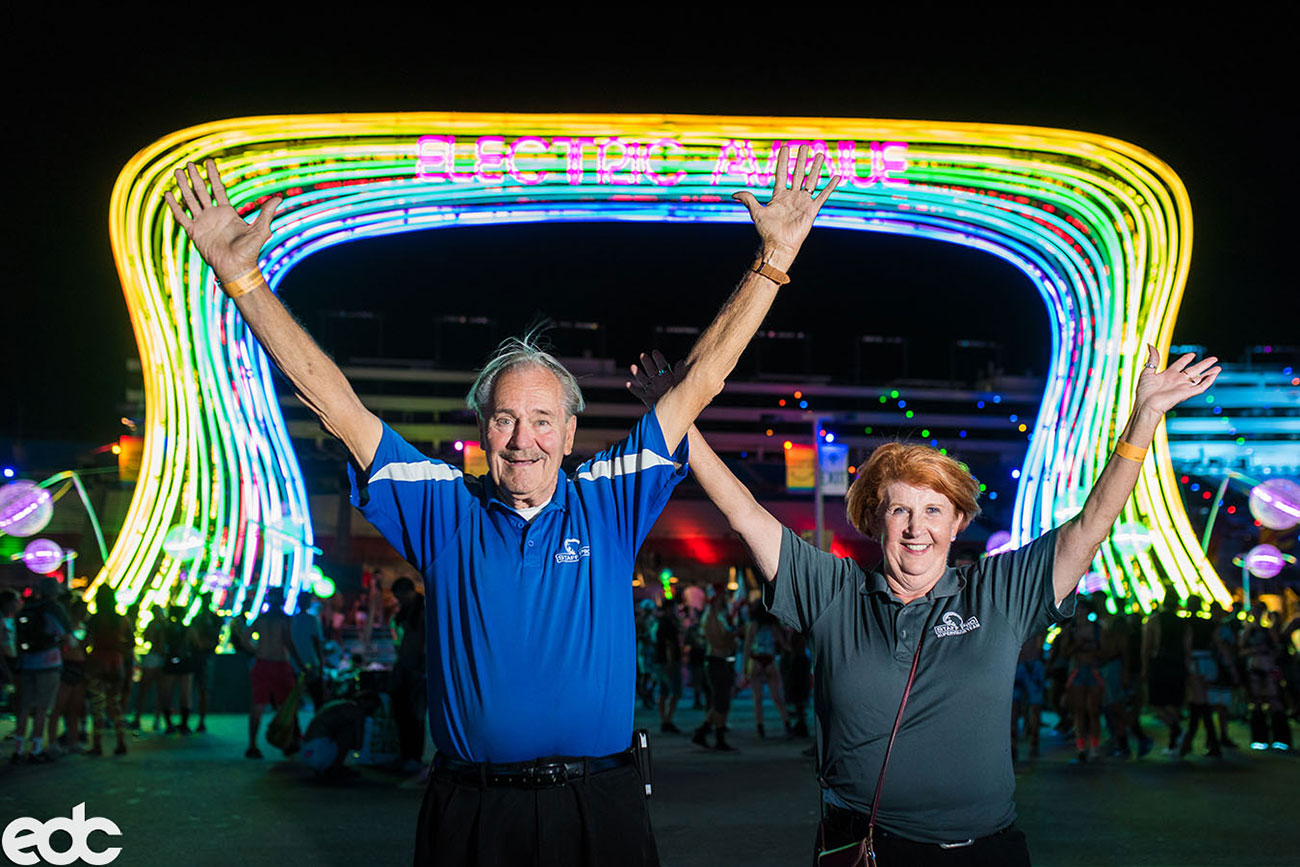 "Though I will say one thing," started Pat, clearly the pants-wearer in their relationship. "The very first time I came here, I was a little shocked by the outfits. I thought, 'Wow, you don't have to do a lot of packing. Three bras and underwear from Victoria's Secret, and you're ready to go!'"
"But people said similar things to us when we were young," Jim interjected. "Our parents were shocked by Elvis Presley shaking his hips. This is the same thing—just a little different."
Jim—who was working his sixth EDC and proudly disclosed that the Headliners called him "Gramps"—had been taunting us fickle young staffers for yawning all weekend. After talking with them and guzzling more Red Bull, I headed back out into the night to chase the vibes.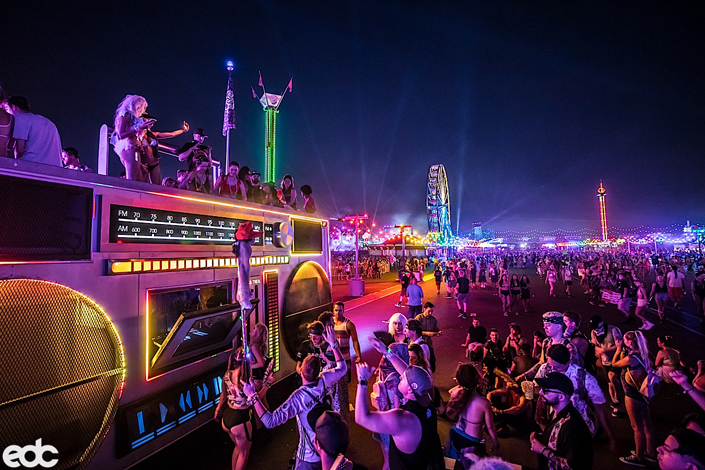 My first real, guttural flex of the weekend came in front of the Boombox Art Car, when Desert Hearts regular Rybo was thumping out some swaggin', bottom-heavy tech, a particularly memorable cut being Andreas Henneberg's frankly scandalous "Very Bad Words." As ravers marched past the Boombox toward their destination, I saw them stop for a little shake, like fish moving downstream and getting caught up in the rocks for a moment. After dispelling the notion that I was old, and then proving it by twisting it up on the floor, I was ready to move on into the hot, heavy night.
On the cool, soothing grass by cosmicMEADOW, souls were twisted around one another in a loose, baggy knot as the collective fatigue and comfort hit a pleasant plateau. People were strewn symbolically across the finish line of the Speedway, legs lumps of deadwood, their bodies flailing, minds fizzing in the panoramic embrace of the stage. As I sat up the back, minding my own business, someone slipped a Mr. T gold chain around my neck and wandered off, fist held high.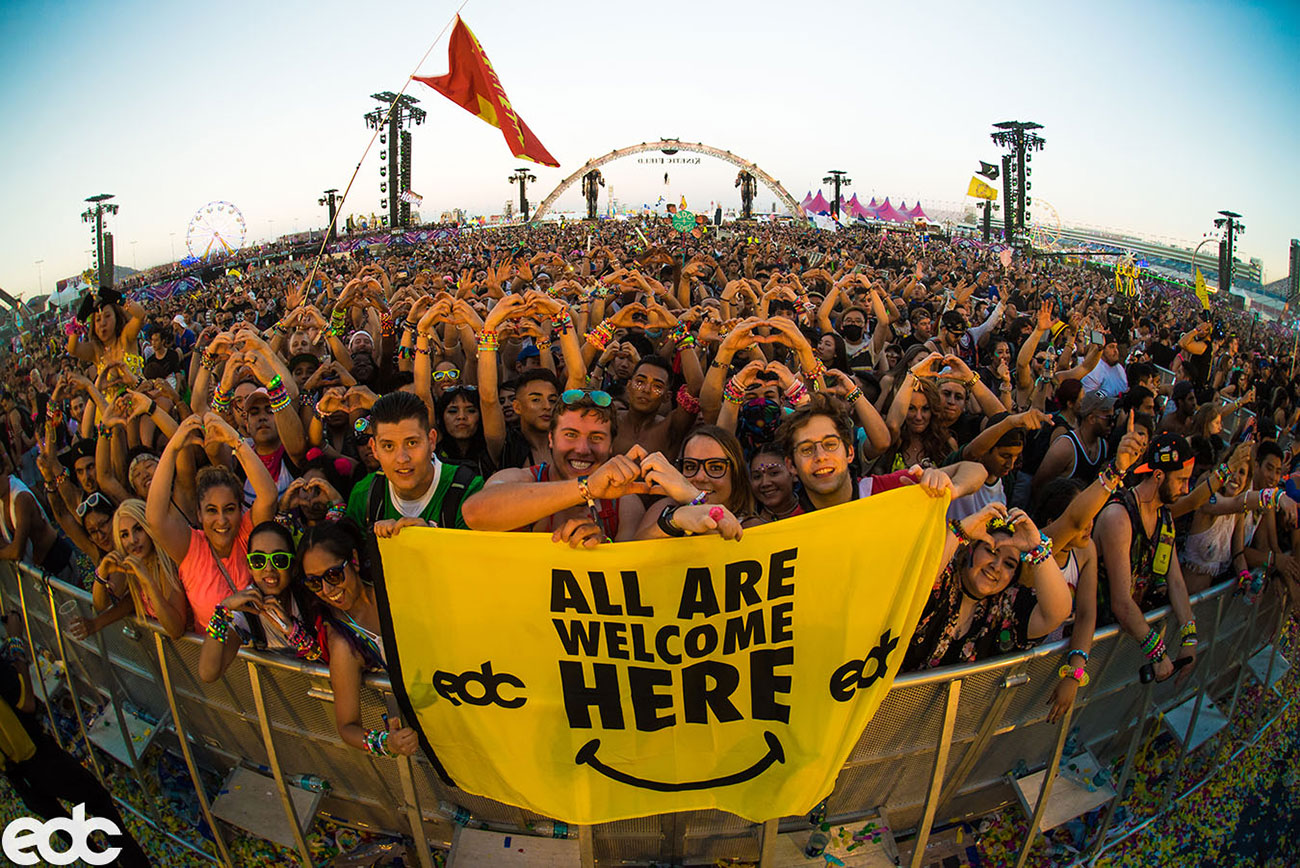 In speaking to Headliners about what they thought "All Are Welcome Here"—the mantra of EDC Las Vegas 2017—really meant, I met a lot of lovely humans with refreshing perspectives on why we come to these parties. Robert (49, Nevada) was one such human. After going through a difficult divorce in 2011, he found raving cathartic, and that the community instilled a confidence in him that had been lacking his entire life.
"To me, this is like a religion," he explained. "It makes me feel so good to be around people that are having their lives changed for the better by this shared experience. We're the individual, symbiotic parts of this organism that come together for a short time, break apart, and then collide happily again on some dancefloor somewhere else."
After a short but inspiring conversation, Robert and I bid our farewells. His 18-year-old son—who himself was attending his first EDC—was coming to meet him, and they were going to see Seven Lions. I confessed that I'd never heard Seven Lions before, and Robert's eyes lit up. "Oh my god, he's incredible! You have to!"
My friends, on Sunday night at EDC, I really felt the PLUR, and I fucking loved it!
When I arrived at circuitGROUNDS, Seven Lions dropped a remix of "Silence" by Delerium feat. Sarah McLachlan, a certified banger that I hadn't heard since my days drinking in parking lots and cheering on people doing donuts. I rushed into the crowd and felt the neon tide wash over me and drag me off to PLUR Island. Switching it up frantically between tingly trance and searing brostep, and visualized by skyscraper screens showing Tolkein-esque gamer visuals, that Seven Lions set was a spectacle on a scale I'd never truly experienced before. And just when I thought it couldn't get any more sensory-molesting, the first firework shot into the sky.
Hats off, Pasquale. Hats off.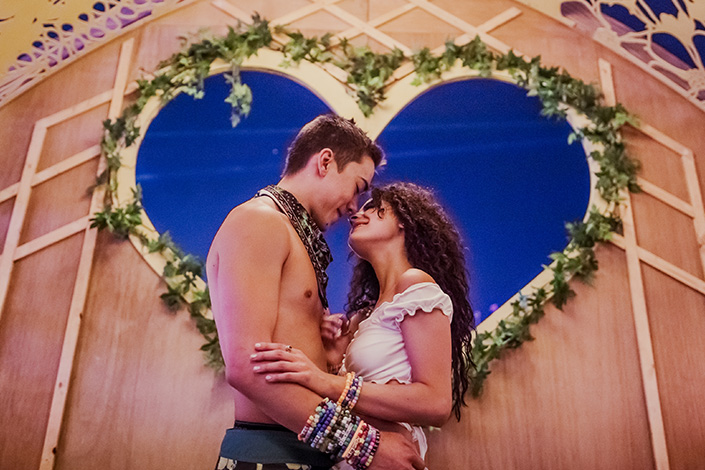 As I swam away from circuitGROUNDS and sought a moment of perspective, a beautiful young rave thing asked me for a sip of water. I gave him the fresh bottle in my backpack. Genuinely moved by this paltry act, he slipped some kandi off his wrist and put it on mine. I looked down and realized that I had never been part of this most ubiquitous element of rave culture. I had never worn kandi before and had therefore never engaged in the time-honored, ritualistic exchange that endears the strangers of the rave to one another, long after the pasties are peeled off and the glow dims.
My friends, on Sunday night at EDC, I really felt the PLUR, and I fucking loved it!
EDC Las Vegas 2018 takes place Friday, May 18, through Sunday, May 20, at Las Vegas Motor Speedway. Tickets go on sale Thursday, September 28, at noon PT. For more information, visit the official website.
---
Share
---
Tags
---
You might also like