Overview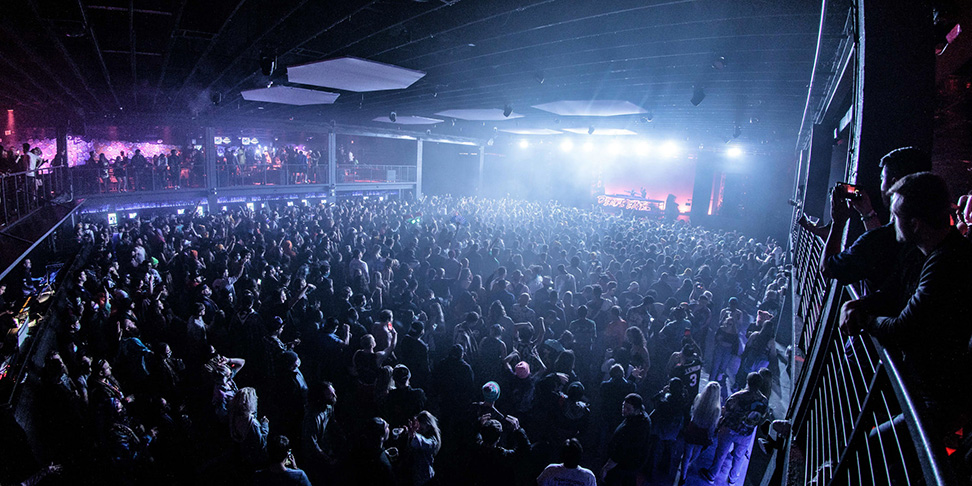 2135 Queens Chapel Rd NE
Washington, DC 20018
Heralded as Washington, DC's premier hybrid nightclub and concert venue, and drawing inspiration from electronic music's warehouse roots, Echostage is a seminal venue in the dance music scene. Founded in 2012 by Club Glow, the 3,000-person state-of-the-art mega venue quickly became a staple for artists and music lovers along the East Coast. Fans voted Echostage as DJ Mag's #1 North American nightclub for three consecutive years. While maintaining #1 in the country, Echostage jumped from #8 to #4 worldwide in 2018 and recently was voted #2 in the world in 2019 (the highest a North American venue has ever placed). In 2021, Echostage was voted as the World's #1 Nightclub.
Between a sprawling, 30,000 plus sq. ft. layout, top-tier sound design and advanced LED visual displays, it's no surprise that the versatile space has attracted industry heavyweights. Club Glow takes the lead on the venue's bookings and places heavy emphasis on growing acts in the market by curating unique lineups with up-and-coming acts.
While the bulk of Echostage's events are hosted by Club Glow and consist of electronic dance music, the space has also played host to massive live acts such as Lorde, Cardi B, Sam Smith, Miley Cyrus, Morrissey, Juice WRLD, and many more.
Echostage brings the festival experience indoors year-round, allowing fans to enjoy full-scale production featuring a massive 14-by-40 foot LED screen, an array of lasers, cryo jets, intelligent lights, and confetti cannons. From the cutting-edge, German-imported D&B Audiotechnik V series sound system (the first of its kind on the east coast) to interior design that ensures unobstructed sightlines from any seat in the house; the sensory experience of an Echostage event distinguishes the space from other DC entertainment players. Concert-goers can grab a close-up glimpse of the stage from the pit, or take a breather at two 60-foot bars that line each side of the dance floor. Visitors looking to enjoy the show from up high can cozy up to seven of their closest friends in one of the 38 bottle service tables.
Insomniac's acquisition and partnership with the Club Glow team launched its first events in 2021 and will continue to bring the best in dance music to the DC scene.
---
Follow