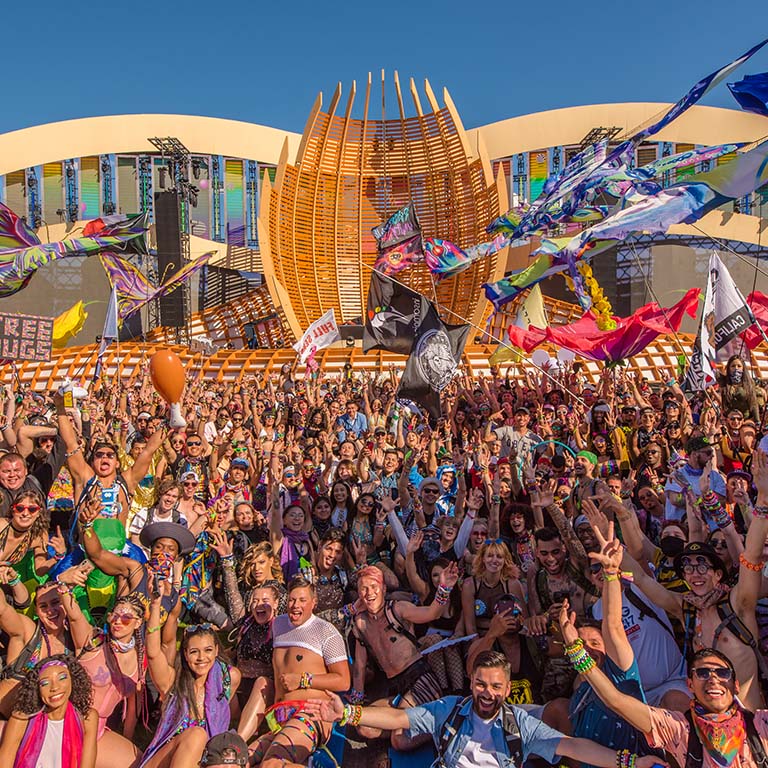 Giving Back, Looking Forward
Rave Recovery is a relief fund created specifically for dance music fans impacted by the COVID-19 health crisis.
Looking out for one another and giving back have been cornerstones of rave culture since people first set foot on the dance floor. With so many experiencing hardships brought on by COVID-19, those principles are more important than ever. Even though we're isolated, no one should feel alone. Rave Recovery was created to support fans within our dance music community who need assistance—and hopefully inspire others to reach out, connect, and give back. The fund is being administered by In Place of War, a 501(c)(3) organization, in partnership with Insomniac Cares. 
Since 1993, Insomniac has been dedicated to creating unforgettable experiences that inspire people to come together and be the best version of themselves. Our mission is to help fans endure through this adversity and stay positively focused on a future where we can all reunite on the dance floor.  
We will get through this together, and we are grateful for your support!
ABOUT IN PLACE OF WAR
In Place of War is a global charity that uses artistic creativity as a tool for positive change, and has established a COVID-19 emergency fund to support the change-makers and community leaders we work with across 24 conflict zones in Africa, the Middle East, and Latin America. In these communities that already face the challenges of conflict and extreme poverty, the impact of COVID-19 is multi-faceted. Like Insomniac, In Place of War believes that music and the arts can bring peace and understanding to the world's most harshly impacted communities.
FAQs
What are you doing with my donation?

Funds will be provided in the form of grants to members of the dance music community who have been financially affected by the COVID-19 crisis. Please note that a portion of all funds collected will also be donated to In Place of War's COVID-19 Emergency Fund.
Are my donations tax deductible?

Absolutely! Rave Recovery is powered by In Place of War, a not-for-profit 501(c)(3) charitable organization, USA tax ID number 83-39444469, UK registered Charity number 1182594. Your donation is tax deductible to the extent allowed by law. If you are donating internationally, please contact your tax advisor for specific information related to your situation.
How do I become eligible to receive a Rave Recovery grant?

Those petitioning for a grant will need to fill out an application and meet certain criteria. Our goal is to help as many people as possible with the donations we receive. Grants are limited to US residents only.

The application period has closed and any recipients will be notified by In Place of War.
What happens after I submit my application?

You must fully complete the application in order for it to be reviewed. The application process is closed as of Friday, May 30. By submitting an application, you agree to provide additional information as requested in order to qualify for participation. In Place of War will review all submissions. Please note that it may take up to 3 weeks after the submission process has closed before you are notified.

A representative of the fund may reach out for more information or clarity. If so, please timely respond in order for our team to more quickly finalize this process. If selected, you will be required to sign an affidavit confirming your use of the donated funds and to supply details to enable funds to be sent. Insomniac Events will take no administrative fee from this process.
How can I be involved with Rave Recovery and give back to the community?

If you would like to assist outside of a monetary donation, please contact InsomniacCares@insomniac.com
FOR QUESTIONS ABOUT YOUR DONATION, PLEASE CONTACT US BELOW