PARK 'N RAVE CONCERT SERIES: INFO & FAQ
Jump to: Map / FAQ / Accessibility
Event Rules
You must be 18+ to enter. A government-issued Photo ID required. International IDs must have an accompanying passport to be considered valid.
The event will take place rain or shine.
You must arrive before the scheduled show time. Early arrival is strongly recommended. All cars must be turned off by the scheduled show time for your safety and those around you. Late arrivals will not be permitted.
You're required to arrive with your entire party in one vehicle. Arrival by Uber/Lyft will not be permitted and no overflow parking is available.
You may only attend the event with members of your immediate household.
The safest place to enjoy the show is from the comfort of your vehicle.
Masks must be worn at all times except when actively consuming food or drinks.
Car passes include five (5) people in your party. If you arrive with more people in your car, companion passes must be purchased upon arrival for each additional person in your vehicle, up to three people. Vehicles may only have up to eight legal seats. Oversized vehicles such as large vans, buses, campers, RVs, and limousines will not be permitted entry. Raised or elevated vehicles are also not permitted.
Stay Hydrated! You're highly advised to bring your own water. Although water will be available for sale, providing your own will limit the amount of contact you have with others onsite. Free water stations will not be available on-site.
Please present your printed digital ticket against your driver side window. If your windows are tinted, you may need to roll down your window for the scanner to work. If you're using a digital ticket, your phone screen must be at full brightness.
All vehicles will be searched.
Speed limit is 5mph.
All drivers are required to follow all traffic laws at all times. Additionally, please follow directions from all traffic attendants.
You may only leave your space to use the restroom.
Do not sit on the top of your vehicle.
Please turn off your headlights and refrain from honking your horn during the show.
For your safety as well as the safety of others, all vehicles must be turned off at the scheduled show time. No exceptions.
If you see something, say something! Pay attention to your surroundings. If you see or hear someone doing something suspicious or that makes you feel uncomfortable, reach out to an event staff member immediately.
Leave your space as you found it. No trash should be left behind. A trash bag will be provided to each vehicle upon parking.
Pay attention to all exit announcements as well as the instruction from parking attendants at the end of the show. This will allow every-one to get out efficiently and in a timely manner.
Don't drink & drive! Always assign a designated driver! You are not permitted to leave your vehicle overnight. Vehicles left overnight will be towed at owner's expense.
PROHIBITED ITEMS
NO Knives, Firearms, Pepper Spray, Fireworks, or Weapons of Any Kind
NO Illegal Substances
NO Drugs or Drug Paraphernalia
NO Pets
NO Massagers
NO Laser Pens / Pointers
NO Glass
NO Markers, Pens, or Spray Paint
NO Large Chains or Spiked Jewelry
NO Stickers or Flyers
NO Tents and/or canopies
NO Professional Cameras – SLR or Detachable Lens
NO Video or Audio Recording Equipment
NO Drones
NO Balloons, Balls, Frisbee, and / or Any Other Projectile
NO Outside Alcohol
NO Open Fires or Cooking of Food
NO Bicycles, Scooters, Hoverboards or other personal transportation devices
ALLOWED ITEMS
OK Non-professional cameras incl Go Pros
OK Cell phones
OK Lighters
OK Glowing / Illuminated Costumes or Jewelry
OK Flags / Banners or Handmade signs under 6ft tall (no corporate or company-branded ones)
OK Sunglasses and hats
OK Liquid sunscreen and cosmetic products
OK Disposable E-cigs / Nicotine Vaporizer pens, but none with refill-able chambers containing visible liquid
OK Guide dogs for people with disabilities and other service animals with current rabies certification
OK coolers and ice
OK sealed water bottles/cases and non-alcoholic beverages
OK sealed snacks and outside foods
OK Battery/solar powered lights
OK Lawn chairs
OK Inflatable furniture
We encourage you to bring items to decorate your area!
Assumption of the Risk and Waiver of Liability Relating to Coronavirus/COVID-19
The novel coronavirus, COVID-19, has been declared a worldwide pandemic by the World Health Organization. COVID-19 is extremely contagious and is believed to spread mainly from person-to-person contact. By entering these premises and/or the event, you (a) acknowledge the contagious nature of COVID-19 and voluntarily assume the risk that you may be exposed to or infected by COVID-19 and that such exposure or infection may result in personal injury, illness, permanent disability, and death, (b) voluntarily agree to assume all of the foregoing risks and accept sole responsibility for any injury, illness, damage, loss, claim, liability, or expenses, of any kind ("Claims"), that you may experience or incur, and (c) hereby release, covenant not to sue, discharge, and hold harmless the venue, event promoter(s), vendor(s), and each of their respective parents, members, partners, affiliates, divisions, subsidiaries, and landlords and their respective officers, directors, and employees from Claims of any kind arising out of or relating thereto.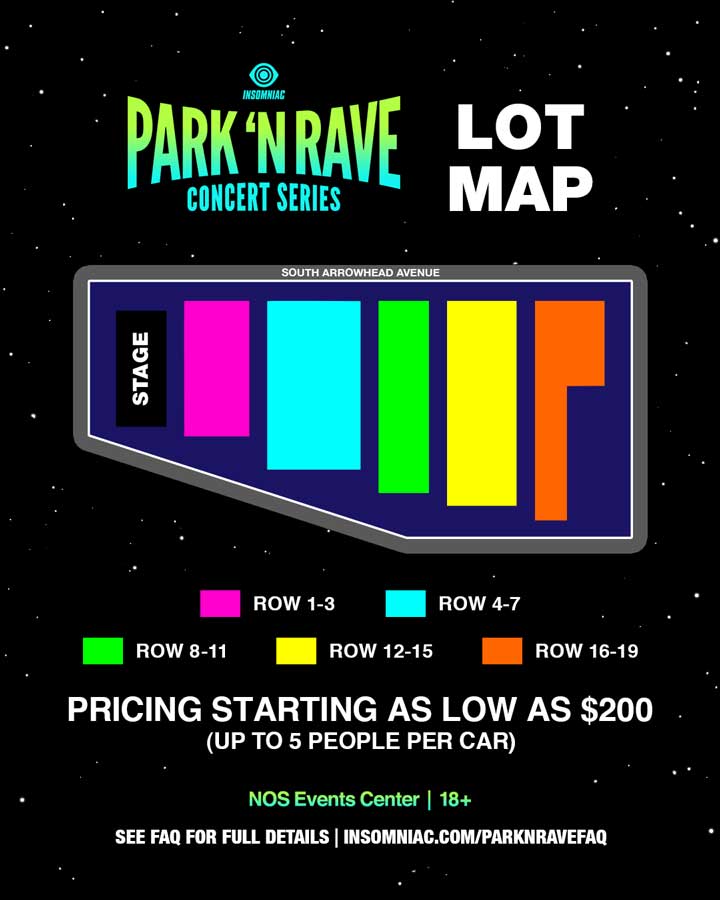 Event FAQ
What if my car type is sold out?
Car types listed are meant to be illustrative. Please purchase a ticket based on the number of people in your party. Groups more than 8 are prohibited. We don't want to encourage any groups to meet up prior to the show, so please arrive with the number of people included with your ticket even if your car is larger. Lastly, each person in a vehicle must have a legal seat.
I already purchased my pass but my group is more than five people, how do I buy companion passes?
If you would like to buy companion passes, you may do so by visiting the Park 'N Rave website, selecting the event you are attending, and clicking the blue link that reads 'Need to add a Companion Pass to your order? Click here!'
Can I park next to my friends?
If you and another group arrive together, you may be assigned adjacent parking spots, as long as you are in the same section. "Saving spots" is not allowed, and parking spots will be assigned in the order you arrive. Please plan accordingly!
Will there be food and drink?
Yes! We will have a website for you to place an order online while you're at the show and runners will bring your food and drink packages to your vehicle. We highly recommend ordering as soon as you arrive to avoid any delays. All orders will be credit card only.
Will there be alcohol?
Due to state regulations, the event grounds cannot allow outside alcohol to be brought onto the property. Alcoholic beverages will be sold through the mobile ordering platform and can be delivered to attendees that are 21 years of age or older. Please designate a sober driver and make sure to follow all laws pertaining to the operation of a vehicle.
Will there be restrooms?
Yes. We are providing restrooms at the end of each row. There will not be a centralized bank of restrooms at the event. Hand wash stations will available and restrooms will be sanitized regularly. Please wash your hands before and after using the restroom.
Do I need to wear a mask?
Masks must be worn at all times except when actively consuming food or drinks.
Is there anything I should bring with me?
Yes! Please be sure to bring your ticket along. We also encourage you to bring WATER. While we will be serving food and beverage, we still live in a desert climate and due to social distancing practices we will not have water refill stations.
I don't have a car, can I take a rideshare there?
You must drive to the event and arrive with your entire party in one vehicle. No overflow or additional parking is available.
How will the sound work?
We're planning main stage audio with delays throughout the lots. We just felt like this wouldn't be a concert experience without concert audio.
Is parking included with my ticket?
Yes! By design, all parking charges are included in your ticket price.
What time should I arrive?
You need to arrive BEFORE the scheduled show time. We want to accommodate everyone the best we can; however, arriving after the scheduled show time can potentially delay your show time and be distracting for others.
What if I need to leave during the show?
You will be permitted to leave during the show in the event of an emergency. A staff member will act as an escort upon request. Early exit will be permitted up until 30 minutes prior to the show ending. If you stay until the end of the show, please follow the instructions of all parking attendants as we are planning an orderly exit.
What if I get sick?
We are making every effort to reduce or eliminate contact within an event and maintain social distance. If you have any concerns about your health or safety, please do not attend. It is solely your decision whether to attend or not. Insomniac and associated parties assume no risk.
Why can I only buy one ticket?
In order to limit contact and help expedite entry, we want to scan 1 ticket per vehicle. The ticket price represents the total for your vehicle, including everyone in it. We aimed to have ticket price points typical of a concert.
Will I be able to buy tickets at the event?
Both vehicle and companion passes will be available for sale at the event based on availability. Please note that all transactions must be completed with a credit or debit card; cash will not be accepted.
Accessibility Information
General
Insomniac welcomes all, and we strive to make our environment accessible to our guests with disabilities. During the event, the venue will have accessible restrooms. All public restroom areas are accessible to our patrons with disabilities. This event takes place in a parking lot; the grounds are completely flat. Please follow any ADA accessible signage where applicable.
Service Animals
Service animals are permitted throughout the festival grounds; however, this does not include emotional support animals, therapy animals, or companion animals. Only legitimate service animals will be allowed within the festival footprint. Pets are not allowed and will be turned away.
If you intend on bringing a service animal, you will be required to check in upon entry for registration. Only legitimate service animals that are properly trained and under the proper care of their owners will be provided with appropriate credentials.
All service animals must remain by the handler's side at all times and must be harnessed, leashed, or tethered, unless these devices interfere with the service animal's work or the individual's disability prevents using these devices. In that case, the individual must maintain control of the animal through voice, signal or other effective controls.
Service animals must be housebroken and should use the service animal relief area.
Anyone bringing an animal will be responsible and liable for any damage or injury caused by the animal.
All animals should have legally required vaccinations that may be checked.
Effective Communication Requests
To request audio describers for any performance, please contact us. Requests must be made no later than 7 days before the event to allow for sufficient processing time. To request ASL interpretation for any performance, as well as closed captioning, braille/large font print, guided tours, and/or other forms of effective communication, please contact us.
Medical
Please refer to your event map, or contact staff through the text app phone number. Event staff have been trained in proper emergency preparedness.
Contact Us
If you have any questions, suggestions, or comments about accessibility at this or other Insomniac events, please contact us. We are committed to continually improving the festival experience for our Headliners with disabilities.