Women Produce 9% of Electronic Music
Last month, DJ/producer Dani Deahl gave a TEDx talk about the prevalence of women in electronic music. The facts and figures she provided indicated what we've long known: There are a fuck-ton more men making electronic music than there are women.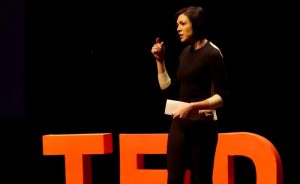 In fact, Deahl says in her talk, an analysis of all of the music being released on electronic labels indicates that 91 percent of EDM is produced by dudes. The most recent DJ Mag Top 100 list included two female acts (that's two percent, for those of you doing the math): Nervo and Krewella, at numbers 21 and 33, respectively. And Deahl's analysis of Ultra lineups from the past decade revealed that women made up 5-10 percent of the artists playing the festival.
Again, this is not revelatory information. But as always, wtf?
People in and out of the industry have long tried to figure out why the hell women aren't more equally represented, with theories ranging from the notion that the lady DJs out there are simply not given as much media attention, to the idea that women are more inclined to favor romantic relationships and family life over a job that is typically all-consuming.
Deahl posed this same question on Reddit, and from the hundreds of responses, she found three hypotheses to be most prevalent. Responders said that there aren't enough role models for women in EDM—a fact Deahl acknowledged is true given the fact that there are so fewer women in the industry, but which she noted are possible to find, as doing a simple Google search for "female DJs" pulls up a wealth of information on female artists. "Despite the fact that we're not really in the public eye," Deahl says, "we're not hard to find."
Commenters also responded that, actually, there is no sexism in the industry. "This is laughable," Deahl says, citing occasions when male DJs have touched her inappropriately while she was DJing (charming!) and of instances where she was accused of sleeping with male promoters to get hired. DJ Tatiana also famously found that she got booked significantly more when she dressed up as a guy. So yeah, it's a sexist fucking field.
Finally, commenters suggested that women are not inherently interested in science, technology, engineering, mathematics or other related fields—the argument being that electronic music production is as much engineering as it is artistry. This is again a false hypothesis, with Deahl citing hundreds of studies on millions of subjects wherein researchers found no observable differences between interest levels in math and science between males and females.
So what, according to Deahl, is the, uh, deal?
She argues that the skewed ratios are a function of the environmental differences in how girls and boys are raised. Cultural programming starting in early childhood typically leads boys toward LEGOs and action figures, while girls are led toward playing with Barbies and clothes. Thus, men are bred to perform well in fields in which men already dominate.
The root cultural problem behind the lack of women, Deahl explains, is this inherent bias. Any given field is more welcoming toward those who already dominate that field. Thus, electronic music is likely to favor men because men already run the show. Young male producers thus have an easier time finding mentors than women do.
Deahl also says that women generally have a harder time asking for what we want, and are less inclined to believe that we deserve what we get. Compare that to the guys in your office who aren't afraid to boast about their achievements and who would never consider that they don't deserve such accolades.
"If we as women in our own field don't believe that women are on equal footing, where are we?" Deahl asks. "If we believe that somewhere we're separate, we're different, we're segregated because of what we're interested in and our abilities, then we're turning the gun on ourselves and fulfilling the prophecy of being marginalized and separated and overlooked." 
SEE ALSO: Who You Calling a Bitch? The Internet Backlash Against Krewella Is Straight-Up Sexual Harassment 
Ultimately, progress toward gender equality in EDM, says Deahl, rests upon women defying gender stereotypes and unlearning the messages we've long been given. It may take decades, but it is possible if we start changing our behaviors—like, today.
While this perhaps seems like overgeneralized lip service, Deahl does get specific, taking Sheryl Sandberg's "lean in" approach by encouraging women to "make today the first day that you do something"—sitting in on studio sessions, watching YouTube tutorials, or joining online forums. She even encourages young upstarts to tweet her for advice.
So, to all the female DJ hopefuls out there: What first step will you take today?
Follow Dani Deahl on Facebook | Twitter 
---
Share
---
Tags