Winners Announced for EDC-Themed Hack Till Dawn 2018 Event
Here at Insomniac, we're always looking for ways to enhance your festival experience. We're doing just that with Hack Till Dawn—a once-in-a-lifetime hackathon competition, presented in partnership with Amazon Web Services and Intel—which took place in Los Angeles last month.
Hack Till Dawn welcomed tech-loving Headliners and music-obsessed techies to create the most revolutionary new tech that would help disrupt the music festival world and elevate your festival life into the future. What's the most kickass technology you've always wished for at music festivals? What would you create if the sky were the limit? Hack Till Dawn is tackling these questions head-on!
Hack Till Dawn finalists won VIP passes, hotel, and airfare to EDC Las Vegas 2018, where the top three teams had their demo videos featured at the festival. There, Headliners also voted for the grand-prize winner.
Following the voting results from EDC Las Vegas, we recently announced our Hack Till Dawn grand-prize winners: Find Your Totem, whose winning project is helping festivalgoers find totems more easily and making the rave meetup process much smoother. The team is now set to bring its innovative technology to life at EDC Orlando 2018. They'll also receive tickets to 2018 re:Invent and the re:Play party, as well as a presentation of their idea at an AWS DeepLens breakout session at re:Invent.
We recently caught up with the Hack Till Dawn winning team, who told us a bit about their innovative technology that's set to change the festival game.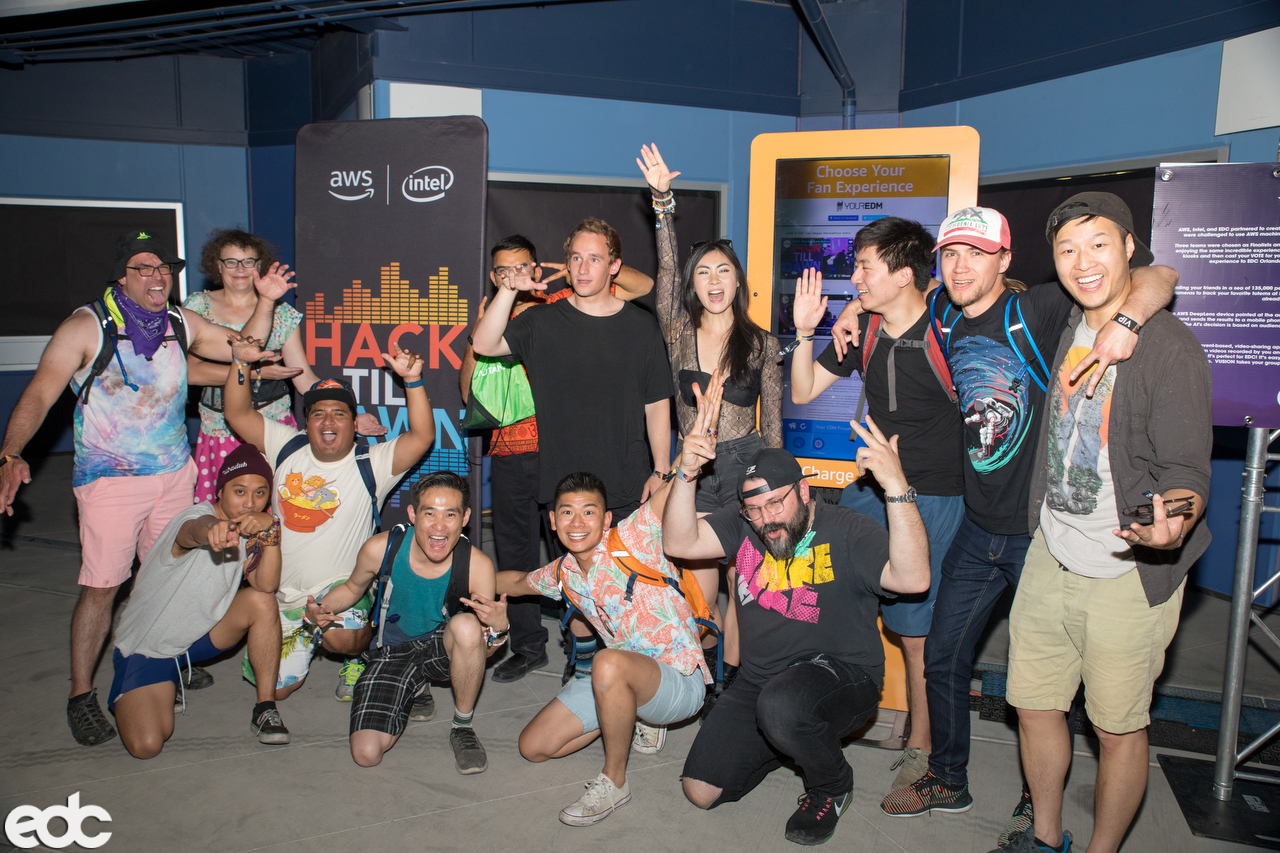 What inspired you to enter this Hackathon?
Michelle Liu: Rich [Ung] and I were final project partners in our Berkeley master's program, and we quickly bonded over our love for Porter Robinson and music festivals. He invited me to join him at the Hackathon. I thought Hack Till Dawn would be an amazing opportunity to combine what I love to do on the weekends with what I have been learning in my data science program at Berkeley.
Rich Ung: Before the hackathon, I would daydream about being a part of something where I could combine my love for music festivals and technology together. What initially seemed like a dream so far away became a dream come true once I found out about the hackathon; [it] inspired me to enter.
Royce Duong: I recently made a career change from finance to tech, and Hack Till Dawn seemed like a great opportunity to develop my skills and meet like-minded people. Winning the grand prize wasn't my intention—but damn, it feels good!
Can you tell us a little about how the tech works?
Ung: The technology leverages various AWS [Amazon Web Services] products in order to inform festivalgoers the location of totems within a music festival. We use an AWS DeepLens video camera to detect a totem, which then transmits information about the totem's image, camera, and time discovered. We combine that information together to inform festivalgoers that a specific totem was found within a particular area at a certain time.
Liu: Our "Find Your Totem" tech utilizes many of the AWS APIs; it primarily uses AWS DeepLens to find totems in the venue through image recognition. Then the location of the totem is added to [a] map that everyone can access to more easily meet up with friends during the rave.
Duong: We combined Amazon's DeepLens camera with Amazon Web Services to detect totems and then transmit that information onto a mobile app. Big shout-out to Rich Ung for automating the image-capturing/categorizing process on a cloud-based system.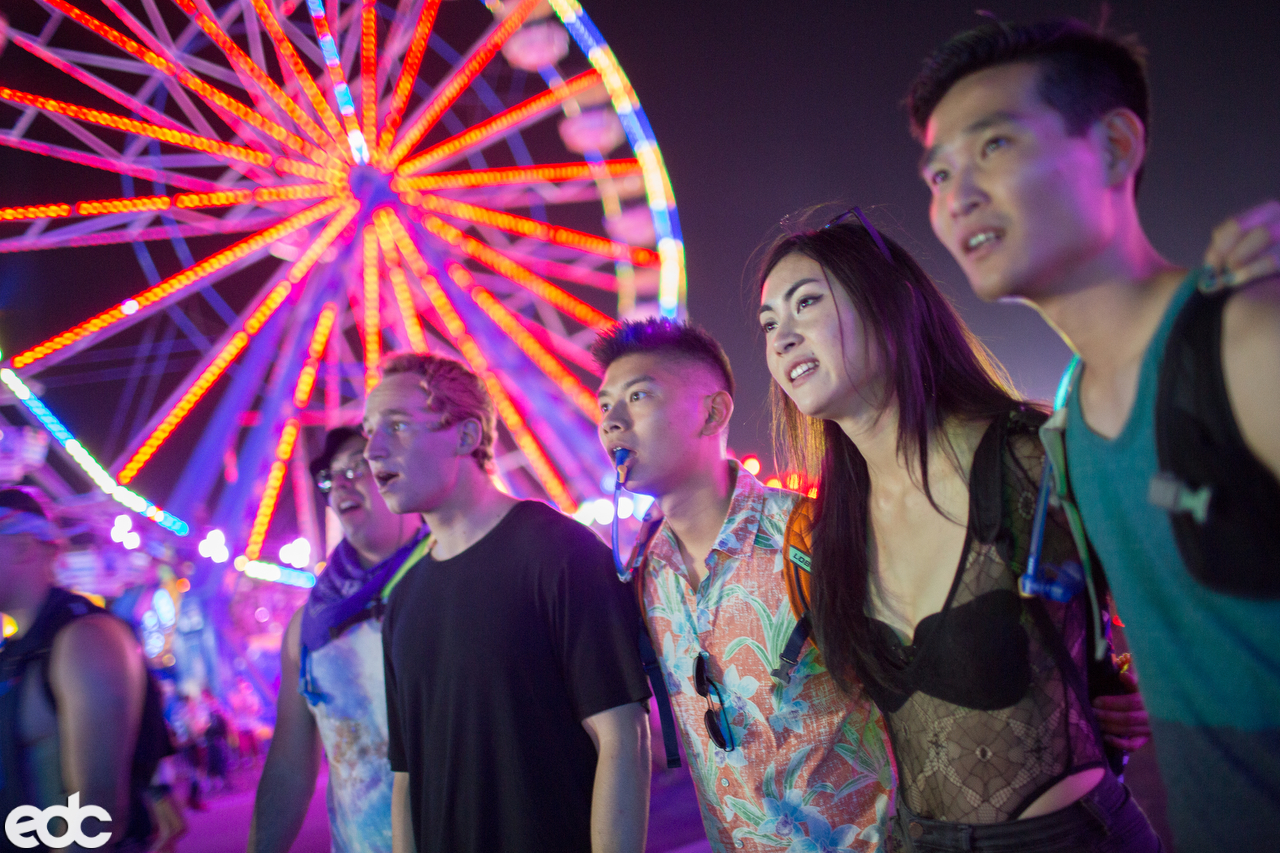 How long have you been with your particular rave fam, and what inspired you to create this particular tech?
Liu: I have several close rave fams that I've made, from my very first EDC in 2013 to my fifth EDC in 2017. However, I always had issues meeting up with them inside the gigantic venue; you're bound to get separated throughout the event, due to bathroom runs and water runs. I wanted to tackle this very problem, since raving with your rave fam really creates the best experience. This project allowed me to incorporate AWS technology and the unique rave culture into one creative solution.
Ung: I've been raving with my friends for the last six years. Those friends inspired me to hold on and believe in the idea and create this particular tech, because I had a deep desire throughout the hackathon to create something that will help my friends have a better experience at EDC. I felt Find Your Totem fulfilled that desire the most among our different ideas.
Duong: I met the members of Find Your Totem at Hack Till Dawn! They all came off as intelligent, charming, and dedicated individuals, so I jumped at the chance to link up. [Team member] Marshall Briggs brought up the idea early in the morning, and we all saw the value right away. Thanks, Marshall!
How would you describe your EDC Las Vegas experience?
Liu: After six EDC Las Vegas [festivals] in a row, I can honestly say the magic has not worn off. My favorite set this year was Virtual Self. It exemplified the top-notch production value that EDC LV brings to the table each year: the lights, the sound, the lasers, the art. EDC never ceases to amaze me!
Ung: It was amazing; there were moments during EDC that I couldn't believe [were] real life. Being part of the crowd and listening to my favorite music, with all of the energy and good vibes, is a feeling and experience that I would say is impossible to explain through words, pictures, or video. It's definitely a memory that I will value forever.
Duong: Incredible. There is a certain magic when 135,000 people dedicate an entire weekend to having the best time of their lives. Only Under the Electric Sky.
The Hack Till Dawn winning team heads to EDC Orlando 2018 later this year. Meet them there!
EDC Orlando 2018 takes place Friday, November 9, and Saturday, November 10, at Tinker Field in Orlando, FL. Tickets are on sale now.
Follow EDC Orlando on Facebook | Twitter | Instagram
---
Share
---
Tags
---
You might also like