On Tuesday, the internet blew up with the news that Kris "Rain Man" Trindl of Krewella was suing his bandmates, Jahan and Yasmine Yousaf. The lawsuit states that the women kicked him out of the group after he went to rehab for alcoholism and didn't want to party hard anymore after getting sober.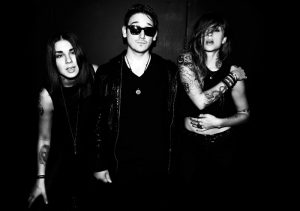 This is obviously a shitty situation for everyone involved (sad fans around the world included), especially because it involves a shit-ton of money (RainMan wants $5 million from the sisters Yousaf) and worldwide fame.
In reality, the only people who know the nuances of what happened are the three members of Krewella and the people closest to them. Reality, however, has not stopped a legion of online haters (and deadmau5, of course) from offering passionate (and often poorly spelled) opinions on the situation. On September 30, Jahan and Yasmine released a statement on their Facebook page, stating: "We ask our fans to please be patient and not come to any conclusions until we are able to respond to the lawsuit with the truth." The post has already garnered 25,000 likes, 1,691 shares and more than 4,300 comments.
The massive outcry from the online community that made Krewella exceedingly popular and successful is no surprise. Billboard even wrote a 2013 piece on how the group leveraged Twitter and Facebook to get famous. But the internet being the internet, what is also sadly unsurprising is the sexually threatening nature of many of these comments.
Scrolling through the comments reveals 96 uses of the word "bitch," 46 uses of "hoe," 20 uses of "cunt," 18 instances of "slut," and 11 uses of "whore." There are also several suggestions that Yasmine and Jahan—both talented and successful performers and business people in their own right—start doing pornography. To be fair, RainMan has been called a "pussy" a few times (ironically, a feminine term used as a pejorative) but the hate toward the sisters has been louder and far more vicious.
Would the nature of this conversation be different if Jahan and Yasmine were men? Duh.
You could call the members of Swedish House Mafia assholes for breaking up (and many people did), but chances are slim that any internet commenter ever labeled them "stupid sluts" or suggested that they resort to porno. No, such insults are reserved almost exclusively for women and, in the last two days, have been leveled at Jahan and Yasmine thousands of times. Most of these comments were written by men, but a few of them were written by other women, recalling Tina Fey famously stating in Mean Girls, "You all have got to stop calling each other sluts and whores. It just makes it OK for guys to call you sluts and whores."
It's no secret that women face a specific kind of internet abuse. While online trolls can, and do, throw around nasty remarks about men all day, the vitriol women are subjected to is often sexually explicit and ultimately a form of sexual harrassement. An August Daily Beast article titled "Will the Internet Ever Be Safe for Women?" states that "nearly three-quarters of people who report harassment to the organization Working to Halt Online Abuse are women."
Women's news site Jezebel recently had to restructure their comments section so whoever had been repeatedly posting hardcore pornography, including images of rape and sexual assault, could be blocked. And in an alarmingly extreme case of harassment in 2012, haters of vlogger Anita Sarkeesian, who critiques misogyny in gaming, barraged her and her family with death threats and even created an online game called "Beat Up Anita Sarkeesian."
The world of electronic music is fundamentally a boys' club. To be clear, we love most of these boys; it's just a fact that there are more male artists, managers, agents, promoters, etc. But it's amazingly sad to watch fans—who at one point seem to have considered themselves fans of Krewella—turn on Yasmine and Jahan in such a vicious, sexist way. For better or for worse, the internet is the Wild West of free speech, and people who are probably relatively intelligent IRL say cruel and idiotic things they would never utter outside the comfortable anonymity of the web.
Regardless of what's actually happening with Krewella, it can't be easy to stay classy while watching the internet explode with comments calling you and your sister talentless whores who slept their way to fame, especially in a scene that ostensibly operates on the values of peace, love, unity and respect.
"Today was 1 of the most emotional days of my life," Yasmine wrote in a Tumblr post on October 1. In a follow-up, she stated, "I hope you all can understand that it is a waste of an emotion to hate someone, and that is exactly what I am trying to avoid right now. There is only 1 real message we've always tried to spread, and that is to spread love."
---
Share
---
Tags
---
You might also like