What's New for EDC Las Vegas 2018?
Headliners, we've got massive news regarding EDC Las Vegas 2018. Read all about it in a special message from Insomniac Founder Pasquale Rotella:
Here's the big news! After a lot of energy, passion and hard work, I want to personally present to you EDC Las Vegas 2018. New hours, new stages, and new dates (May 18–20) with better weather and camping! That's right—campsites, RVs, sound camps, and more—for the first time ever at EDC Las Vegas. Wake up and walk in.
Over the past 10 years, average high temps on this weekend in May have been 90, and the lows have been 64. This means we can extend our hours and create an opening ceremony on the cosmicMEADOW lawn, featuring extended sets from different artists each day. One stage, one vibe—all before the rest of the experience turns on. Not only will it give people a chance to vibe out before sunset, but the early arrivals will help the flow in and out of the Speedway.
Shuttle operations will be handed over to an independent company that specializes in the largest music and sporting events in the country. This is what they do, and they do it better than anyone else, year over year. Also new for 2018, construction in the immediate area of the Speedway will finally be complete. In 2017, we had just two lanes. EDC Las Vegas 2018 will have three lanes plus pull-offs. There will be traffic in and out of the festival, but if you want a one-and-done journey to the Speedway, just camp out.
We'll be rolling out more details in the coming weeks, and I'll be personally answering your questions live on my Instagram. Tickets and camping passes go on sale at the end of September, but hotels are available now on our website with no markup.
EDC Las Vegas 2018 is going to be an amazing new adventure, and I can't wait to see you there!
—Pasquale Rotella
EDC Las Vegas 2018 tickets are on sale now.
Be the first to know about all the exciting updates. Sign up for the EDC Las Vegas newsletter, and don't miss a beat.
EDC Las Vegas 2018 takes place Friday, May 18, through Sunday, May 20, at Las Vegas Motor Speedway. Tickets are on sale now. For more information, visit the official website.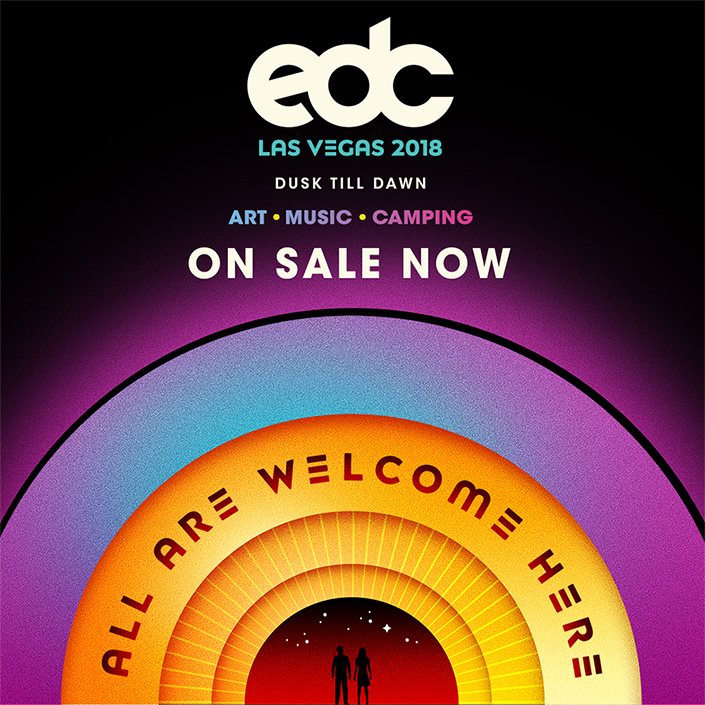 ---
You might also like