Watch This Bass Player Summon an Electronic Opus on His Stringless Guitar
Dynamic Italian bass player Davie504 is known for eliciting all sorts of unexpected and awesome sounds from his instrument, bringing to the forefront something that traditionally just provides the groove. He's demonstrated some of his techniques on his YouTube channel, and his latest video offers something cool for electronic fans in particular.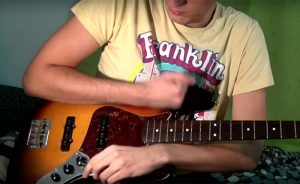 "0 STRINGS BASS SOLO" sees Davie504 performing on a stringless guitar, summoning those wonderful sounds via some heavily applied EQ and FX units. If you weren't able to watch him perform this one-man orchestra, you'd swear he was playing on kick-ass analog equipment.
Follow Davie504 on Facebook | Twitter
---
Share
---
Tags
---
You might also like