United States of Emoji: Which One Represents Your State?
I live in Miami, which to the rest of the world represents a lot of EDM, illegal activity, white outfits and exposed, shiny rears. All of that is true, but what you might not know is that we are also happily drowning in a sea of pulled pork and horn lines. Seriously, we love a good brass section, even if it might not top our list of identifiers—until now.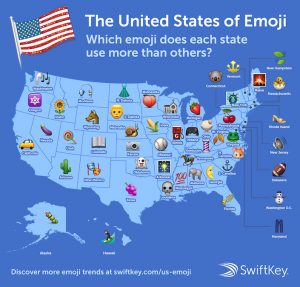 SwiftKey, arguably the only respectable keyboard platform in the Android and iOS universes, released an interactive map to reveal each state's signature emoji as voted for by you, the user, in your everyday text conversations. In Florida, we lead the nation in trumpet emojis, followed closely by two dancing bunny women and hand claps. We are more likely to represent hot weather and insects in our emojis than anything else, and we almost never talk about cold weather and mammals. As a lifelong Floridian, all of this feels very accurate.
SEE ALSO: The Definitive Guide to Romantically Inclined Emoji Usage
Mississippi, meanwhile, is busy praying and keeping things 100. Oklahoma sends wacky ghost faces and purple demons (are you okay, Oklahoma?). California is characterized by a taxi—which makes sense, given it's the home state of Uber and Lyft—but actually, Cali doesn't claim any one emoji more than the rest of the United States, since its usage is so diverse. You really are a rainbow of culture and experience, other sunny state. Of course, if you finally got that taco emoji, you'd be the taco king.
Emoji users of America! Which one is your favorite? Do you feel accurately represented? What's the emoji you wish SwiftKey would bring to life? Why is Louisiana so obsessed with skulls? Is Oregon really so full of Jewish people? These are my burning questions. Surf around and weigh in, please.
Learn more via the official report from SwiftKey.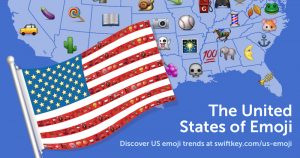 Follow SwiftKey on Facebook | Twitter
---
Share
---
Tags
---
You might also like