Travel Back to '90s Berlin When a Million Ravers Hit the Streets for the Love Parade
This year, iconic Berlin club Tresor is celebrating its 25th anniversary, marking its quarter century as one of the world's most defining dancefloors. Dance media around the world have been casting an eye back on the influential history of the club, and this week Crack Magazine shared special footage of Tresor's involvement during the 1996 Love Parade.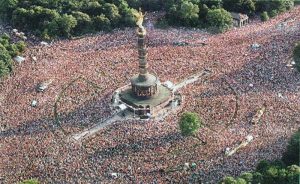 The Love Parade itself is one of the most iconic events in the history of dance culture, beginning in rave culture's "Summer of Love" in 1989, with its most memorable street parties taking place in Berlin throughout the '90s. At its peak, it saw over a million partygoers flooding the long stretch of the Unter Den Linden boulevard to rave under the grand columns of the Brandenburg Gate, which was just around the corner from the original gritty basement vault that housed Tresor.
The footage shared by Crack Magazine was filmed by a German TV network back in 1996; watch the five-minute clip below.
As Tresor.Berlin (OFFICIAL) turns 25 this year we thought we'd revisit what they got up to for Love Parade 1996

Posted by Crack Magazine on Friday, April 8, 2016
Follow Tresor on Facebook | Twitter
---
Share
---
Tags
---
You might also like