Take a Look Inside the Brain-Bending SFX of That Amazing Chemical Brothers Video
The internet was collectively mesmerized last week when UK stalwarts the Chemical Brothers revealed the new video for their single "Wide Open," which was evocative, weird and beautiful enough to grab everybody's attention. The video's special-FX work featured a dancer undergoing an eye-popping transformation as she danced. For those wondering how it was conceived, Little Black Book has spoken to the video's directors and production house.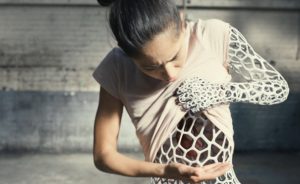 The directors of "Wide Open," known as dom&nic, have worked with the Chemical Brothers before, confirming the duo are always searching for an original idea for their videos and fully supportive of the directors, while also giving them the freedom needed for best results.
"They know if they like an idea early on at the treatment stage then they let us get on with it, it's fantastic to have that trust in a working creative relationship," the duo said. They also say the dancer's transformation is open to interpretation by the viewers. "Everyone who watches it can take their own reading of the meaning; that's the beauty of a music video film like this, it's open to interpretation. It could be a feeling of losing the sense of your physical human body and losing your mind too… Artificial limbs, AI, robots or androids."



However, the process of putting it together was more complicated than predicted. "The truth is if any of the people involved in the making of this film had known before we started how complicated, difficult and long the process would be, it would never have been made."
The interview also speaks with several figures from the Mill London studio that worked on post-production for the video, who also emphasize "Wide Open" was a huge challenge.
"Not only would we need to paint out whole parts of her body to reveal a clean background, but also create clean parts of her own body for when her limbs occluded parts of herself (for instance when she puts her mesh hands in front of her real face)," says the studio's Dave Fleet.
"Cleaning [the dancer] Sonoya out of the back plates, by hand painting each frame, would have been very time consuming, so we looked into ways of achieving this automatically. [We] developed a custom tool that was able to automatically erase given sections of live action plates, as long as there was an accurate camera track and… 3D geometry to project onto."
Fleet confirms there was an extensive list of different technologies used. "We do have experience with many of the techniques we used, but we have never employed so many at the same time. The subtle combination of technologies needed to deliver Dom & Nic's vision was groundbreaking for us. This job had a habit of testing everything we usually rely on, so a lot of what we learned was about how to extend our existing capabilities," he stated.
That's just a taste of the details that are included in the interview. Read it in full at Little Black Book, and you can watch a special behind-the-scenes video below.


Behind the Scenes: The Chemical Brothers 'Wide Open' from The Mill on Vimeo.
Follow
Chemical Brothers
on
Facebook
|
Twitter
---
Share
---
Tags
---
You might also like