Skrillex Talks His Bieber Collabs: "To the Outside World, It Doesn't Seem Obvious"
If all of a sudden it's no longer desperately uncool to profess your love for Justin Bieber, Skrillex and Diplo can probably take partial credit. With their Jack Ü collaboration "Where Are Ü Now", the pair helped welcome Bieber back into the public sphere and helped him repair the damaged reputation he'd inflicted upon himself with just a little too much bratty behavior.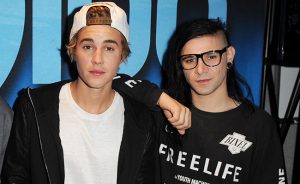 Equally, "Where Are Ü Now" has been the crossover dance smash of the year. With Bieber's new album Purpose currently #1 on the charts and scoring the biggest sales debut of for 2015, Skrillex spoke to NME about how he got involved as producer on five of its tracks.
"Originally they were gonna have Major Lazer," Skrillex told the UK music magazine. "I was in town in L.A., and they called me and had me lay down some music for some rough demos of songs that he and Blood Diamonds wrote. It was pretty organic."
While Skrillex concedes that it might not be the most obvious musical match, he says it was actually a fairly smooth process when it comes to working together in the studio.
"I guess to the outside world, it doesn't seem obvious; but to musicians and artists, if you hear something that inspires you musically, you just want to be a part of it. I heard some well-written songs that were really good that they wanted me to do production on, and from there, we wrote some new songs. It was an opportunity to try some stuff that I had never done before."
Skrillex says the recording process was very much a relaxed affair, which simply saw him going into the studio with some beats and Bieber freestyling over them.
"It was just me and him in the room, and that was it," he says. "A lot of times when pop records are made, there are a lot of politics involved; but when we did it, there was no pressure, and we were able to make things from scratch."
"He was just so involved with the creative process," Skrillex continues, confirming the pair became close during its recoding. "He was so anxious for this record to be done. He didn't slack off and go 'whatever' and say, 'Fuck it! I'm gonna be famous and rich and not give a shit about the record.' He spent a lot of hours perfecting vocals and mixes. I really respect him for that."
Check out the full Skrillex interview with NME, and watch the video for one of the album's new collaborations, "I'll Show You," below.



Follow Skrillex on Facebook | Twitter
---
Share
---
Tags
---
You might also like