Michael Phelps Reveals His Pre-Race Ritual Involving Dancefloor Bangers
While Olympic competitor Michael Phelps might have made the news this week by announcing he will be retiring after his latest run of gold medals ("This time I mean it"), the really important news involves his revelation to MSN concerning what he listens to before a race kicks off. Naturally, it involves a few high-profile dance producers.
"The music that I've been listening to this time around… I've been going out to some old-school Eminem when I get to the pool, and then I change it up to… Nero and Skrillex "Promises"… Got some old-school [Steve] Aoki in the mix from 2008."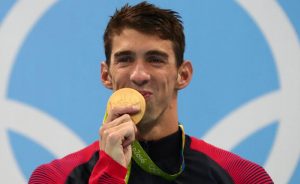 Back in 2012, Rolling Stone detailed Phelps' Solid Gold Playlist, which included Avicii's eternal hit "Levels," as well as Afrojack and Steve Aoki "No Beef" ("Just a great song—fast beat, really gets you going and fired up"). The Guardian has also spoken to him about his pre-race rituals.
"I have walked out to race with my headphones on throughout my whole career and listen to music until the last possible moment. It helps me to relax and get into my own little world."
Listen to one of Phelps' favorite pre-race soundtracks above.
---
Share
---
Tags
---
You might also like