Martin Garrix Hints He's "Working on an Album" for 2016
While Dutch prodigy Martin Garrix appears to be locked in a war of words with his former record label Spinnin' Records at the moment, it doesn't seem to be stopping him from getting on with things behind the scenes. As brought to our attention by EDM.com, Garrix casually announced recently that work is underway for his debut artist album.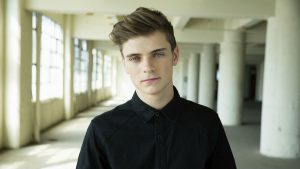 "I'm working on an album," Garrix revealed during an appearance on a Dutch radio station, which otherwise saw him constructing a track on his laptop live on air.
"I make drafts which are far more elaborate than what I've just done here," Garrix said, offering some insight into the creative process behind his music.
"Then we have a sit-down with my team, and we discuss which tracks are good enough or not, which track would be dope with a particular singer. Then we send it to them and they start writing lyrics, or I'll send it to them with me humming a melody… This way, I slowly see my album taking shape. I really like it. Some people enjoy gaming or drawing, and for me this is it. You start out with nothing, and with different sounds, you complete the puzzle."
Follow Martin Garrix on Facebook | Twitter
---
Share
---
Tags
---
You might also like