Laidback Luke Pens Impassioned Editorial on the Dark Side of DJ Stardom: "The Pressure on These Kids to Perform Is Intense"
The announcement from Swedish superstar Avicii that he would be retiring from the touring circuit has certainly stirred up discussion, coming at a time when some of the world's most successful DJs have decided to open up on the pressures of the touring lifestyle.
Blasterjaxx, Nicky Romero and deadmau5 have all spoken out over the past year about their own struggles with anxiety and depression, and now scene veteran Laidback Luke has joined the discussion, bringing his own significant 20-year history as a DJ/producer to the table.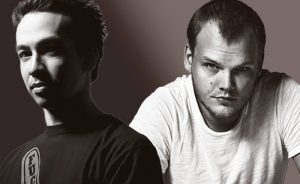 Laidback Luke is well known for his efforts in mentoring young producers, and his personal connection with Avicii goes back nearly a decade, to when he mentored the young producer on his personal website forums and signed his debut record to his Mixmash Records label, as well as offering him his very first DJ gig during Miami Music Week in 2009.
"The Avicii I know is the kid in the bedroom," Laidback Luke writes in his editorial. "And even though this story could be about anyone going through the trials and tribulations of fast-track success, the one I know is about Tim [Bergling, aka Avicii]."
"The pressure on these kids to perform is intense. But they're producers—their songs can become known all over the world before they even think about performing. And every week their managers and agents present them with lucrative opportunities, which inevitably involve constant travel and pressure that make it very difficult to get back to producing music.
Laidback Luke writes that the first few years of heavy touring for a young DJ/producer can have a huge impact on their personal life, as well as their health and sanity.
"DJs on tour average about four hours of sleep per night, and with drinking, afterparties, adulation and everything that comes with it, it's easy to lose oneself," he writes.
"They make many new friends—at least for the moment—and some find another new friend: alcohol or whichever vice helps them deal with feeling displaced all the time. The pressures of being on the road as a DJ are constant and relentless. Unlike pop, rock or rap, they don't tour in cycles—they're always on tour, virtually every week, sometimes every day."
Laidback Luke speaks rather frankly about his personal concerns that he had for Avicii, after he saw for himself last year the clear toll that the touring lifestyle was taking on him.
"Tim and his team have been kind enough to book me at his Ushuaïa Hotel parties in Ibiza, most recently in August 2015. He looked terrible. He gave me a very sincere but oh-so-tired smile when he saw me. Soon after, he was onstage playing his amazing music—and that's when it dawned on me. This wonderful and talented kid might not overcome his struggles.
Laidback Luke says he was ultimately greatly relieved to hear of Avicii's decision to retire.
"Not only was it a brave decision—to walk away from the light, in both figurative and literal senses—but it also shows how much he has grown up. He has decided to focus on producing: That's where he started, and it's what makes him happy."
You can read the whole of Laidback Luke's emotional editorial over at Billboard.
Follow Laidback Luke on Facebook | Twitter
---
Share
---
Tags
---
You might also like