Headhunterz Speaks on His Return to the Hardstyle Stage: "The Love and Appreciation I Felt Was Overwhelming"
While once upon a time Dutch DJ/producer Headhunterz was tagged as an unofficial hardstyle ambassador to the US, he's since moved away from the harder sounds and embraced a sound that's more focused on the mainstage, resulting in records like his KSHMR collaboration "Dharma," which just dropped on Spinnin' Records this week. Over the weekend, though, he made a rather significant return to the stomping grounds where he made his name.
Headhunterz dropped into the Defqon.1 Festival in Amsterdam—considered one of the world's key hardstyle events—to play a surprise set during the closing ceremony.
While Headhunterz's creative shift has proved divisive among his fans in the hardstyle community, to say that he was welcomed with open arms would be an understatement.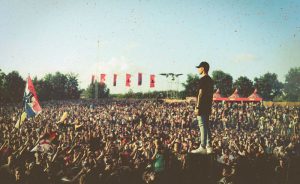 "Every letter that I write here feels like it's falling short compared to the unforgettable experience of being welcomed with open arms once more by my hardstyle family at Defqon 1," Headhunterz said in an open letter to his fans this week.
"All confusion, all negativity, all judgment and frustration just completely melted, and I felt connected to all of you like I have never, ever in my life felt connected with people."
He says the appearance at Defqon.1 was a moment when the divisive sentiments were put aside, and he was able to connect with the notoriously passionate hardstyle community.
"I want you all to know that, despite the fact that I have taken a new direction and that it's important for me to be committed to that, I will never ever forget where I came from. Hardstyle is engraved in the core of my being, and I will always carry my beautiful past with me wherever I go, with pride."
Read the letter in full above.
Follow Headhunterz on Facebook | Twitter
---
Share
---
Tags
---
You might also like