Gareth Emery Unveils Third Artist Album: "This Is a Record of Songs, an Album for Life"
Euphoria king Gareth Emery is a mainstay from the UK trance scene who positioned himself effortlessly to crossover into the American big league of DJ/producer stars. He's got plenty of emotion-drenched vocal anthems under his belt, alongside his more club-focused material, though it's looking like the former will take the spotlight on his upcoming new album.
"Feels pretty surreal to finally be sharing this with the world after working on this record for the last 18 months, but I'm damn happy with it," Emery declared on Instagram with the announcement of his upcoming LP 100 Reasons to Live, which is set for an April release.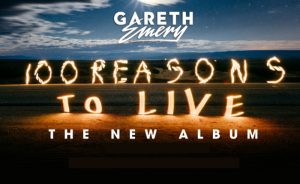 "This was the first album written in my new home studio in LA, and there are so many songs that touched my heart when writing it, and I hope they have the same affect [sic] on you. There's very few 'bangers' – this is a record full of songs, an album for life."
Emery has offered us the first taste of what exactly this will account for. His new single "Reckless," featuring the vocals of Wayward Daughter, will be the first from 100 Reasons to Live, and Emery unveiled its new video, above, alongside the album announcement. Gareth Emery's 100 Reasons to Live arrives April 1 and is available now for preorder. Check out the track list with the full roster of Emery's collaborators below.
1. The Story so Far
2. Cloudline ft. Joseph
3. Far From Home ft. Gavrielle
4. Reckless ft. Wayward Daughter
5. We Were Young ft. Alex & Sierra
6. CVNT5 ft. Ashley Wallbridge
7. Make It Happen ft. Lawson
8. Hands With Alastor ft. London Thor
9. Lost ft. Janet Devlin
10. Save Me ft. Christina Novelli
11. Until We Meet Again ft. Ben Gold
12. I Could Be Stronger (But Only for You) ft. Corey Sanders
13. Sansa
14. Cruiser ft. Alex Sonata (Bonus track)
Follow Gareth Emery on Facebook | Twitter
---
Share
---
Tags
---
You might also like