Exploring America's First Forays Into Dubstep
While the first rumbles of dubstep can be traced back to the nightclubs of London early in the millennium, it turns out that a handful of Americans were following it since the beginning, bringing it to the US long before it crossed over onto the festival mainstages. A new feature courtesy of Red Bull Music Academy looks into these early US parties.
"Two of these enterprising figures, Dave Q and Joe Nice, established the US' first dubstep night, Dub War, in June 2005 – just three months after London's own genre-defining party DMZ bass-dropped into existence," Ati Gitlow writes on the US dubstep connection that took place a lot earlier than many might realize.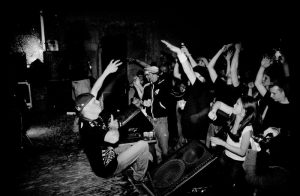 Dub War is a party that took place at various now-defunct venues throughout New York City, before it settled into what is described as its "spiritual home" of Love, near Washington Square Park. In early 2006, BBC Radio 1 DJ Mary Anne Hobbs included shout-outs to the party's promoters on her radio show, cementing their place in dubstep history.
"The crew held dubstep's American fate in their hands," Gitlow writes, "before it shape-shifted to become part of today's fluorescent-hued EDM monolith."
Check out the full report of "Nightclubbing: Dub War" over at Red Bull Music Academy for an expansive look into the early history of dubstep in the US.
---
Share
---
Tags
---
You might also like