EDMbiz Returns to Las Vegas With Expanded Offerings
June 14-16, 2016, the electronic music industry will come together once again to reflect on and dissect a full year's worth of massive developments and technological advances at the 5th Annual EDMbiz Conference & Expo. As EDMbiz expands this year, the event moves into a new home at the grandiose Caesars Palace Hotel & Casino, where attendees can expect engaging panel discussions, innovative products and exhibitions, and keynote speakers discussing the current and future state of electronic music.
This year, Insomniac introduces the three new cornerstones of EDMbiz: Experience, Technology and Aspiration. These key ideas will be infused into each aspect of the event, and they'll serve as focal points as we lead up to our most highly anticipated event of the year, the 20th anniversary of Electric Daisy Carnival, which also returns to Las Vegas for the sixth consecutive year.
Also new to EDMbiz are the additions of Stage Two, a townhall environment where industry thought-leaders and trendsetters will host fast-paced talks on the latest topics impacting dance music culture; and the first-ever Hackathon, where entrepreneurs and programmers have the opportunity to come together to collaborate on and create new digital tools, a feature never before seen at a dance music conference. Furthermore, the EDMbiz Song Contest returns for the second year, offering aspiring DJ/producers a forum to showcase their original music to a panel of influential artists and industry players.
In addition to the standard three-day Wide Awake Badge, which comes with full event access plus entry to select EDC Week programming, EDMbiz has added two ticket tier options. The new Kinetic Badge includes access only to Stage Two, the EDMbiz Expo, and select EDC Week programming; the new Neon Badge includes access to the Expo and the same select EDC Week club shows. Jason Bentley, KCRW's Music Director and host of Morning Becomes Eclectic, will return to host the new-look conference.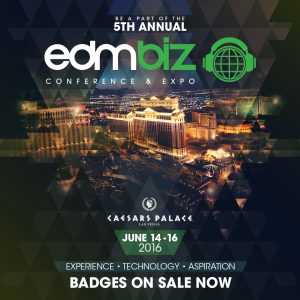 Dance music continues to grow exponentially, and EDMbiz invites you to leave your mark on the industry's evolution. Attendees will have the chance to learn about, to discuss, and to participate in the future of electronic music along with some of its key players, leading brands and EDM VIPs.
"EDMbiz is a unique opportunity for our entire community to come together and shape the future of dance music," says Pasquale Rotella, CEO and Founder of Insomniac. "From artists, promoters, agents and journalists, to people who simply aspire to be part of this amazing culture, everyone has the chance to contribute to the discussion."
Registration for EDMbiz 2016 is now open and available here. For more information about this year's event, visit the official EDMbiz website, where future updates on panels, speakers and announcements will be made regularly from now until the event occurs.
Follow EDMbiz on Facebook | Twitter | Instagram
---
Share
---
Tags
---
You might also like