EDC Las Vegas Travel: Tips, Tricks, and Things You Should Know
Roughly 140,000 people attend EDC Las Vegas every day—which, if you're good at the math, means you'll encounter quite a few faces on your journey to the rave prom. The majority of Headliners will be staying somewhere on or near the Las Vegas Strip, which puts roughly 15 miles between you and paradise. So, how are you gonna get to the fest? Car, shuttle, Uber, helicopter? There are many ways to reach your destination and then get safely back home again.
So, with just a handful of days left before the big weekend, we figured it'd be good to provide a refresher course on the options available to you and your crew. Oh, and if you're joining us for our first-ever Camp EDC, all you have to do is drive in once and leave once. No nightly commute! Not only will you get to take advantage of all the transformational activities occurring at the Mesa, the center of Camp EDC, but all you have to do is wake up and walk into EDC Las Vegas—no car needed.
1. Take a ride on the Official EDC Shuttle: Leave the driving to the professionals, and take a shuttle from one of our nine locations via a dedicated route that regular traffic cannot access. We've partnered up with a new team that lives and breathes shuttle operations and logistic all year round, and they've been working hard to plan and provide top-notch service that will be better than ever! If you haven't already, snag your shuttle pass here.
2. Carpool: The fewer cars there are on the road, the faster everyone can get in and out. Plus, it's good for the environment, and it keeps the vibes high among your rave fam. Our Insomniac owls will be roaming the parking lots, looking for cars that have four+ riders that we can kick down with prizes like ticket upgrades, merchandise, and tickets to future Insomniac festivals. It's a win-win for everyone!
3. Premier Parking: The premier parking lot is a small, limited-capacity lot that will have a dedicated entrance at Gate S for all the Headliners that park here. That means a more efficient route into and out of the festival. Pick up a premier parking pass here.
4. Opening Ceremony: For the first time at EDC Las Vegas, we're opening up the gates to cosmicMEADOW four hours before the rest of the festival. Come out early, avoid those peak traffic hours, and get down to exclusive sets from different DJs each day.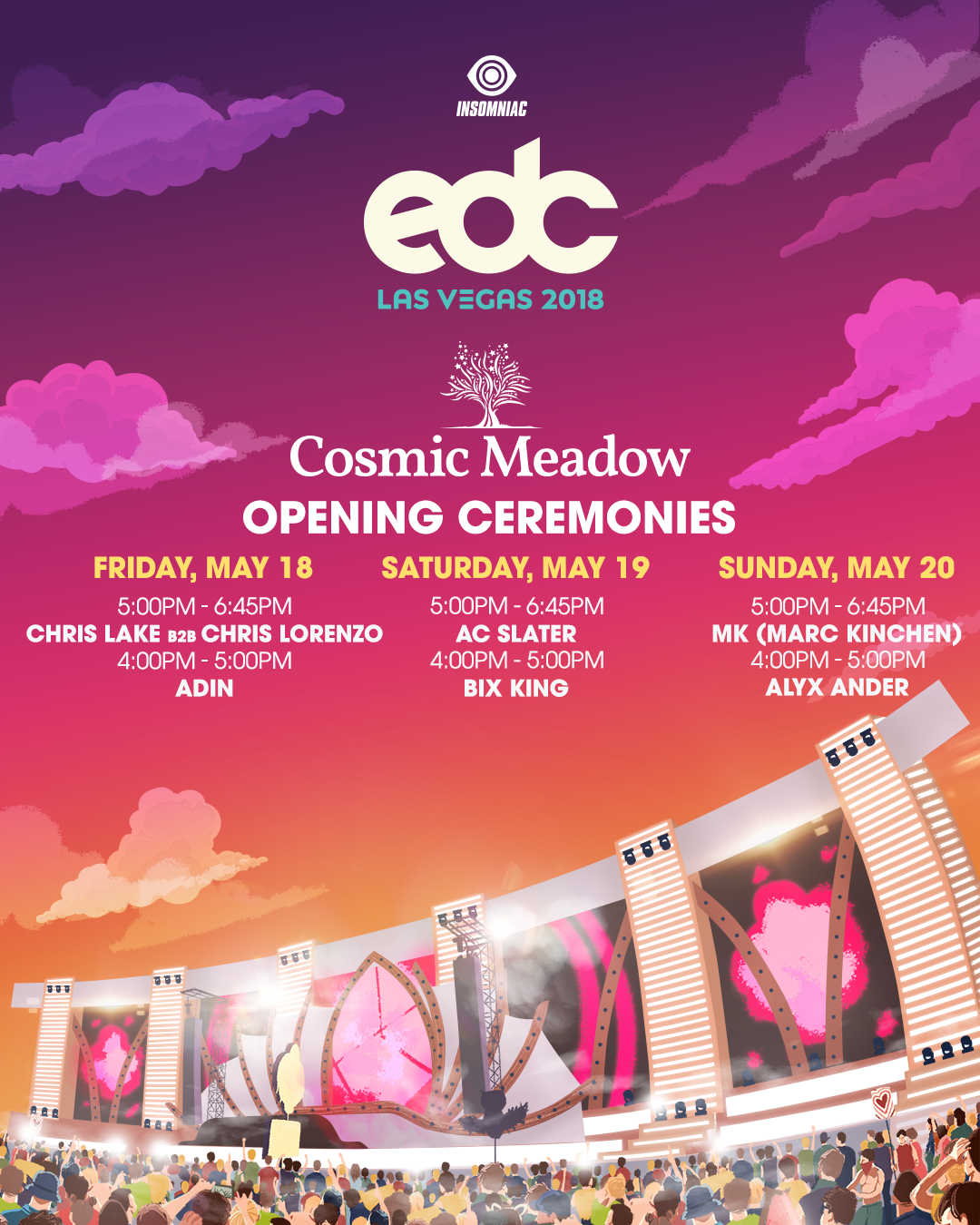 5. Be aware of Project Neon: Project Neon is a nearly 20-year highway expansion project that aims to make Las Vegas able to handle a large influx of visitors while maintaining a smooth and safe flow of traffic. Focused on I-15 lane expansion and the connection between that and US 95, the project is slated for completion prior to EDC Las Vegas 2019. While this construction is 15 miles away from the Speedway—and we are excited about what it means for future EDCs—there are obstacles you should be aware of during this ongoing construction. Waze is following the construction very closely and has been updating their maps as the constant changes occur. They can help you navigate through the areas most affected so that once you get past it, you will cruise through to EDC and back home at the end of each day. More info on Project Neon can be found here.
6. Follow the signs, and keep an eye out for updates: We've put in a lot of work with traffic engineers, as well as local and state agencies, to help with your journey to EDC. Please follow the signs posted for the festival, and look out for traffic push notifications in the official EDC app, as well as the EDC Las Vegas Twitter account.
7. The crunch time: We know you want to get to the festival in time to check out your favorite artists, but we've found that the hours between 9pm and 11pm tend to be the busiest, so plan accordingly—and know we are working as hard and as quickly as we can to safely get everyone in and parked!
---
Share
---
Tags
---
You might also like