EDC Las Vegas 2019 Tickets Are Now on Sale!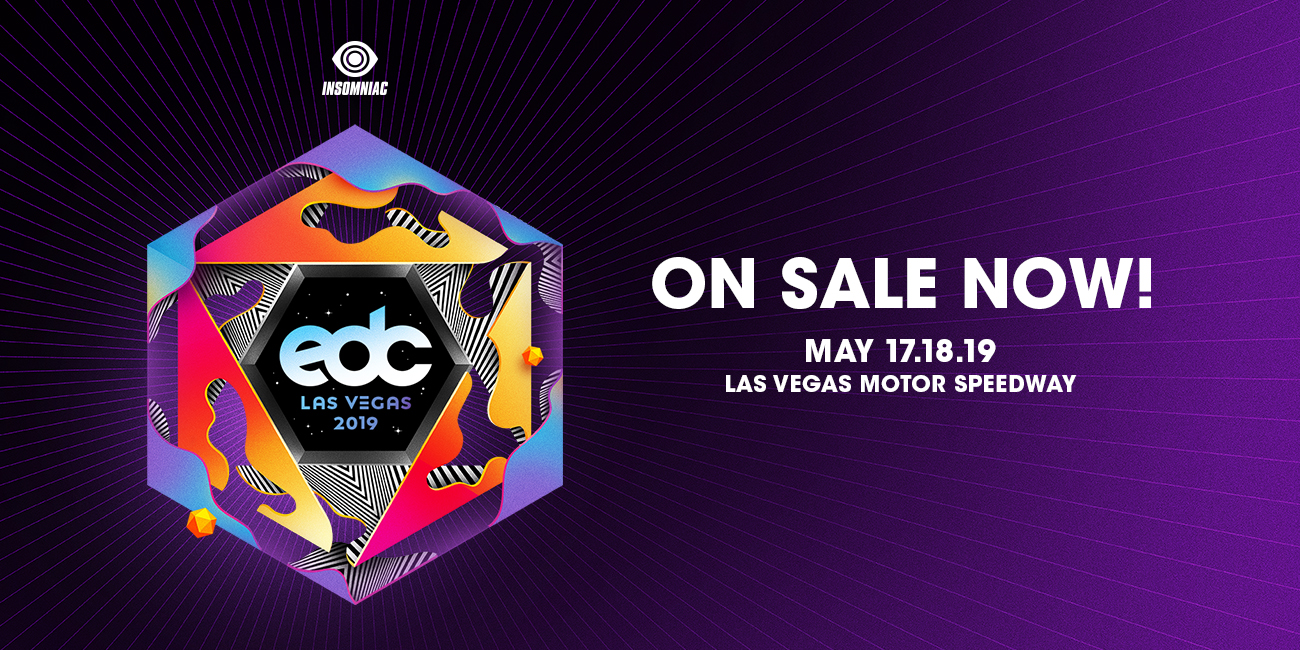 Headliners, passes to EDC Las Vegas 2019 are now on sale! Returning to our home Under the Electric Sky for its 23rd installment, EDC Las Vegas 2019 takes place Friday, May 17, through Sunday, May 19, at Las Vegas Motor Speedway. EDC Las Vegas is an 18+ event, and you will need to show proper identification to enter the festival.
All ticket types for EDC Las Vegas 2019 are on sale now, including GA, GA+, and VIP passes. Three-day GA passes, which grant you entry through the gates of EDC, start at $319, plus taxes and fees. Three-day GA+ passes—which offer a more comfortable EDC experience via expedited, dedicated GA+ entry and special access to premium, air-conditioned restroom trailers, in addition to all the amenities you get with a GA pass—start at $499, plus taxes and fees.
For the ultimate EDC Las Vegas experience, upgrade to the VIP life, where you can take your festival weekend to the next level and treat yourself to some unique perks, from fast entry and VIP-exclusive amenities, to gourmet food and drink options, to a dazzling array of special activities and entertainment. You can also take in the full-scope view of EDC Las Vegas from one of our elevated platforms—or from the VIP Ferris wheel—and relax at our hookah bar or the VIP Splash Pool. All this and much more await you with the EDC Las Vegas VIP Experience, where you can Explore, Engage, Energize and Enjoy! For a full list of VIP amenities, check out the VIP Features page. Three-day VIP passes start at $779, plus taxes and fees. To enter all VIP areas at EDC Las Vegas 2019, you must be 21+ and present a valid photo ID.
For those looking to elevate their festival experience at Camp EDC, passes will go on sale next month—so stay tuned!
This year's EDC Las Vegas was one for the books! We introduced Camp EDC, which offered all sorts of awesome transformational activities, including yoga workshops, standup comedy, daytime pool parties, a curated guest speaker series, and much more. We improved traffic flow to and from the festival by adding new shuttle locations and partnering with one of the best shuttle services in the business. We also introduced the daily Opening Ceremonies, which opened up the gates to the fan-favorite cosmicMEADOW stage four hours before the rest of the festival for the first time in EDC Las Vegas history.
Relive some of our favorite moments from this year's festival, and get pumped for next year with the official EDC Las Vegas 2019 trailer. Take a look back at the best moments of EDC Las Vegas 2018, flash back to the dancefloor with these live sets, and check out some of our favorite photos from this year for some awesome memories! Stay tuned to the official EDC Las Vegas website for all the latest news and updates.
Got any questions about your ticketing options? Head to our very useful Ticketing FAQ page, which contains the most updated details regarding EDC Las Vegas 2019 tickets, layaway plans, and other ticketing-related questions.
Get your EDC Las Vegas 2019 tickets now!
EDC Las Vegas 2019 takes place Friday, May 17, through Sunday, May 19, at Las Vegas Motor Speedway. Tickets are on sale now. For more information, visit the official website.
Follow EDC Las Vegas on Facebook | Twitter | Instagram
---
Share
---
Tags
---
You might also like