Detroit Techno Icon Jeff Mills Prepares New Albums and 'Axis Audiophile' Vinyl Series
Detroit veteran Jeff Mills maintains a crucial role in dance culture, joining his Motor City comrade Derrick May earlier this year for a special performance with the Melbourne Symphony Orchestra, as well as maintaining the presence of a wizened veteran in the current zeitgeist.
This year, he's got some extra cool plans up his sleeve, including a special vinyl offshoot for his Axis Records label, plus a new solo album in his long-running Sleeper Wakes series.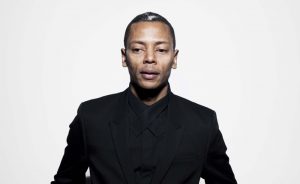 The new high-quality vinyl offshoot will be known as the "Axis Audiophile" series, with each release pressed to be 180-gram virgin vinyl at 32-bit/48kHz, which equates to being "mastered for high-fidelity sounds."
There are two releases planned so far. The first will be a live-recorded album, Kobe Session, from his own side project Jino Ohno Mitchell Mills, an electronic jazz unit that sees Mills collaborating with a number of different musicians while he takes care of the drum machines and percussion. A live tour is also in the cards for the four-piece later this year.
Meanwhile, Mills is also preparing a new solo LP, Free Fall Galaxy, for June. This will mark a new chapter in his long-running sci-fi opus Sleeper Wakes, and the continuation from 2014's Emerging Crystal Universe.
Jino Ohno Mitchell's Kobe Session will arrive on Axis Records in May, while Jeff Mills' Free Fall Galaxy will arrive in June. Check the track lists below.
Kobe Session
A1 Eventide
A2 Introductions (MC/translator: Masaaki Ishizaki)
B Happy Gamma Ray
Free Fall Galaxy
01. Medians
02. The Hunter
03. Gravitational Lensing
04. Inner Synthesis
05. Solar Crossroads
06. Transformation in the Virgo Constellation
07. The Hunted
08. Rabid Star Clusters
09. Tri-angularism
10. Spectroscopic
11. Entering (The Free Fall Galaxy)
12. Irreversible Elliptic Orbits
13. Aurora
Follow Jeff Mills on Facebook | Twitter
---
Share
---
Tags
---
You might also like