Dance Music's Forefathers Honored During Detroit Techno Week
On Monday, Detroit Mayor Mike Duggan officially declared the final week of May as "Detroit Techno Week," timed with the Movement Festival that's set for this weekend, though also to honor and recognize the artistic legacy and contribution the city has made to worldwide dance culture. Continuing the festivities this week, several of Detroit techno's seminal figures have been bestowed with the Spirit of Detroit award.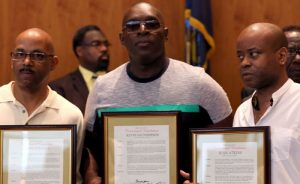 The award recognizes "outstanding achievement or service to the citizens of Detroit," and was presented to Carl Craig, Jeff Mills, Eddie Fowlkes, Kelli Hand, and the Underground Resistance collective, as well as the "Belleville Three," which consists of Kevin Saunderson, Juan Atkins and Derrick May (captured above receiving their rewards).
In addition, institutions like the Submerge Techno Museum and the Movement Festival were also recipients of a Spirit of Detroit award.
Mayor Duggan spoke of Detroit Techno Week as celebrating "the rich culture of techno, which was created in the city of Detroit." Detroit Councilman Scott Benson also honored the legacy of the city's techno pioneers while presenting the awards.
"I would like to pay honor and pay tribute to those who helped found this genre," Detroit News reports on Benson's speech. "Most of the music is seen in dance clubs and around the world. The fact that it was established here in Detroit needs to be reflected here and identified, as well as just celebrated."
"It feels great when you know something we've made from our hometown has touched the world," Saunderson wrote on his Facebook following the ceremony. "As they said yesterday, Detroit techno brings people together—Detroit love, our vision of music, the world dancing as one united—it's true and it's happened, so thanks to the city of Detroit for acknowledging this."
Check out this video from Red Bull Music Academy in honor of Detroit's techno veterans.
Detroit Techno Heroes @DJJeffMills @roberthoodUR @juanatkins @carlcraignet @kevinsaunderson @derrickmaydayhttps://t.co/HRLqV0UJdJ

— RedBullMusicAcademy (@RBMA) May 26, 2016
---
Share
---
Tags
---
You might also like