Dance Community Reacts to #Brexit: "The Future Feels a Bit Less Bright Today"
Europe woke up to a shock today with the news that Thursday's referendum in the UK, to decide the country's future within the European Union, had delivered a surprise result of "leave," with voters deciding by a margin of 52–48 percentage points to exit the union after nearly 50 years.
British Prime Minister David Cameron has promised to step down "within months" in light of the results, and markets have reacted in shock, with the country's currency plunging to its lowest level in over 30 years, with £120 billion wiped off its stock market. On top of this, though, it's triggered a huge amount of existential angst among the European dance community.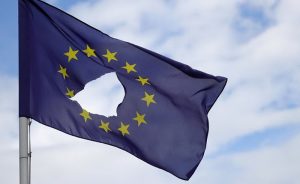 Veteran UK dance publication DJ Mag pointed out during the lead-up to the referendum the many ways that European dance culture at large has benefitted from the EU.
"With the freedom of movement within the EU, both DJs and music fans have benefitted immeasurably from the ability to just pop on a plane and be in Berghain [in Berlin] or Space [Ibiza] in just a few hours."
"Ours is a scene without borders and barriers, so to potentially see a division between UK and Europe seems crazy," Ed Jenkins from the Volume Group management company told DJ Mag.
In spite of this, the UK has decided to exit the EU, and the continent's DJ/producer community is currently in meltdown. Here's a taste of some of the responses lighting up Twitter today:
I'm actually embarrassed to be British today.

— JESSE ROSE (@mrjesserose) June 24, 2016
@disclosure we'll join you

— Chase & Status (@chaseandstatus) June 24, 2016
You fucking retards…..

— Oliver Jones (@I_Skream) June 24, 2016
Incredulous, sad, scared and angry…cannot take this in.

— ed simons (@eddychemical) June 24, 2016
It's a very strange feeling to wake up this morning with my wife and my son being no longer européen !!!! We are shocked.

— Laurent Garnier (@laurentgarnier) June 24, 2016
utterly horrified.

— annie nightingale (@aanightingale) June 24, 2016
It seems like a country should need a hell of a lot more than 50 percent of a vote to break from a bond like the European Union.

— The Black Madonna (@blackmadonnachi) June 24, 2016
The old and the scared have stolen the future

— George FitzGerald (@georgefitzmusic) June 24, 2016
so the old have screwed the young but why haven't the old learned that generations before have fought for Peace, therefor a united EUROPE ?!

— Boys Noize (@boysnoize) June 24, 2016
Stunned, shocked and saddened by the UK's vote to leave the EU, xenophobia and nationalism have a bad track record in Europe.

— TonyMcGuinness (@tonymcguinness) June 24, 2016
I try stay out of politics but I'm very sad to hear about the UK decision to leave eu. It is far from perfect but fellowship is all we have.

— Mike Hawkins (@djMikeHawkins) June 24, 2016
The future feels a bit less bright today. 🙁

— Kate Simko (@Kate_Simko) June 24, 2016
wrong question, wrong time. and now a hugely divided country. in such voids, darkness falls.

— matthew herbert (@matthewherbert) June 24, 2016
A photo posted by Paul Oakenfold (@pauloakenfold) on Jun 24, 2016 at 5:02am PDT
---
Share
---
Tags
---
You might also like