Daft Punk Gets the 'Where's Waldo?' Treatment in Dazzling Detail
Some of the older ravers among us might remember the beloved Where's Waldo? series of children's books from the '80s and '90s, containing vividly detailed bird's-eye illustrations that challenged you to locate the titular Waldo among the crowd.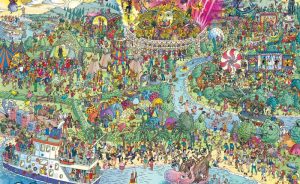 A new spin on the classic illustrations has been launched as part of a promotional campaign for online retailer Zalando, depicting some of Europe's most famous festivals in the inimitable Where's Waldo? style. However, the discreet appearance of those iconic robots has encouraged the dance media to christen the illustration "Where's Daft Punk."
Can you spot Daft Punk in the picture above? Jump on over to The Guardian to check it out in more detail.
---
Share
---
Tags
---
You might also like