Cult Classic 'Trainspotting' Credited as Early Flag-Bearer for American Rave Culture
Anyone with a long history of chasing good times on the dancefloor will certainly remember cult UK classic Trainspotting, based on the exploits chronicled by Scottish author Irvine Welsh in his debut novel, and a breakthrough success for director Danny Boyle and actor Ewan McGregor. Trainspotting featured some particularly evocative depictions of '90s dance culture, and dance site Thump has credited the film as an early source of the rave breakthrough in the US.
"By the time of its stateside release, a full 20 years ago come July 19, the movie's popularity, and that of its soundtrack, would help light the fuse for the electronica explosion that gave dance music its first mainstream US exposure, launching acts like The Chemical Brothers, Fatboy Slim, and chart toppers The Prodigy to headliner status."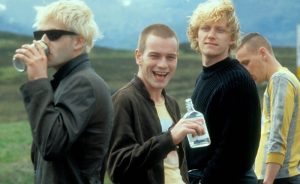 The film features a particularly provocative rave scene when McGregor's character feels the rush of the John Digweed-produced progressive classic "For What You Dream Of." It's a reflection of dance culture's formidable power as it was sweeping through the UK and the rest of Europe at the time. Thump claims the film also represents a seminal moment when rave culture made a break from its early underground status, with a grab for mainstream recognition.
"As anyone (myself included) who witnessed the [soundtrack's] impact on the then-burgeoning American rave scene will tell you, it was the electronic music, and particularly Underworld's "Born Slippy .NUXX," that would have the most pronounced effects, states the author.
Underworld's "Born Slippy" remains an eternal classic that is currently being greeted with euphoric applause on the band's new world tour. Thump claims it was a groundbreaking anthem for helping ground dance culture make ground in the US.
"'Born Slippy' forced critics to reconcile with that quandary of dealing with music that didn't offer the usual set of youth culture signifiers… Central to the Trainspotting soundtrack's legacy was its insistence on presenting electronic music on equal footing with rock music in a way that had never really been done before."
Check out "How 'Trainspotting' Made America Realize that Electronic Music Matters Just as Much as Rock" in Thump for the full report, and relive Underworld's classic above.
---
Share
---
Tags
---
You might also like